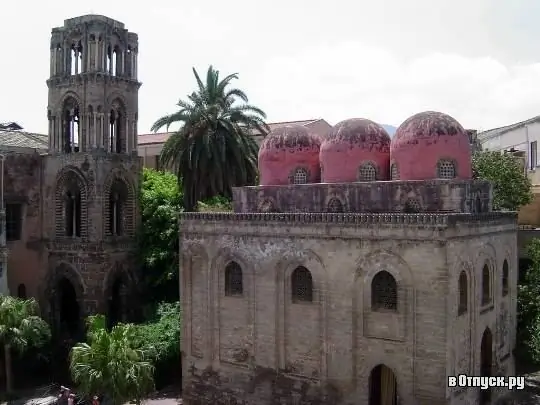 Description of the attraction
San Cataldo is one of the oldest churches in Palermo, remarkably similar to the eastern mosque. Located in Piazza Bellini, near the Martorana temple, it is a monument of Arab-Norman architecture, which combines Byzantine and Arab features.
The church dedicated to Saint Cataldo was built in the 12th century on the initiative of Mayo da Bari, minister of the Sicilian king William I the Wicked. It was originally Mayo's personal temple and stood on the grounds of his palace. However, after the death of the minister, all of his property was sold to Count Silvestro Marsico, whose son in 1175, in turn, sold the palace complex to King William II the Good. Seven years later, the palace, together with the church, became the property of the Monreale Monastery.
For five hundred years, San Cataldo was in the possession of the archbishops of Montreal - in those years, a small cemetery was built next to the parish church. The Mayo Palace was first used by the monks as a hospital, and then they housed the residence of the archbishops. Significant restoration work was carried out there in 1625 and 1679. And in 1620, the southeastern part of the palace was sold to the Senate of Palermo, after which it turned into the current Palazzo Pretorio.
At the end of the 18th century, the Mayo Palace and the Church of San Cataldo were bought from the archbishopric by King Ferdinand II, who handed over the church to the archbishop of Palermo, and ordered a post office in the palace. Only a hundred years later, the palace was demolished, and the hill on which it stood was dug down to its very foundations. Thanks to this event, the Church of San Cataldo, previously hidden from all sides by various buildings, turned out to be open to the public's eyes. Major restoration work was carried out in it, as a result of which the church acquired its original appearance. In 1937 it became the property of the Order of Malta.
The architecture of the church is quite unusual: it is a parallelepiped with three hemispherical domes. Similar structures can be seen in the Italian region of Apulia and in North Africa. Even an ordinary tourist understands that there is a distinct Arab influence here. Three facades of the church are decorated with false arches, and only the southern facade, once adjacent to the palace, is devoid of decorations. Typical Arabic carvings can be seen on the roof. From the interior decoration, only the altar and the inlaid floor, dating from the 12th century, have survived to us. And on one of the walls there is an epitaph in honor of Matilda, the daughter of Count Silvestro Marsico, who died in infancy.
Photo