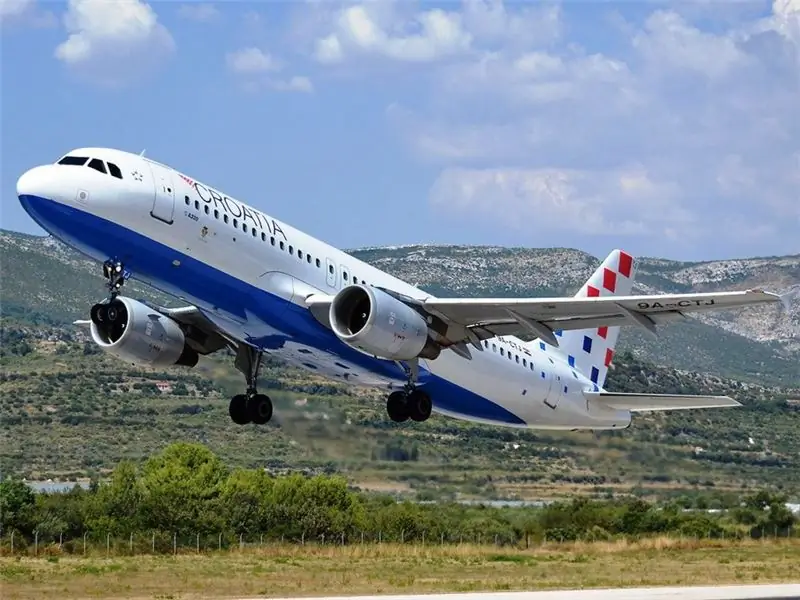 How many hours to fly from Moscow to Croatia?
Flight Moscow - Zagreb
Flight Moscow - Pula
Flight Moscow - Split
Flight Moscow - Dubrovnik
Many people who decided to visit the national parks of Krka and Plitvice Lakes, see the Split Palace of Diocletian, the Pula amphitheater, the ruins of the ancient Roman city of Salon, the Princely Palace of Dubrovnik, the Zadar Church of St. Donatus, the Zagreb Cathedral, as well as explore the Blue Grotto on the island of Bisevo and relax on the island of Korčula, wondering how long to fly to Croatia from Moscow?
How many hours to fly from Moscow to Croatia?
Aeroflot pampers tourists with regular flights from the capital of Russia to Croatia, and during the season, charter airlines such as Ural Airlines. On average, it will take 2, 5-3 hours for the road. It should be noted that within the framework of direct flights, you can get to Zagreb throughout the year, and Split and Dubrovnik - only in the summer months.
Flight Moscow - Zagreb
Tickets from Moscow to Zagreb are sold at a price of 9500 rubles, and the distance of 1870 km aboard Aeroflot will be left behind after a 3-hour flight. A transfer in Istanbul will extend the trip by 6 hours, in Vienna - by 9 hours (5, 5 hours will be allocated for waiting), in Paris - by 18 hours (flight - 6 hours), in Riga and Copenhagen - by 8 hours, in Budapest - for 5 hours.
The equipment of Zagreb Airport is represented by restaurants (pay attention to such establishments as "Faust", which is a self-service restaurant and "Art Café", where you will be able to attend seminars, master classes and other cultural events) and the Lounge business lounge (there is a printer, fax, Internet, satellite TV, bar). On the route Airport - Zagreb Bus Station (the journey will take 35 minutes), buses run by Croatia Airlines.
Flight Moscow - Pula
It will be possible to buy tickets Moscow - Pula (there are 2056 km between them, and from S7 the flight will last 3.5 hours) at the box office for at least 5400-8900 rubles. Those who changed in Stockholm will find themselves in Pula after 12 hours (the flight will take almost 5 hours), in Copenhagen - after 7, 5 hours, in Zagreb - after 14 hours (9, 5-hour waiting).
Pula Airport has wireless Internet, restaurants, a medical center, pharmacy, shops, bank branches and a post office. It will also be comfortable for passengers with disabilities. There is no regular bus service from Pula Airport (the center of Pula is only 5 km away), but tourists will be provided with a transfer service to the hotel, offered to take a taxi or rent a car.
Flight Moscow - Split
S7 will take its customers to Split in 3 hours 15 minutes (the minimum air ticket price is 5,400 rubles), while the distance of 2,037 km will be covered. Tourists who have stopped in Frankfurt am Main will arrive in Split in 6 hours, in Vienna and Belgrade in 22.5 hours (5-hour flight), in Zurich and Rome in 12 hours, in Copenhagen and Zurich in 16.5 hours (flight duration - 6.5 hours), in Warsaw and Prague - after 17.5 hours (docking - 12.5 hours).
Split Airport has: lost and found; a duty-free shop (national Croatian products can be purchased in a separate room); bank (here they carry out bank transfers, exchange currency, pay for cellular services, arrange a loan for up to 3 weeks for an amount of up to $ 500); cafeterias; rooms for mothers with children. From the airport to Split there is a bus number 38 (the interval of movement is every 50 minutes).
Flight Moscow - Dubrovnik
On board the airliner owned by Aeroflot, passengers will spend 3 hours 10 minutes (2021 km between Moscow and Dubrovnik; a ticket can be purchased for 4400-15700 rubles). You can fly to Dubrovnik with a transfer in Belgrade (11-hour journey), Vantaa (travel time - 8 hours), Barcelona (tourists will get to Dubrovnik in 14.5 hours), Munich (the trip will end after 12.5 hours), Vienna (the trip will take 5, 5 hours), Oslo and Frankfurt am Main (from a 23-hour trip, the flight will take 6, 5 hours).
Dubrivnik Airport is equipped with jewelry stores, clothing boutiques, a souvenir shop (all of them work from 10 am to 9 pm), a bank, an exchange office, and a cafe. Anyone who needs to get to the main square of Dubrovnik should use the services of the Atlas tour operator's shuttle bus (the journey to the final stop will take 45-50 minutes).