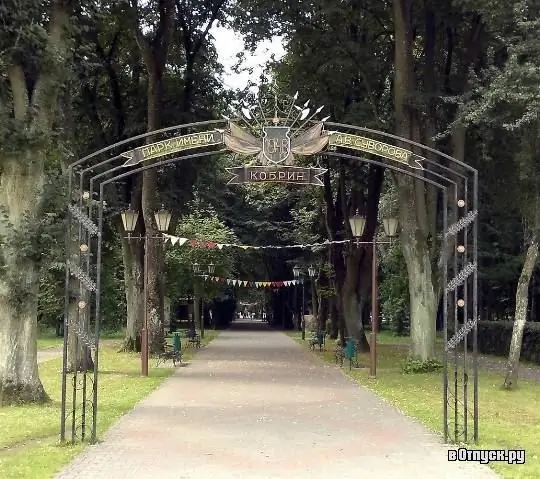 Description of the attraction
Park named after A. V. Suvorov in Kobrin is the oldest park in Belarus, founded in 1768 by Anthony Tizengauz. After the third partition of the Commonwealth, Catherine II presented the Kobrin Klyuch estate together with the park to the famous commander Suvorov. For some time the estate was owned by the brother of the famous Belarusian poet Adam Mitskevich - Alexander.
Unfortunately, the manor house has not survived. At the place where he once was, a monument is erected - a bronze bust by the sculptor I. M. Rukavishnikov. After the liberation of Belarus from the Nazi invaders, in 1948 the Suvorov Park turned into the Park of Culture and Rest of the city of Kobrin.
Now the area of the A. V. Suvorov is a beautiful corner of nature, decorated in the style of an English park. Various attractions have been operating here since Soviet times, and a summer theater has been built. There is a fountain in the reservoir. Another fountain has multi-colored illumination at night. The fence of the park has an interesting feature. It is adorned with miniature cannons.
The park is very popular and Kobrin's newlyweds. They come to be photographed at the fountain with white swans or walk in a shady park. For those who wish, there is a boat rental on the lake.
Newlyweds are also offered a special service - a wedding on the "Lovers' Island" in a beautiful snow-white rotunda located on an island in the middle of a reservoir.
Now in a clean well-groomed park there are many different animals and birds. They are loved here, so they are not afraid of people and have become almost tame. Peacocks walk in the park, swans swim in the pond, and curious squirrels live in the trees.
Photo