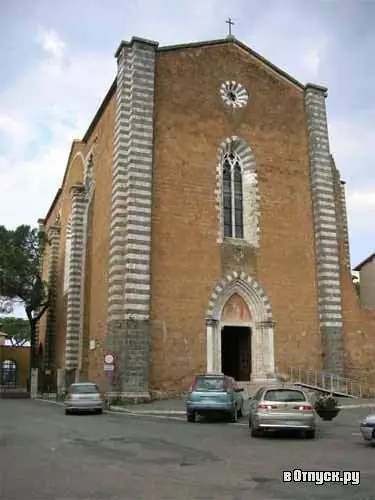 Description of the attraction
San Domenico is a church in the town of Orvieto in Umbria. Its construction began in 1233, just a few years after the death of Saint Dominic, making it one of the first churches of the Dominican order. Once the building consisted of a central nave and two side chapels, but all that remains to this day is an apse and a transept. In 1932, most of the church was demolished for the construction of the Women's Physical Education Academy, which is now occupied by the Ministry of Finance's training center.
Today, San Domenico houses the pulpit, which was used by Thomas Aquinas himself during the lectures on theology that he gave in Orvieto in the second half of the 13th century. Of particular note is the Mausoleum of Cardinal De Bray, made by the sculptor Arnolfo di Cambio around 1282. As the restorers have proven, the statue of the Madonna, which is part of the monument, dates back to the 2nd century BC. Another attraction of the church is the Petrucci Chapel, designed by the architect Michele Sanmicheli in 1516-1623 and located under the choir. It is made in the shape of an octagon and is decorated with several sculptures.
Once in this temple one could see a beautiful polyptych depicting the Madonna and Child with the saints by Simone Martini (1323-1324) - today it is exhibited in the Orvieto Cathedral Museum.
Photo