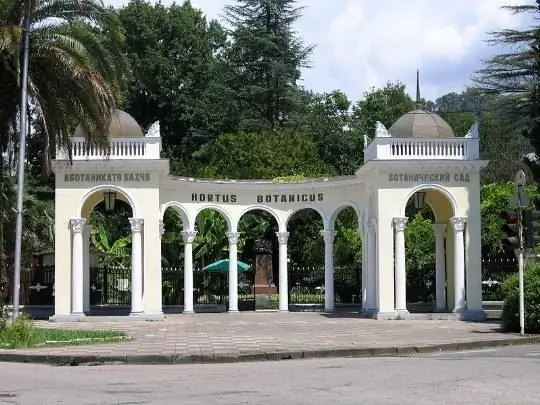 Description of the attraction
The botanical garden in Sukhumi, known throughout the former Soviet Union, has retained its popularity among tourists visiting Abkhazia today. The botanical garden has a complex but interesting history that began almost 200 years ago, back in 1838. On the southern borders of Russia there were numerous garrisons, one of them was located in the Sukhum fortress. Doctor of the Sukhumi garrison Bagrinovsky drew attention to the favorable humid subtropical climate of the coast and the possibility of replenishing the diet of those serving with vitamin plant food, especially since it was very popular among the local population. At the same time, he planted a luxurious garden of subtropical fruit crops, and this was the beginning of the future botanical garden.
By the way, the name of the hero of the Patriotic War of 1812 N. N. Raevsky is associated with this place, due to the fact that his son Lieutenant General N. N. Raevsky was the commandant of the Sukhum fortress, and with his submission, the territory of the Bagrinovsky garden was expanded and transferred to the military department. The garden and its plant pets survived two Russian-Turkish wars, the Abkhazian war of 1992-93, numerous natural and economic shocks, but still delight with a riot of tropical vegetation and chirping birds. Several thousand plant species grow on thirty hectares of the Black Sea coast, sheltered by the Caucasian mountains from the northern winds.
The entire exposition is divided into fifty clumps (vegetation areas), connected by shady paths for tourists. Tea bushes, laurel thickets, numerous magnolias and water lilies, citrus and olive trees have taken root here. The garden's pride is a 250-year-old linden tree that preserves the history of Sukhumi on biological carriers - annual rings.
Photo