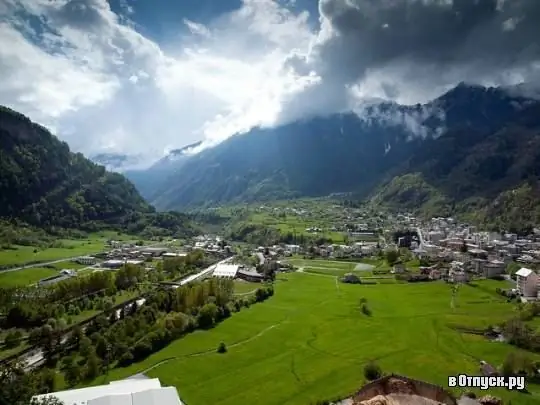 Description of the attraction
Sondalo is a small village located at an altitude of 940 meters above sea level a few kilometers from the popular Italian ski resort of Alta Valtellina. Its territory is part of the Stelvio National Park.
Sondalo is known primarily as a health resort that can meet all the needs of holidaymakers. The salubrious air, the temperate climate, the variety of natural landscapes and the advantageous geographical location - at the optimum altitude and protected from the winds - make this resort an excellent place to relax at any time of the year.
Sondalo is home to many cozy family-run hotels and restaurants where you can sample delicious local cuisine. And on the right bank of the Adda River, in the park, there are several equipped camping sites, ideal for those who want to be alone with nature. Those who are interested in cultural and architectural monuments will find the historic center of the city with its old buildings stretching along the narrow medieval streets of Via Rodorio, Via San Fedele and Via San Clemente. Some of the facades of the houses are decorated with amazing frescoes. You can also visit the parish church of Santa Maria Maggiore with priceless works of art, the very ancient church of Sant Agnese and the 13th century church of Santa Marta with magnificent frescoes by Giovannino da Sondalo. From an architectural point of view, of interest is the "Liberty" of the Pineta di Sortenna - now a nursing home for believers.
Nature lovers will love a trip to Valle di Rezzalo, a veritable open-air museum with a huge variety of flora and fauna and beautiful examples of rural architecture. By the way, Sondalo is one of the richest regions of Alta Valtellina in mineralogical terms.
Sondalo Multifunctional Center offers tennis, basketball, volleyball, soccer and other sports. In winter, cross-country skiing is possible in the surrounding meadows.
Photo