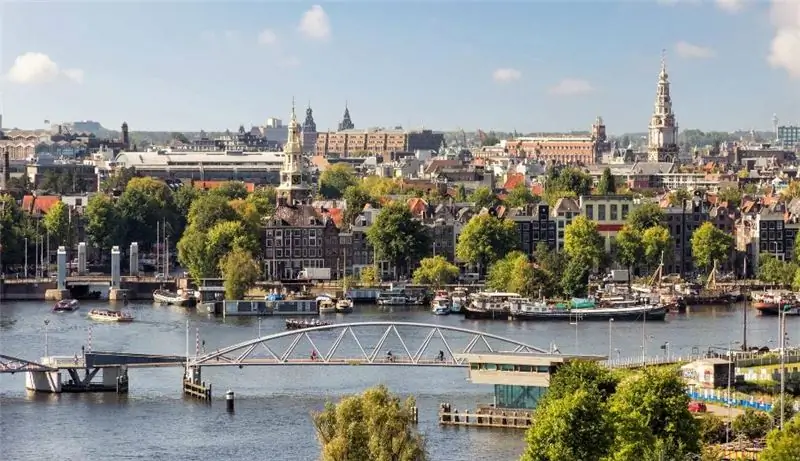 Accommodation
Nutrition
Entertainment and excursions
Transport and souvenirs
The capital of the Netherlands, Amsterdam is one of the best preserved cities in Europe. Around 6,000 buildings can be found along the numerous canals. While walking around the city, one way or another, you come across another architectural masterpiece. There are many museums, art galleries, as well as the most popular European clubs. Most residents of the Dutch capital prefer to move around the city by bike, so in Amsterdam there are shops selling and renting this type of transport at every corner.
Tourists come to Amsterdam for a variety of reasons. Some people dream of seeing tulips in bloom, so their visit to the city falls on the period from early April to early May. Others visit Amsterdam on New Year's Eve, when the funniest parties take place here. Lovers of a relaxing holiday should plan their trip to Amsterdam from October to March. Absolutely all travelers are concerned about the question of how much money to take to Amsterdam to be enough for visiting museums, entertainment, food in cafes, souvenirs and paying for transport.
In the Netherlands, all prices are quoted in Euros. It is this currency that travelers are recommended to bring with them. Nothing bad will happen if you take dollars to Amsterdam. They will be exchanged for euros at any bank in the city. So how much money a tourist will need for a vacation in Amsterdam …
Accommodation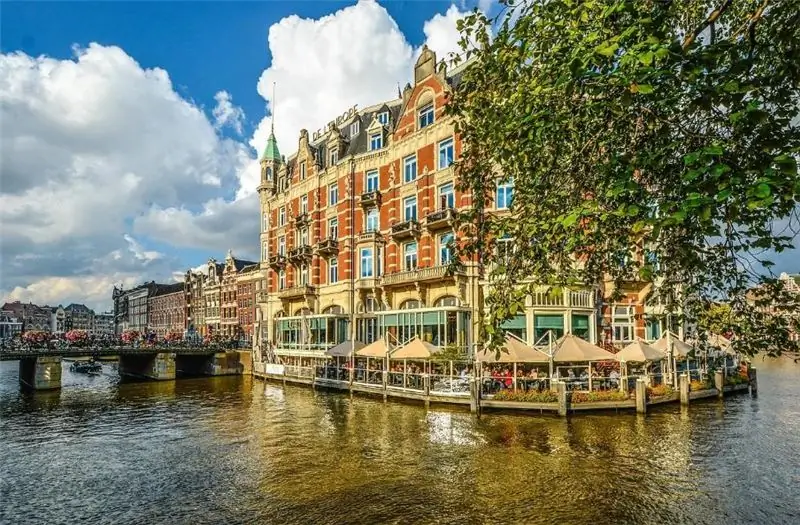 As in most European cities, Amsterdam has both expensive luxury hotels and democratic hostels, whose prices please people on a budget. The cost of living in the latter varies from 30 to 40 euros. The most famous hostel in the city is Flying Pig Hostel Amsterdam at Nieuwendijk 100 - clean and safe. Praise and "Cocomama Hostel" in the city center. It is located in a former brothel building and has its own laundry, which is a rarity for such budget hostels, and a movie room.
The rest of the city hotels are more expensive:
1 star hotels. Among them there are hotels that offer rooms with a shared bathroom. Accommodation in them will cost less than in rooms with a private bathroom. You will have to pay 50-90 euros for the room (Hotel Abba, Hotel Torenzicht);
2 star hotels. Rooms in them are rented for 110-140 euros per day. There are also more expensive options in this category. Two-star hotels "Amsterdam Wiechmann Hotel", "Alp Hotel" received excellent reviews;
3 star hotels. A room in these hotels will cost 130-170 euros. Pay attention to The Times Hotel, The Lancaster Hotel Amsterdam;
4 star hotels. The standard room rate in these hotels is 150-260 euros, but there are four-star hotels where a room will cost 100 euros per day, for example, in the chain hotel "Park Inn by Radisson Amsterdam City West";
5 star hotels. Room prices start at 210 euros and can reach 440 euros (Andaz Amsterdam Prinsengracht - a concept by Hyatt) or even 770 euros per night in the unusual Crane Hotel Faralda, which is housed in an old crane.
Nutrition
There are many eateries in Amsterdam offering freshly prepared food at reasonable prices. Lunch at the Buffet van Odette at Prinsengracht 598, 1017 KS Amsterdam will cost about 15 euros. It serves fresh farm meat and bread made in its own bakery. This cafe has its fans who come from the most remote corners of Amsterdam to taste delicious sandwiches, homemade soup and quiche.
For breakfast it is better to go to De Carrousel (address: HM van Randwijk, 1017 ZW Amsterdam). This is a wonderful cafe famous for Dutch pancakes with different fillings and excellent Belgian waffles. The cost of pancakes is from 6 to 12 euros, depending on the filling, waffles will cost 5, 5-10, 5 euros, an English breakfast - 9, 5 euros, baguettes with cheese, tomatoes cost 4-4, 5 euros, a hamburger - 9, 5 euros, a cheeseburger - 10, 5 euros, a cup of coffee - 2, 5 euros, cappuccino - 2, 7 euros, hot chocolate - 2, 8 euros.
Fans of original establishments should definitely drop by the Pllek restaurant (TT Neveritaweg 59, 1033 WB Amsterdam), which is built from old shipping containers. An artificial beach with sun loungers adjoins it. Life here does not stop for a second. Live music is played in the evenings. Prices are average: snacks cost 7-13 euros, desserts - 3-13, 5 euros, salads - from 7 to 14 euros, a portion of Jameson whiskey or cognac - 5 euros.
Another trendy and unusual place in Amsterdam is Supperclub, which is located in the city center on the inner canal in the immediate vicinity of Koningsplein. This is a theater restaurant where acrobats and musicians entertain guests during dinner. You can eat not at the table, but on comfortable beds. For 69 euros, the chef will serve 5 dishes dominated by one product, such as pumpkin or parsnips. This is the latest in European culinary arts.
Dutch cuisine can be tasted at the Hap-Hmm Café on Eerste Helmersstraat 33, near the Vondelpark. Shrimp soups cost 6, 5 euros, and squid - 4, 5 euros. For soufflés, puddings, pancakes they ask 3-5 euros, steaks will cost 10 euros. Veal dishes are priced at least 13 euros, schnitzel - 13, 7 euros, fried potatoes - 1 euro.
As you can see, there are many cafes and restaurants in Amsterdam where it is quite possible to dine for 20-30 euros. More expensive establishments also work, where, in addition to a delicious lunch or dinner, they will offer additional entertainment.
There are also coffee shops in Amsterdam, which can be recognized by a white or green sticker on the door or windows. They sell marijuana-infused baked goods.
Entertainment and excursions
In Amsterdam, a tourist will find many attractions that he can visit absolutely free. These include:
Bloemenmarkt flower market, where everyone comes to admire tulips and buy bulbs of these plants as a gift to friends and acquaintances. By the way, they can be delivered directly to the airport;
Vondelpark park, located near the Museum Quarter. This is the largest park in Amsterdam and a favorite walking place for city residents and visitors. Here you can ride a bike or walk;
Dam square and surroundings. This square, on which the Royal Palace rises, is a couple of minutes from Amsterdam Train Station. Despite the fact that there are always a lot of tourists, Dam Square is still worth seeing;
Red Light District just a stone's throw from Dam Square. You need to come here after 23:00. It has everything: bars, museums, breweries, avant-garde theaters, nightclubs and discos.
Also, being in Amsterdam, you shouldn't miss a number of museums. The main trinity is concentrated near the Museum Square. These are the Rijksmuseum with its main masterpiece "Night Watch" by Rembrandt, the Van Gogh Museum and the Stedelijk Museum. Tickets for each will cost about 20 euros. You can save money by purchasing a special City Card, which will provide free access to these museums, as well as to the botanical garden, Nemo Science Museum, Artis Zoo, Rembrandt House Museum, to the windmills of the Zaanse Schans village and some other institutions. The cost of the City Card for 24 hours is 60 euros. The card, which is valid for 48 hours, costs 80 euros.
What else can you advise to do in Amsterdam? Climb to the observation deck on the A'DAM tower located in the northern part of Amsterdam. There is a wonderful view of the city from there. The highest swing in Europe is also located there. A ticket to the observation deck costs 13.5 euros.
For a cruise on the canals of Amsterdam, they ask for 16 euros. There will be no Russian-speaking guide on such a tour, but everyone will be offered an audio guide in Russian. Pancake cruises are a great alternative to simple canal walks. A 75-minute walk on the Pancake Boat, during which you can eat unlimited pancakes, sandwiches, salads, and at the same time enjoy the city views from the water costs 19.5 euros. The cruise, which lasts 2.5 hours, will cost 27.5 euros. This is a great opportunity to ride a boat and try pancakes with different fillings.
For gourmets, there is a tour of the famous Heineken Experience brewery at Stadhouderskade 78, 1072 AE Amsterdam. Exhibition halls occupy four floors. The tasting room is especially fond of guests. The ticket, worth 18 euros, includes an hour and a half tour of the brewery, tasting of 2 types of beer, and a free city map. For 55 euros, a tourist will be given a behind-the-scenes tour and will be given a taste of 5 sorts of beer, as well as a bottle of Heineken.
Transport and souvenirs
Amsterdam is not as big as it seems when looking at its map. All sights can be easily reached on foot, taking pictures of beautiful panoramas along the way. However, some tourists prefer to get around the city by public transport. Trams and buses run around Amsterdam. There is also a metro with three lines. The cost of tickets for all types of transport is the same - a one-time trip costs 4 euros. You can buy a daily ticket for 16 euros, which will pay off in 4 trips. A travel document for two days will cost 21 euros. Paper tickets are no longer used in Amsterdam. To pay for travel, you need to purchase an OV-chipkaart card, which costs 7.5 euros.
Trains and buses run from Schiphol Airport to the city center. Traveling by rail will cost less - only 5, 5 euros. To travel by bus, you will have to pay more euros. A taxi will take you from the airport to Amsterdam for about 50 euros.
You can spend a fortune on souvenirs in Amsterdam. There are too many original gizmos that are of high quality and are expensive at the same time. For example, wooden klompa shoes, which can be worn in everyday life, for example, in the country, will cost about 30 euros per pair. Very beautiful coasters for hot dishes, which are ceramic tiles with a pattern in a wood frame, cost from 25 euros. Tulip bulb sets are sold for 10 euros. A piece of Dutch cheese will be an excellent souvenir. The cost of one kilogram of cheese starts from 10-15 euros.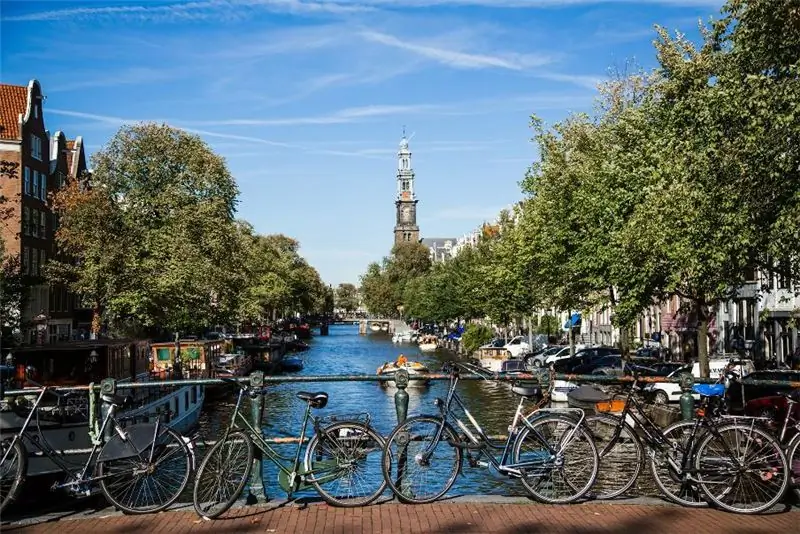 In order to feel confident in Amsterdam, that is, to allow yourself a boat trip along the canals, and trips to museums, and excursions outside the city, and the purchase of original gifts that will delight friends who are left at home, we recommend allocating an amount of 80 to 110 euros per day. … This will amount to 560-770 euros per week. To this figure should be added accommodation and flight fees. Of course, any person himself determines the level of his ability to pay. Moving on foot, buying food in budget cafes or supermarkets, you can save a lot and get by with a smaller amount - 30-50 euros per day.
Photo