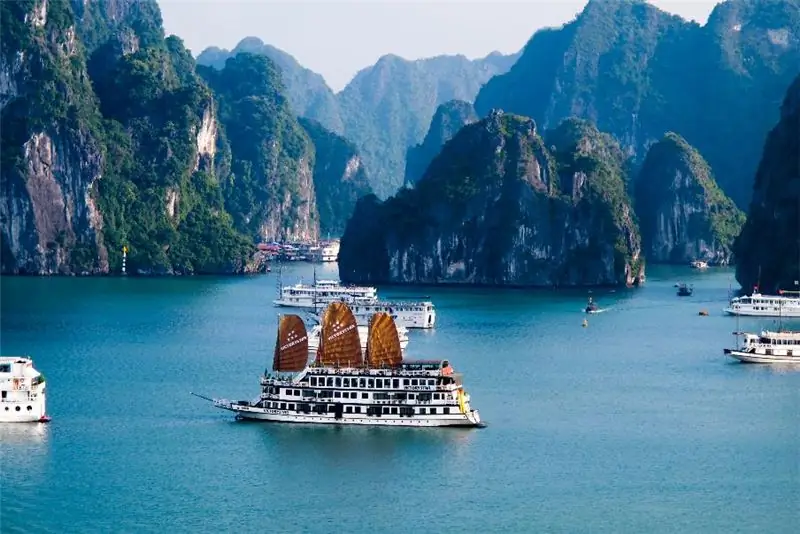 To Halong from Hanoi
Transfer from Nha Trang
Drive from Ho Chi Minh City
Halong Bay is located in the northern part of Vietnam. Its area is about 1500 sq. meters. It is said that the name Halong can be translated as "Descending Dragon". According to local legend, more than one and a half thousand islands with steep shores, with caves hidden under hanging lianas, were formed thanks to the activities of the dragon, who saved the locals from the enemy army. The resulting landscape liked the dragon so much that he remained to live in the waters of Halong Bay. Fishermen from coastal villages sometimes even notice its crest in the water.
Experienced tourists assure that Halong is the most beautiful place on the entire planet, and it is definitely worth visiting at least once in your life. How to get to Halong is of interest to many travelers.
There is no airport in Halong. By 2020, local authorities, seeing such popularity of the bay among foreign tourists, promise to open air gates here, but for now they have to get to this natural miracle of Vietnam through other major cities of the country. The most logical way to get to Halong is from Hanoi, although there are options for moving both from the remote Ho Chi Minh City and from the popular resort of Nha Trang among our compatriots.
<! - AV1 Code Flights to Vietnam can be inexpensive and comfortable. Book flights at the best price: Find Flights to Vietnam <! - AV1 Code End
To Halong from Hanoi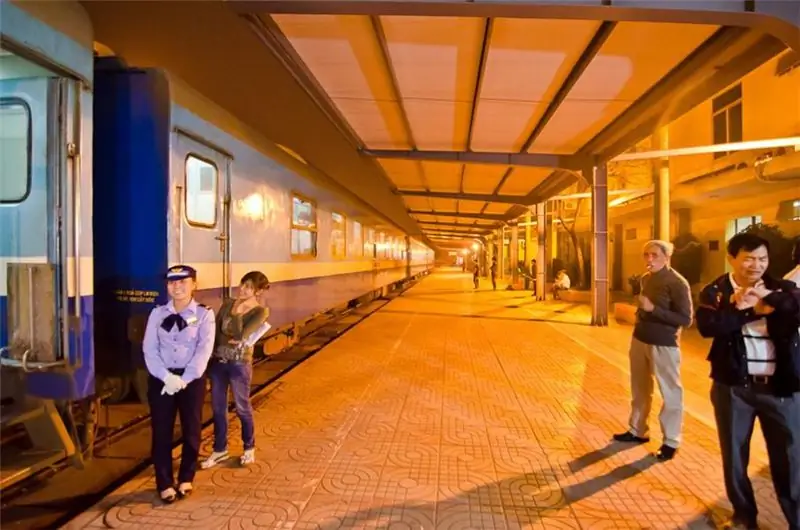 The capital of Vietnam, Hanoi, is located 170 km from Halong Bay. If a tourist prefers to travel around Asia on his own and categorically rejects the opportunity to go to Halong as part of an excursion group (such a one- or two-day trip will cost $ 100-250), then he can get to the emerald islets growing out of the water surface using the following types of transport:
Taxi. The fare in this case will be $ 100-110. A taxi ride is usually chosen by family tourists with babies and a lot of suitcases;
minivan. Minibuses bound for Halong wait for passengers at Hanoi's Gia Lam bus station. Travel for them will cost $ 6. Tourists will spend about 4 hours on the way. A trip to Halong by minivan is also offered by numerous travel agencies in Hanoi. These private minibuses leave from the city center. Usually their parking is located near the office of the company where the tickets were purchased (they cost about 10-12 dollars);
bus. It departs from My Dinh Station in Hanoi and arrives at Bai Chay, on the western shore of Halong Bay. You will need to take a taxi or auto rickshaw to the place where cruises along the bay start for $ 5-20. Buses reach Baichai in almost the same time period as minivans. Tourists spend about 4-5 hours on the road. A bus ticket sells for $ 3-5;
train. Hanoi is connected by rail to the city of Haiphong, which is located 66 km from Halong Bay. Buses and ferries run from Haiphong to Halong. The train ride to Haiphong, which will cost $ 10 in a sleeping car (and only such trains go here), are rarely chosen, since flights are often postponed or canceled altogether. There is also a train route that links Hanoi's Yen Vien station to Halong. The train runs once a day, leaves at 4:55 am, runs 6 hours. You can buy a ticket for this train for $ 4.50;
by seaplane. Seaplane flights from Hanoi International Airport to Halong are only 45 minutes away. The plane will land directly on the water near the pier of Tuan Chau Island, where the most famous sights of Halong are concentrated. The flight can be extended by including an additional 15-minute sightseeing tour over the bay. The flight costs $ 175.
Transfer from Nha Trang
Nha Trang is the most popular Vietnamese resort on the shores of the South China Sea. Many tourists, once in Nha Trang, also want to see the famous Halong Bay. The cheapest (and most inconvenient) way to get from Nha Trang to Halong is by bus. It will last 29.5 hours.
In order not to waste more than a day of your vacation, we recommend that you reduce the travel time to 6 hours. This can be done by choosing a flight from Dalat or Kamran (the cities with airports closest to Nha Trang) to the city of Haiphong. The trip from Nha Trang to Dalat will take 2 hours 15 minutes by bus and will cost 4-6 dollars. The way from Nha Trang to Kamran will be shorter - only 45 minutes. The shuttle ride will cost $ 3. The flight Dalat-Haiphong will last 1 hour 45 minutes, Cam Ranh-Haiphong - 3 hours 45 minutes. A plane ticket costs from 35 to 600 dollars, depending on the flight and the chosen seat. Also, the ticket price is significantly affected by the time of payment for the flight: the earlier you buy a ticket, the cheaper it will cost.
You can take a taxi from Haiphong Airport to Halong Bay. On the way, tourists will spend 45 minutes and pay 35-50 dollars for the trip.
Drive from Ho Chi Minh City
It will be quite difficult to get to northern Halong from the south of Vietnam. There are no direct buses and trains from Ho Chi Minh City to Halong. Locals recommend driving through Hanoi. You can fly to it, spending only a few hours on the road, or take a bus or train. Then the trip will last almost a day. And the cost of tickets for a bus or train will be almost the same as for a plane. In Hanoi, a tourist can stay for a few days or go straight to Halong Bay.