Accommodation
Nutrition
Excursions
Transport
Souvenirs
Probably, each country can be called unique, but in this case Georgia will be doubly unique. The former Caucasian republic, a blessed land where any twig stuck in the ground takes root, a country of proud and strong people who know how to relax in such a way that they then make up legends about it, Georgia has always attracted travelers with different preferences. Wealthy tourists who can afford to stay in luxury five-star hotels and budget romantics who save money and live in hostels come here. Here you can meet fans of extreme sports, conquering five-thousand-meter mountains, and pilgrims who arrived in Georgia to see the ancient Christian shrines with their own eyes. They come here to get medical treatment at thermal health resorts, and to get their share of happiness under the southern sun at sea resorts. And absolutely all tourists before the trip are worried about how much money to take to Georgia, what price level is set in this country in 2019.
All settlements in Georgia are made in the national currency - Georgian lari. It is much more profitable to come to Georgia with dollars or euros, rather than rubles. For $ 100 you can get 265 GEL, for 100 euros - 304 GEL.
In exchange offices, of which there are a lot in any tourist city of Georgia, a more favorable rate is set than in banks. It is best to look for exchangers with the inscription "no commission", where they will not take their interest when exchanging currency.
Accommodation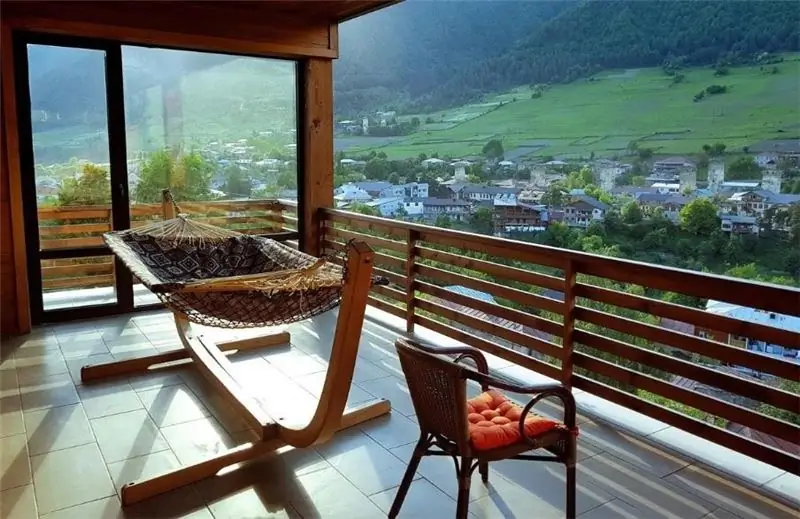 It is not worth hoping that it will be possible to significantly save on accommodation in Georgia. Thousands of tourists come here every day, and comfortable hotels of the European standard work for them, the rooms in which cost a lot. However, in Georgia you can find accommodation for every taste and budget:
hostels. In recent years, quite decent clean and comfortable hostels have appeared in the country, where European youth stay. The cost of a bed in a dormitory room will be about 20 GEL;
three-star and four-star hotels. The standard option that most travelers arriving in Georgia choose for accommodation. A room in a three-star hotel will cost an average of 40 to 80 GEL. Away from the center in large cities there are hotels that accept tourists for 30-35 GEL per day. In a 4-star hotel, you can rent a room for 125-240 GEL;
five-star hotels that are part of the world's hotel chains. A room for one person in such hotels will cost about 600 GEL, as, for example, in "Hilton Batumi";
apartments, apartments, guesthouses. In houses located by the sea in Batumi and Kobuleti, apartments are rented at least 130 GEL per day. A room is offered for 45-50 lari. In Tbilisi, you can find decent apartments in the city center for 100 GEL. In other Georgian cities, housing is rented even cheaper.
Nutrition
To be in Georgia and not try as many different dishes of national cuisine as possible? Nonsense! Forget about dieting and saving, go to home taverns, expensive restaurants, street eateries, inexpensive eateries to discover something new and incredibly tasty every day! It is customary to wash down all culinary delicacies in Georgia with wine - red saperavi or white rkatsiteli. And best of all "homemade" cooked in huge earthenware qvevri jars. By the way, smaller copies of such jugs will be an excellent souvenir from Georgia. There is also wine in bottles in the country, it is it that is exported to other countries. One bottle of wine will cost about 20 GEL. Homemade will be cheaper and much tastier. The Georgians themselves joke that, in fact, there is no bad wine, there is wine that you personally do not like. To understand whether you like the wine or not, you must first taste it. In any family restaurant, the guest will be offered a free glass of wine; in the bazaar, you can generally sleep and choose a drink.
One person spends about GEL 500 per week on food in Georgia. The average bill in Georgian catering establishments is:
15 GEL - in home cafes, without alcohol;
from 25 GEL - in the same cafes, but with alcohol;
2 GEL - if you eat khinkali, which are sold by the piece in Georgia. This is how much 4 khinkali cost, which is quite enough for an adult man to have a snack;
30-40 GEL per day, if you buy groceries in supermarkets and cook yourself.
Fruits and vegetables can be bought in bazaars and small shops. 1 kg of oranges will cost 3 GEL, 1 kg of grapes - 8 GEL, 1 kg of figs - 4 GEL.
Excursions
For excursions in Georgia, it is worth allocating about 500-800 Georgian laris, that is, 200-300 dollars. One individual trip in the company of a guide, who often acts as a driver, will cost about 265 lari ($ 100). For this money, the tourist receives a transfer to a specific tourist site and the story of a knowledgeable person. One excursion usually lasts about 5-10 hours depending on the length of the trip by car. There are also group excursions. They will cost much less (approximately GEL 80 ($ 30) per person).
In the capital of Georgia, Tbilisi, you need to leave money in order to climb the funicular (5 GEL) to the plateau where the Narikala fortress rises, go to the sulfur baths (entrance ticket from 3 GEL and above), visit a couple of museums (a ticket to one museum - in average 5 GEL). Outside the capital, people visit monasteries, which are admitted free of charge. Mtskheta is especially famous for the holy places. For visiting cave cities (for example, Uplistsikhe) they ask for a small fee - about 10-20 lari. In Gori, the Stalin Museum (entrance ticket - 10 GEL) and its carriage (inspection will cost 5 GEL) are very popular.
From Batumi, you can go on a sightseeing tour of Adjara (425 GEL), where guests will be shown amazingly beautiful waterfalls, several fortresses, including the Gonio fortress (entrance ticket - several GEL), where, according to legend, the Apostle Matthew was buried, the resort of Ureki with medicinal black sand.
The cost of procedures at the Borjomi resort starts at 30 GEL.
There is also something to do in Georgia for those who like extreme rest. For example, there are excellent rafting opportunities. A day of descent on inflatable boats along mountain rivers costs from 40 to 170 GEL.
Transport
Public transport in Georgia is inexpensive. Between the cities, both comfortable buses run (these usually run between large cities, for example, between Tbilisi and Batumi, the fare will cost 30 lari), and nimble minibuses, which do not differ from ours. By the way, a trip from Tbilisi to Batumi by minibus will cost only 20 GEL. It will cost about 10 lari to travel from the capital of Georgia to Kazbegi. In the mountains, a trip by minibus will cost more than on the plain. For example, from Zugdidi to Mestia, the capital of Svaneti, public transport will take you for 20 GEL. The main disadvantage of local minibuses is the lack of a timetable. In remote areas, the car can wait for about an hour.
Using public transport in major cities will not drain your pockets much. A metro ticket in Tbilisi costs 50 tetri (this is the name of local pennies), for minibuses - no more than 80 lari.
You can travel around Georgia and hitchhiking. Moreover, voters on the road are picked up even by those Georgian guides who travel with other tourists along the route they have paid for. There is nothing to be done: the laws of hospitality have not been canceled yet!
Many travelers who decide to actively move around the country rent a car. The cost of car rental will cost 90-150 Georgian lari, depending on the class of the car. For those who do not know how to drive, it is recommended to hire a car with a driver who can act as a guide for about 155 GEL per day.
Souvenirs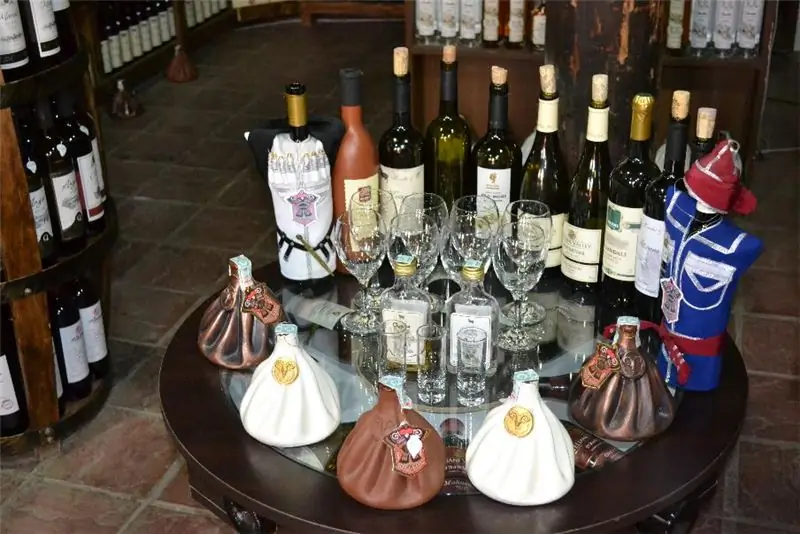 How much to spend on gifts and souvenirs, each tourist decides on his own. But in Georgia it is absolutely impossible to resist buying some sweets, wine or pleasant little things that will remind you of your trip in the future.
From edible souvenirs from Georgia they bring churchkhela (2-3 GEL) per unit, leaves of thin marshmallow tklapi (about 2 GEL), baklava (from 2 GEL), aromatic jams for every taste (4 GEL), honey (from 9 GEL), Saperavi wine - about 20 GEL, delicious cheese (1 kg costs about 11-15 GEL), Svan salt and spices (3-15 GEL), local sauces, for example, spicy adjika (6-19 GEL). Churchkhelu, tklapi and other sweets, cheese and spices should be chosen in the markets, wine - in any liquor store or supermarket. Also, local tea is brought from Georgia, the packing of which will cost about 3 lari. A pack of Turkish coffee costs about 1.5 GEL.
Any woman will be delighted with jewelry made of silver or gold. The cost of the ring is about 45 GEL. Pilgrims buy silver bracelets with the words "Save and Preserve" (about 20 GEL). Lovers of ceramic dishes will appreciate a bowl or jug for storing wine (from 10 GEL). Traditional magnets with Georgian symbols will cost 1-2 GEL.
Fashionistas and women of fashion who dream of updating their wardrobe are unlikely to find something interesting in Georgia. Basically, clothes from the nearest Turkey are sold here, but any Georgian will advise you to buy them on the other side of the border, especially since getting to the nearest Turkish towns is very simple: you can do it by minibuses.
***
To travel in Georgia, you should stock up on a certain amount of money. $ 30-40 a day is enough if you travel short distances. When renting a car, you will need about $ 100 per day. If you live in one city, for example, in Batumi, then about $ 175 a week will be enough.
It should be remembered that in the summer, prices for accommodation and meals, as well as for many services for tourists, increase by 20-30%. Knowledgeable people recommend coming to Georgia in spring or autumn.
Photo