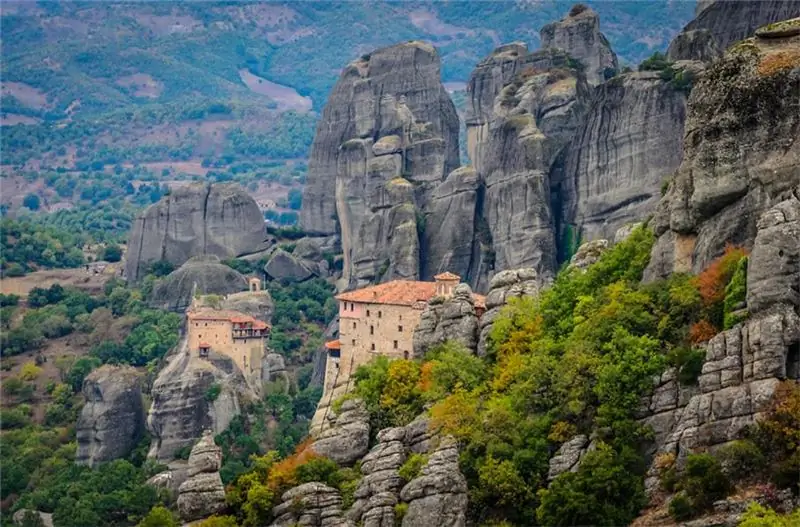 Accommodation
Transport
Nutrition
Other expenses
Greece must appear someday in the life of every tourist. It seems that he was not going there at all, but already flying to the islands or to Athens, being tempted by cheap tickets that turned up on the occasion. And then the unexpected happens: you no longer understand how you lived without this country, and you try to find an answer to the question: why it was not in your reality for so long.
Every tourist who is accustomed to planning his budget begins to figure out how much money to take to Greece, how much it is suitable for a budget tourist. Compared to other European countries, Greece can pleasantly surprise you with low prices for accommodation and meals. Souvenirs, excursions, public transport tickets may require additional costs. Souvenir products (figurines, magnets, T-shirts) are consistently expensive in tourist places. Additional serious acquisitions such as a fur coat, for which everyone travels to the north of the country to Kastoria on the border with Albania, should be planned in advance and separate funds should be allocated for them.
You can come to Greece with dollars, but here the euro is in use, so it is better to stock up on local currency at home, so as not to look for exchangers in the country.
Most tourists start their acquaintance with Greece from its capital - Athens. In the north, there is another large interesting city with many attractions - Thessaloniki. Both cities have airports and are connected by air, land and water with other Greek settlements.
Accommodation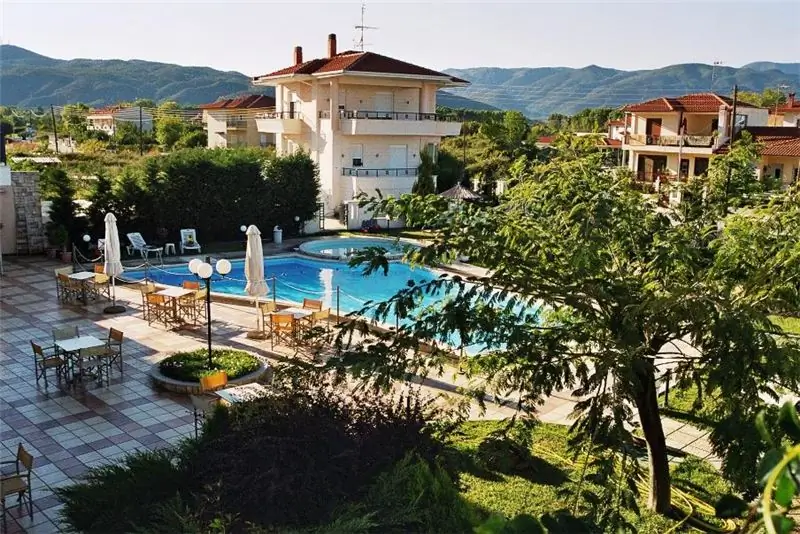 The cheapest accommodation in Greece is not in hotels, but in apartments or apartments. In the low season, even in big tourist cities, you can find a suitable apartment or place in a hostel for about 10-15 euros per day. It is better to look for such options at least a month before the intended trip and remember that Greeks are more willing to rent apartments not for a day or two, but for several weeks or even months.
Prices for apartments in different Greek cities and islands are insignificant, but differ:
Athens. One-bedroom apartment in the city center in 2019 costs 10.6 euros, the same, but on the outskirts - 9.6 euros. An apartment with three bedrooms in the center will cost 18, 2 euros per day, in remote areas of the city - 17, 5 euros;
Crete. A separate one-bedroom apartment in Crete is rented for 9.4 euros per day (you will have to pay 283 euros per month), a three-room apartment - for 15 euros (the monthly rent will be 450 euros);
Thessaloniki. It is almost as expensive a city as Athens. In the center, you can find one-bedroom housing for 10, 3 euros per day (309 euros per month). In areas located a few bus stops from the center, the same apartment will cost an average of 8, 2 euros (248 euros per month). Three-room apartments cost from 405 euros in the outskirts to 528 euros per month in the center;
Santorini. This island breaks all rental records. A one-room apartment can be rented here for 20 euros per day (600 euros per month), a three-room apartment for 41 euros per day (1250 euros per month).
Those who cannot pay this amount for accommodation can stay in tents. True, the Greek authorities insist that tents be set up only in a specially designated area. This rule is especially strictly enforced during the high season.
The richer travelers choose to stay in hotels. In Greece, you can find decent two-star hotels, rooms in which are rented for 35-65 euros per day, three- and four-star hotels, where you can stay for 65-125 euros per person. Prices for a five-star hotel room start at € 100.
Transport
Sitting only in Athens is not interesting. You can organize your own trip to neighboring cities or islands. The country has a well-developed public transport system. Tickets to different parts of Greece will rarely cost more than 100 euros.
Vehicles in Greece:
buses … The further you have to go, the more comfortable and modern the transport will be. The largest Greek cities (Athens, Thessaloniki, Patras) are connected by bus routes with most of the settlements in Greece. Crossings can be direct or with one or two connections. Greek buses also run between Athens and the major cities of the Balkans. It is beneficial to use this type of transport if you need to move from one town to a neighboring one, for example, from Thessaloniki to the resorts of the Halkidiki peninsula. A ticket to Nea Moudania will cost 6, 3 euros, to Neos Marmaras - 13 euros, to Sarti - 18, 3 euros, to Ierissos - 10, 8 euros. You can get from Athens to Thessaloniki for 47 euros and 18 hours. This is a very long trip that not every traveler will enjoy;
aircraft … To get from Athens to Thessaloniki, we recommend a direct flight with Olympic Air, which takes 55 minutes. Surprisingly, the cost of a plane ticket will not exceed the price of a bus ride. So domestic flights within Greece should not be ignored. They can be quite beneficial. For example, a flight from Athens to the volcanic island of Santorini with beautiful snow-white houses and blue churches will cost 20 euros in general. Air services are offered by Ryanair. Aircraft take passengers to the island in 50 minutes;
trains … The railway network in the country is poorly developed. Trains run in only three directions - from Athens towards the Peloponnese, from Athens to Thessaloniki, from Thessaloniki to Alexandroupoli. The train will reach the northern capital of Greece - Thessaloniki - faster than a bus. In addition, there is a night crossing, which is very much appreciated by some travelers;
ferries … You can get to the Greek islands, of which there are about 700, either by plane (though they fly only to where there are airports), or by ferry. The fare is different. It is set depending on the size and speed of the boat, as well as the duration of the trip. A voyage to Rhodes from the port of Piraeus, the third busiest port in the world, located about 10 km south of the center of Athens, costs 63 euros one way. The ferry runs from 3:00 pm to 9:10 am the next day, so you should definitely buy a seat in your cabin. The ferry from Athens to Heraklion in Crete takes about 10 hours. A ticket for it costs from 29 to 49 euros. The ferry from Athens to Santorini will cost 40 euros.
For those who do not want to depend on public transport, we can recommend renting a car (200 euros per week), or better a small but very comfortable scooter, which is called papakia here, which can be translated as "duck". You can travel with it throughout the country, transport it on ferries. The cost of using a Peugeot moped is about 20 euros per day. It will be cheaper to rent it immediately for a week.
Nutrition
Those tourists who stay on vacation in apartments with a kitchen can save on going to restaurants and cook for themselves. Products that can be bought in large supermarkets, in small shops where only the most necessary things are presented (bread, milk, vegetables, meat) or in markets will cost about 10-15 euros per day. Lunches and dinners in Greek restaurants will cost 40 euros for one day of rest.
Experienced tourists know that it is perfectly safe to eat street food in Greece. For example, here on every corner are sold gyros - a kind of shawarma, to which potatoes are also added, and souvlaki - small kebabs wrapped in dough. The cost of such a snack ranges from 1 to 2.5 euros. A cup of coffee will cost 1, -1, 25 euros if you order it from a bar, and 4 euros if you strain the order of a waiter and drink coffee at a table in a cafe.
More serious dinners are served in taverns - family establishments, where the owner's wife or mother often prepares food for visitors, so they always have delicious food here. The cost of meat dishes starts from 6 euros. The average check in such places will be about 15-20 euros.
Taverns are divided into meat and fish. In fish taverns, the cost of dishes will be slightly more expensive than in meat taverns. But here they always serve dishes only from the fresh catch.
In higher-level restaurants called estiatorio, the average bill will be between 20 and 40 euros. Salads here cost from 5 to 10 euros, meat dishes - from 8 to 18 euros, fish platter will cost 20-40 euros.
Top 10 Greek dishes
Other expenses
About 100-200 euros should be allocated for excursions and tickets to museums. You can visit any Greek museum for 10-20 euros. On Sundays, most museums are admitted free of charge. People of creative professions with a certificate can enter all museums without payment.
Boat trips, which are arranged on different Greek islands, cost from 40-50 euros. To look at Mount Athos from the side of a boat will cost about 45 euros. Diving in the Aegean Sea is offered for 50 euros per knock. You can go to the Meteora monasteries as part of an excursion group for 50-100 euros or on your own. Then you have to pay only for travel on a regular bus and buy an entrance ticket to each monastery.
In Thessaloniki, you can sign up for a free tour. There are two such tours in the city: a sightseeing tour of the city's attractions and a gastronomic tour of restaurants and taverns. The duration of each walk is about 2 hours.
In major Greek cities there are tourist buses that stop near significant historical sites. A ticket for such a bus, for example, in Thessaloniki, costs 10 euros.
Excursions in Athens with a Russian-speaking guide cost from 70 to 125 euros.
Leave about € 200 for gifts and souvenirs. Good leather shoes and accessories are available during the sales season. In big cities there are many shops selling bags and belts. Prices for bags start at 10 euros, leather bags cost about 25 euros. Light summer trousers can be purchased for 5-10 euros. Fur coats will cost around 1500-3000 euros. Small souvenirs such as magnets and T-shirts will cost 6-10 euros.
The cost of olive oil starts from 6 euros for 1 liter, 1 kg of olives can be bought for 5-6 euros, a liter jar of honey will cost 10-12 euros. Especially delicious is the honey that is sold on the islands of Crete and Rhodes.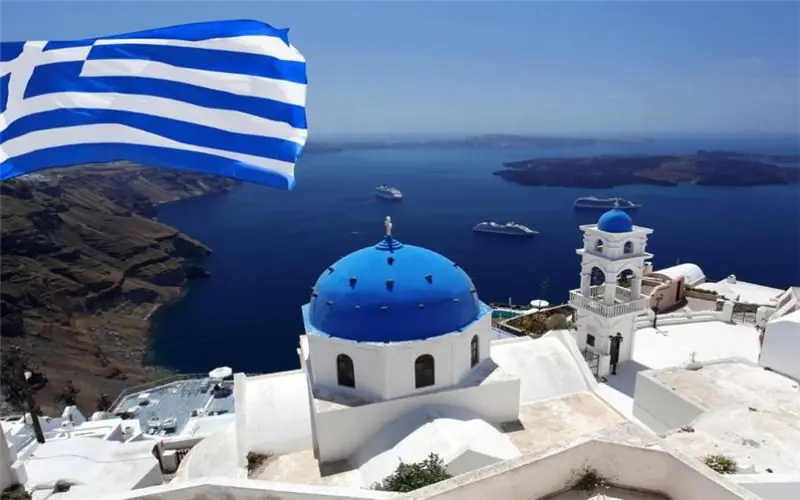 The Greeks themselves have established rules so that every person entering their country has at their disposal 60 euros per day. This is on condition that you have already booked and paid for the hotel. In fact, if you are not chic, then you can meet a more modest amount - about 30-40 euros per day. Foreign agencies comparing living standards in European countries estimate that the average cost of food in Greece is 27 euros per day. The rest of the money will be used to pay for transport and tickets to museums and entertainment venues. We recommend that you count on 60 euros per day, but add to the resulting amount the costs of living, travel between cities and shopping.
Photo