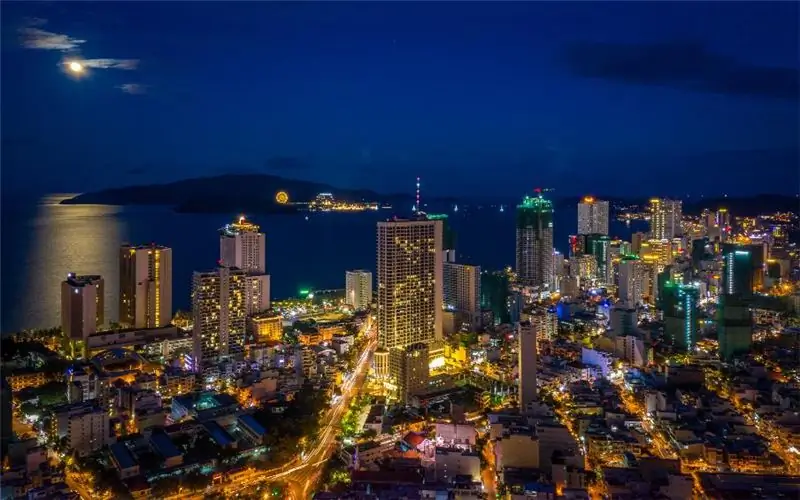 Living expenses
Travel in Nha Trang
Meals at the resort
Buying souvenirs
Entertainment and excursions
The popular Vietnamese resort of Nha Trang in the past was an ordinary fishing village, but then the French came to the country, who were able to appreciate the magnificent location of the village, on the mainland side of the protected mountain range, and the local pleasant climate (warm, but not hot summers and mild winters). Gradually, Nha Trang turned into a thriving resort town where many Europeans spend the whole winter.
There is an opinion that Vietnam is an inexpensive state, where every visitor feels like a millionaire. In fact, Nha Trang and its prices are geared towards tourists. The Vietnamese have long been accustomed to charging visitors a double or even triple price for a product. Many Nha Trang restaurants and cafes have a special menu with low prices for their own people, others pay more. How much money should you take in Nha Trang to be able to see something outside your hotel?
Many travelers take huge amounts of money with them on their trip to Vietnam, hoping that they can bring home what they don't spend on vacation. In fact, this is not the best idea, because anything can happen along the way: money is easy to lose, it can be stolen. Therefore, it is better, in addition to cash, to have a supply of money on a plastic card.
Popular resorts in Vietnam accept not only national currency (Vietnamese dong) for payment, but also dollars. In many establishments, the cost of goods or services is indicated in dollars. Better to bring your dollars with you.
Living expenses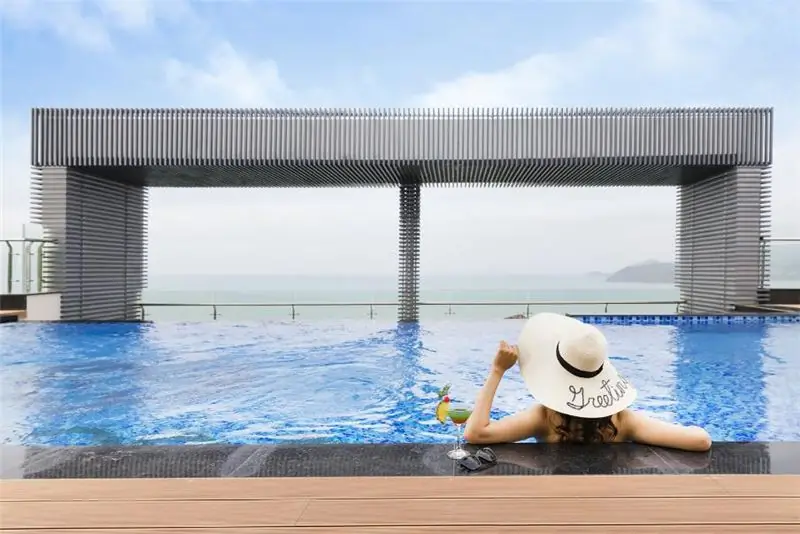 Nha Trang offers its guests 400 hotels of different levels of comfort and a huge number of private guest houses and apartments. When planning a trip to Nha Trang and choosing your accommodation, focus on the seasonality (in winter hotel room rates rise by 20%), the number of stars at the hotel, its proximity to the sea.
The prices for hotel accommodation are as follows:
one-star and two-star hotels rent rooms for at least 210 thousand debt ($ 9) per day. There are quite decent hotels in this category, for example, Truong Giang Hotel;
Three-star hotels, which have a swimming pool, tourist office and rental of water and sports equipment, offer accommodation for 815,500-1165,000 ($ 35-50) per night. Pay attention to the hotels "Aaron Hotel", "Sen Vang Luxury Hotel", "Marilyn Nha Trang Hotel";
hotels marked with four stars are chosen by people who value comfort and coziness. A room in these hotels costs about VND 1,118,400-1631,000 ($ 48-70). The four-star hotels "Xavia Hotel", "Nagar Hotel Nha Trang", "Seasing Boutique Hotel" received good reviews;
five-star hotels in Nha Trang, rather, resemble palaces surrounded by exotic gardens and green lawns. I would especially like to mention the Vinpearl Resort hotel complex, which stands on a separate island. The cost of a room in such hotels starts from 1950000 dong (85 dollars).
If a tourist travels to Nha Trang for a month or more, then he should think about renting an apartment or a room in a guesthouse. You can find good options for 175,000-700,000 dong (7, 5-30 dollars). There is always a detached villa for a large company. 8-10 people can live in such a house for 8,000,000 dong ($ 345) per day.
Travel in Nha Trang
Nha Trang is a small city where you can significantly save on transport. In some cases, walking to a particular attraction in time will be much faster than going to it by bus or taxi. This situation is due to the large number of one-way streets. Drivers have to create long routes that cover the entire city, so it can take 20-30 minutes to get to a shop or tourist attraction two blocks away.
There are several types of transport in Nha Trang that are preferred by tourists:
buses. There are only 6 bus routes in the city. Buses # 2 and # 4 run in the central part of Nha Trang. The ticket will cost 7000 dong (30 cents);
Taxi. There are a lot of cars bringing tourists in Nha Trang. This is a popular transport that is also inexpensive. For a trip over a distance of 10 km, you will have to pay about 145 thousand dongs (a little more than $ 6);
motorcycle taxi. There are no meters, the price is called by the driver. Those who know how to bargain manage to knock it down twice. This will be the real cost of the trip;
pedicab - a bicycle combined with a platform for passengers. The driver pedals and sometimes carries up to five people at a time. The work is hard, but it is priced very cheaply.
Meals at the resort
Travelers from our latitudes go to Nha Trang to try local seafood, of which there are a lot. The restaurants serve jellyfish dishes, turtle, shrimp and lobster soup and more. The cost of such meals starts at 233,000 dong ($ 10). The average check in a decent restaurant in Nha Trang is 525,000-700,000 dong ($ 22-30). You can order food at the food courts of local shopping centers. Lunch will cost 80,000 dong (3.5 dollars).
If the budget is limited and does not allow you to eat in expensive restaurants every day, then you can afford to have a bite a couple of times in Vietnamese eateries that are preferred by the locals. The complex lunch here consists of the first, second and drink. This pleasure costs about 35,000 dong ($ 1.5).
Nha Trang is also famous for its abundance of juicy tropical fruits, which are sold in markets and supermarkets. 1 kg of huge mangos costs 24,500 dong (a little more than a dollar), 1 pineapple - about 14,000 dong (60 cents), 1 kg of mangosteen - 10,500 dong (45 cents) during their harvest, that is, in July. The overly odorous durian fruit is also found on sale in Nha Trang. For 1 kg of durian, they ask from 52,500 dong ($ 2.25).
Buying souvenirs
Even the most indifferent to shopping will not be able to pass by the Nha Trang markets (Hom Moy, Cho Dam, Walking Street bazaar) and shopping centers (MaxiMark, Nha Trang Center), where unusual souvenirs and high-quality wardrobe items are sold at low prices … Before a trip, many tourists have a question: what is worth buying in Nha Trang?
Pay attention to the clothes first. The markets mainly sell things made in Vietnam, but from good materials. Cotton T-shirts for adults and children can be found for 70,000 dong ($ 3), T-shirts for 140,000 dong ($ 6), shorts for 175,000 dong ($ 7.5). In the shopping centers there are boutiques of world famous clothing and footwear manufacturers. Prices there are the same as in stores in Russia.
But it is hardly possible to surprise friends and loved ones with a heap of clothes brought from Vietnam. Therefore, you need to go to the souvenir rows in search of more interesting authentic gizmos. These include the sharp-angled Vietnamese non-hats, which are woven by hand. They are sold for 20,000-30,000 dongs (0, 85-1, 3 dollars) by the craftsmen themselves. An interesting gift will be a costume made from local silk, which costs about 30% less here than in stores in Europe. Women's silk national dress costs about 930,000 dong ($ 40). Cheaper silk clothing can also be found in small private shops.
Statues made of stone and wood, paintings by local artists, bamboo masks, etc. are considered original souvenirs. Their cost starts at 20,000 dong (85 cents). Various adornments from Pailin sapphires and rubies are also brought from Nha Trang. A string of long beads made of such stones in a silver setting will cost 4,660,000-7,700,000 dongs (200-330 dollars).
Entertainment and excursions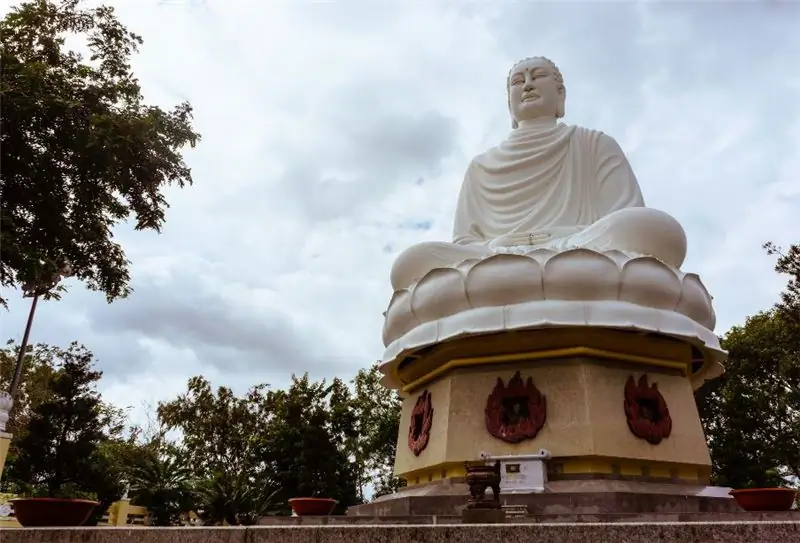 People go to Nha Trang not only for the sea and the sun, although there are also enough entertainment related to the sea element. There are many diving centers in the city where you can rent equipment and take scuba diving training. 1 lesson with an instructor will cost 1,514,500 dongs ($ 65). A boat trip to the coral reefs and the opportunity to swim with a mask and fins will cost from 815,500 VND ($ 35).
There are 7 km of beaches in Nha Trang, for which you do not charge money for the entrance. Only sun loungers will be paid. They are offered for rent for a day at 30,000-150000 dong (1, 3-6, 4 dollars).
Nha Trang is famous for its vibrant nightlife. There are many nightclubs here, some of which are admitted free of charge. But during local holidays, when there are more people, visitors pay for the right to enter the club and disco from 150,000 dong ($ 6).
It can cost VND 1,000,000 ($ 42) to purchase a spa package that includes multiple massages and various baths. It will be cheaper to get a massage in one of the city salons. For this service, they will ask for about 180,000 VND ($ 7.7).
You can see the sights of Nha Trang on your own by renting a bike or hiring a taxi. If you are traveling with children, be sure to take them to the Winperl entertainment center, which consists of various attractions and a water park. The entrance ticket for an adult costs 800,000 VND ($ 34), for a child - 700,000 VND ($ 30).
Russian-speaking guides in Nha Trang offer a number of interesting excursions. It makes sense to go to the picturesque Baho Falls, which are located 25 km from the city. The trip lasts 5 hours and costs $ 41. A two-day trip in the company of a guide to the Daklak province, to visit the Mnong tribe, will cost $ 550 per person. On the way, you will meet coffee plantations, rice fields, beautiful lakes and waterfalls.
How much do experienced tourists recommend to take with you on a trip to Nha Trang? One person will need at least $ 300 for a week or even 10 days (the cost of living is not included here). There is no need to save and rely on a smaller amount, since it is nonsense to fly far away to eat in your room and not leave the beach area. $ 300 is enough for lunches in standard catering establishments, several excursions and the purchase of a minimum set of souvenirs. A thousand dollars a week will allow you to enjoy your vacation to the fullest. About one-fifth of this amount can be spent in markets and shops, about $ 500 should be allocated for expensive, interesting multi-day excursions, the rest will be spent on food in decent restaurants and entertainment (massages, nightclubs, etc.).
Photo