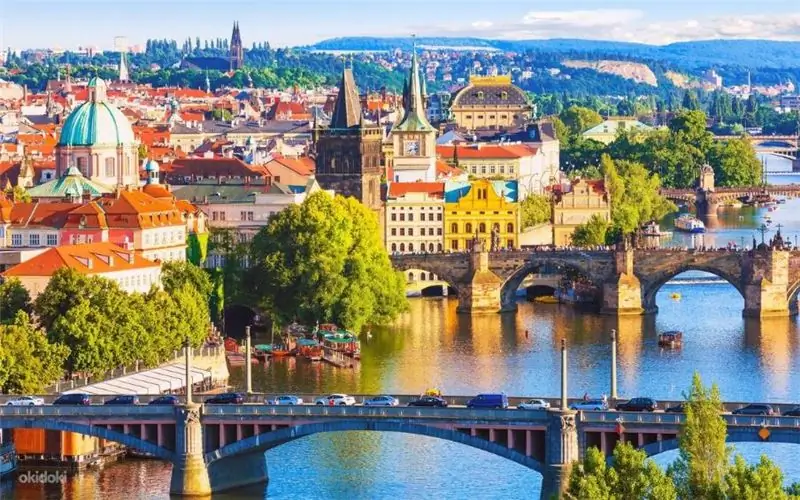 Rental of property
Travel expenses
Excursions in and from Prague
Cost of food and drinks
Groceries in supermarkets
Gifts and souvenirs
Prague is a wonderful old city with cobbled streets, red trams familiar from childhood, with a castle hovering over the Vltava and bridges. People come here for a weekend or a week or two, and sometimes they stay for a month, and some for a year. Compared to neighboring European capitals, Prague is considered an inexpensive and indispensable city. How much money to take to Prague in 2018 to enjoy your vacation? Let's figure it out!
To determine the required amount, you need to understand what the tourist is going to do in Prague. Walking only in Prague and rare metro trips, shopping for groceries in supermarkets and refusing excursions will save you a lot. If the traveler plans to go to restaurants with tasting beer and Czech national dishes, buy souvenirs for all friends and relatives, travel to other Czech cities, then you will have to take an impressive amount of money with you.
The national currency of the Czech Republic is the crown. Tourists usually come to Prague with dollars, euros or rubles and exchange them for crowns.
<! - P3 Code The most important factor in a successful trip to Prague is an inexpensive and comfortable flight. Book flights at the best price:
<! - P3 Code End
Rental of property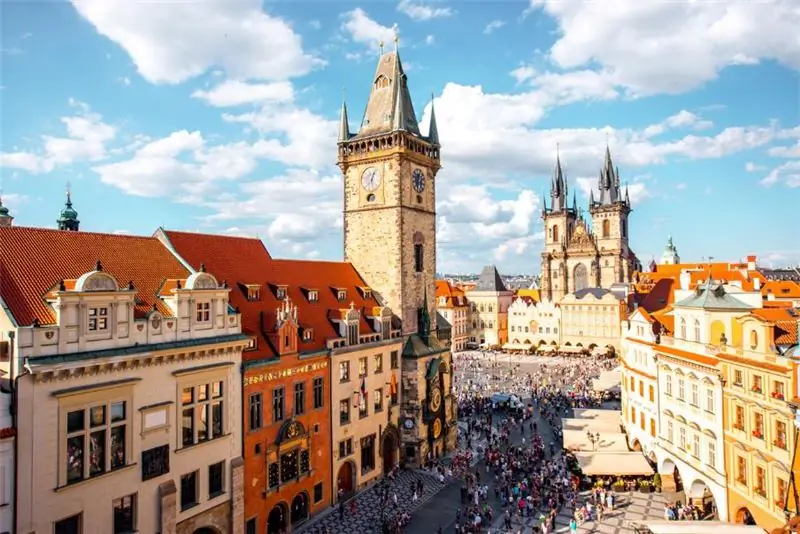 A significant portion of the travel budget will have to be spent on hotel or apartment accommodation. There is such an unspoken rule among tourists, which makes life much easier in an unfamiliar city - to choose hotels near the metro station. You can live on the outskirts of the city, but at the same time be able to go to the center by public transport at any time. Hotel rooms in distant districts from the Old City are cheap. You can stay in a normal three-star hotel for 25-30 euros (625-750 kroons) per day. Moreover, the room rate will also include breakfast. In the center, such a room will cost 40-45 euros (1000-1125 kroons). A four-star hotel near Wenceslas Square will cost more - 80 euros (2000 CZK) per day. Room prices in five-star hotels start at 140 euros (3500 CZK) per day. Apartments, which often have a kitchen that allow themselves to cook, can be found for 40-60 euros (1000-1500 CZK).
For those who want to live in the center, but are not ready to pay big money for rental housing, we recommend:
consider hotels not on the red line, for example, certainly on Wenceslas Square, but on the side streets. Rooms are cheaper;
choose to live in the beautiful area of Vinohrady, which is located behind the National Museum. You can reach the center from here on foot in 15-20 minutes or take a tram in 5 minutes;
on foot you can reach the center and from the Zizkov district, which is located a little further than Vinohrady. Accommodation there is given at fairly low prices.
Travel expenses
If a tourist's hotel is located in the city center, then he can avoid or significantly reduce the cost of travel on public transport. If the hotel is located far from the Old Town, then in order to save time, you can and should use trams and metro.
For the convenience of residents of the city and its guests, a single ticket for all types of transport is provided. It can be purchased at the hotel reception, at press kiosks, in special vending machines installed at stops and at metro stations. Before you start your trip, you need to validate it. The device, standing in any tram or at the entrance to the metro, puts the date and time of the start of the trip on the ticket. This figure is what the controllers are guided by, who do not have special uniforms, but simply present their IDs to passengers. They especially like to catch foreigners on free travel and impose fines on them in the amount of 800 kroons, so it is better not to save money on travel in Prague and always buy a ticket.
What types of tickets are available in Prague:
ticket for 30 minutes of travel. Costs 24 CZK for an adult, 12 CZK for a child;
ticket for 90 minutes of travel. It is he who is recommended to buy all the guides in Prague. This ticket costs CZK 32 (adult) and CZK 16 (child);
daily ticket. Within 24 hours after composting, this ticket allows you to travel by buses, trams, metro and even take a funicular to the Petřín Hill, where an observation tower similar to the Eiffel is installed. It costs 110 CZK for an adult and 55 for a toddler;
three-day ticket. This ticket is not available for children. Its cost is 310 CZK.
Excursions in and from Prague
If your trip to Prague is planned without the help of a travel agency, and you are not at all familiar with the city, then right in the Czech capital you can find guides who speak Russian and will be able to give you a sightseeing tour of Prague. The competition between accredited tour guides is very high here, and therefore their services are inexpensive. The lowest price for a sightseeing walking tour of Prague is kept at around 12 euros per tourist. On average, the cost of a walk in the company of a person familiar with local history and legends will cost 20-25 euros. If you are traveling with a company, the knowledge and time of the guide, who will only work with your group, is estimated at 180 euros. The prices are given in euros, since it is in this currency that the guides prefer to take payment for their work.
Outbound tours to neighboring cities and castles are also organized in Prague. You can join an already assembled group for at least 25-30 euros and go to Kutna Hora, to the castles of Konopiste and Karlštejn, to the resort of Karlovy Vary.
Many tourists organize themselves one-day tours on their own: they go to the railway or bus station and go to any Czech city. A bus trip to Karlovy Vary will cost 8 euros (200 kroons), to Liberec - 3 euros (76 kroons), in Hradec Kralove - about 5 euros (120 kroons). Traveling without a guide is much cheaper and more profitable.
Cost of food and drinks
There is no shortage of cafes and restaurants in the Old Town of Prague. These are tourist places where prices are set accordingly. In Prague, as in many European capitals, there is a rule: the further from the center, the lower the prices in the cafe. Therefore, if a tourist is strapped for money, but he wants to try Czech cuisine, then he should go or go, for example, to the Zizkov district, where he will be charged twice as little for a portion of delicious svichkovaya with sour cream than in the center. Wonderful inexpensive restaurants can be found on Konevova Street. The first courses in them cost about 1-1, 75 euros (28-45 kroons), the second - from 5 euros (125 kroons). For any meat dish in the Czech Republic, they will also bring a side dish and salad, so you do not need to order them separately.
Even popular so-called tourist destinations, known for their rich history and renowned visitors, serve huge portions. In the famous cafe "Slavia" on the corner of the embankment and Narodni Trzhida avenue, the sandwich will be the size of our loaf. It costs 6.5 euros (168 kroons). The average bill in Czech restaurants is about 15.5 (400 CZK).
Prague is the place to go for beer. It will be brought in any cafe or restaurant, but the most picturesque places for tasting this foamy drink are called pubs, that is, beer halls. A mug of beer in such establishments will cost 1-1.5 euros (24-40 kroons). In addition to drinks, pubs also serve food - steaks, goulash, fried potatoes and much more.
Groceries in supermarkets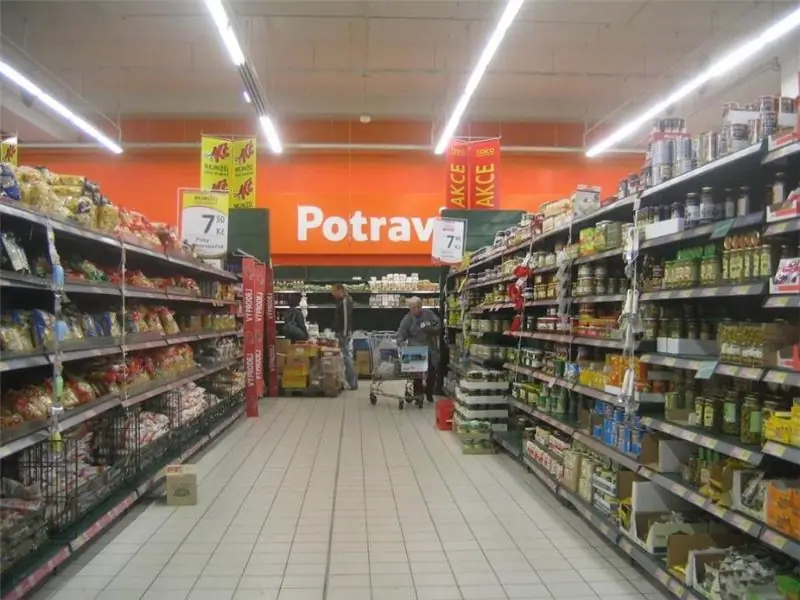 People on a budget prefer to shop for groceries and cook for themselves. The question arises: "How much do the most popular goods cost in local supermarkets?"
Of course, you can't have a full lunch with a slice of bread or chocolate, but for a snack or breakfast, such products are ideal. A bar of chocolate in Prague costs a minimum of 0, 7 euros (20 kroons), a baguette will cost 0.5 euros (15 kroons). Beer can be found for 0.35 euros (9 CZK) for 1 bottle or can. Slicing cheese - about 0, 4 euros (10 kroons), sausages - 1.5 euros (40 kroons) and more. Vegetables and fruits in Prague are cheap. You can buy a whole package of apples, plums, tomatoes, cucumbers for 4-8 euros (100-200 CZK).
The selection of products in local supermarkets is simply huge, but you don't have to go to a large store for a kilo of apples. You can go to the nearest grocery store and buy all the freshest from local farmers. Seasonal fairs are often held in the squares of Prague, where producers of cheeses, meads, sausages, honey, bread sell their products. Before buying something at such a fair, you must first try the product. All products at fairs are cheaper than in stores.
Gifts and souvenirs
What to bring from Prague, and how much does it all cost? Jewelry with Turnov pomegranates will be an excellent gift for a woman of any age. Czech garnets are small, so if there are large stones in the proposed rings and earrings, you should know that they are imported. The cost of silver jewelry with garnets starts from 50-60 euros. Gold with garnets is much more expensive. You can buy jewelry in special jewelry stores, of which there are a lot in the Old Town.
Tourists from the CIS countries are not indifferent to Czech crystal and Bohemian glass. Small glass figurines cost about 12 euros (300 CZK), dishes - from 20-30 euros (500-750 CZK). Crystal chandeliers that used to be a testament to prosperity are still in high demand today. The price for them starts from 100-150 euros (2500-3750 CZK).
There are often sales in Czech shopping centers. Then you can buy high-quality blouses, trousers, sweaters, etc., for 20% of their cost. The most persistent buyers can wait for the maximum price reduction. In this case, trousers from "Next" or "H&M" can cost 6 euros (150 kroons), and blouses generally 3-4 euros (75-100 kroons).
***
So how much money to take with you on vacation to Prague? If we ignore the cost of living, then 700-800 euros per person will be enough for a week. Of course, this does not mean that you will spend everything. It's just that you will feel more confident with this money.
Photo