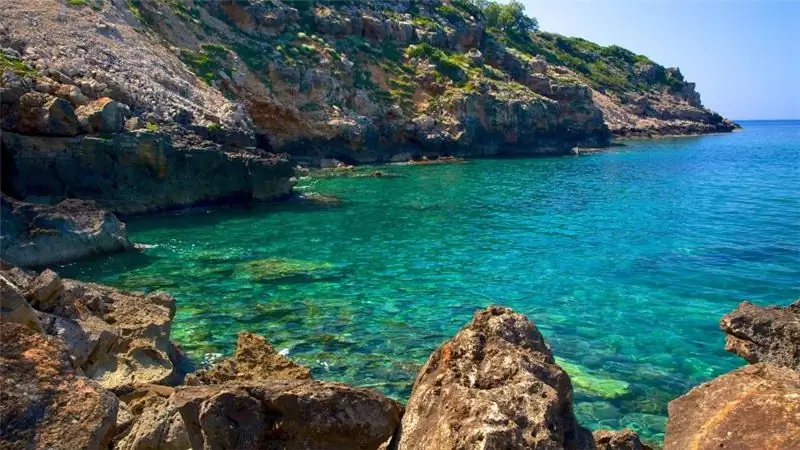 The almost summer weather in Crete in May attracts many tourists to the island. At this time, fans of historical excursions, and those who like to go to sea on a yacht, and adherents of beach recreation, and admirers of natural attractions fly here. May on the island is a time of flowering and deep luscious greenery, still untouched by the scorching sun.
Forecasters promise
Compared to April, the weather in Crete in May is much warmer and sunnier:
Even if in the early days of the month the temperature in the morning does not inspire confidence among beach goers, by the end of May the modest + 17 ° С at breakfast is replaced by the confident + 20 ° С. In the afternoon, the mercury columns reach + 25 ° C and + 27 ° C, respectively.
In the evenings, the heat recedes, and the air temperature drops to + 21 ° С at sunset and to + 17 ° С during the night.
Precipitation is gradually disappearing from the island, and in the last spring month it rains no more than twice, and then only in the first decade.
Solar activity, which increases significantly at the end of spring, requires attentive attitude to their health from the guests of the island. Remember to wear sunscreen and drink enough water.
At the end of May, Crete's water parks open and the island is preparing to welcome parents arriving with their children. Boat trips are gaining popularity and tourists vacationing in the resorts of Crete willingly choose to go fishing or on excursions to the nearby islands of Santorini and Dia.
The excursion program offered by local travel agencies is going with a bang. In May, the weather in Crete is perfect for trips to the Lassithi plateau with its mills, to the Palace of Knossos or to the cave of Zeus.
Seas in Crete
The water temperature in the seas surrounding the island in May is still not very comfortable for a long swim. The Cretan Sea, located in the north of the island, warms up more, and in its waters the thermometers show up to + 21 ° С at the end of the month. The Aegean Sea is slightly cooler, the Libyan Sea (in the south of the island) also warms up later and the mercury columns in them barely cross the 20-degree mark in May.