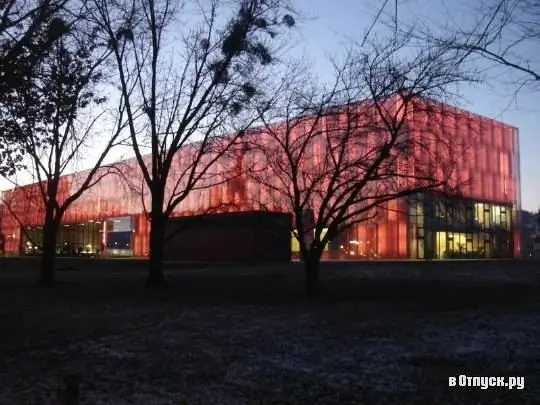 Description of the attraction
Lentos is a contemporary art museum that opened in the Austrian city of Linz as the successor to the New Gallery. The museum was opened in May 2003 and is one of the most important museums of modern art in Austria.
The incredibly beautiful building of the museum, which is a clear design in a modern style, was created by architects Weber Zurich and Hofer. As soon as the building appeared on the banks of the Danube, it instantly became the main architectural landmark of the city. The facade is made of glass panels, which in the daytime create a feeling of incredible lightness and weightlessness of the entire structure. At night, the building lights up, changing from one color to another.
The length of the museum is 130 meters, and the exhibition exhibits are located on an area of 8000 square meters. On the first floor of the museum, there is a cafe with a cozy observation terrace.
The collection of the art museum includes about 1,500 works from the field of sculpture, more than 10,000 paintings, and about 850 photographs, including those that have made a significant contribution to the development of art photography (Mann Rae, G. Bayer). The earliest works of the museum date back to the first half of the 19th century. Examples of classical modernism in the museum's collection include works by Klimt, Schiele, Kokoschka, Corinth and Pechstein. The collection also includes the interwar period with works of German and Austrian Expressionism. The museum exhibits works by such outstanding artists: Stefan Balkenhall, Ernst Barlach, Anthony Caro, Tony Cragg, Amadeo Gabino, Donald Judd, Jiri Kolar, Catherine Lee, Thomas Lenk, Baltasar Lobo, Klaus Rinke, Jan Foss, Tim Scott and Denmark other.
Since May 2004, the Viennese curator, critic and journalist Stela Rollig has become the director of the museum. In addition to the existing collection, new interesting paintings can be seen at specialized exhibitions.
Photo