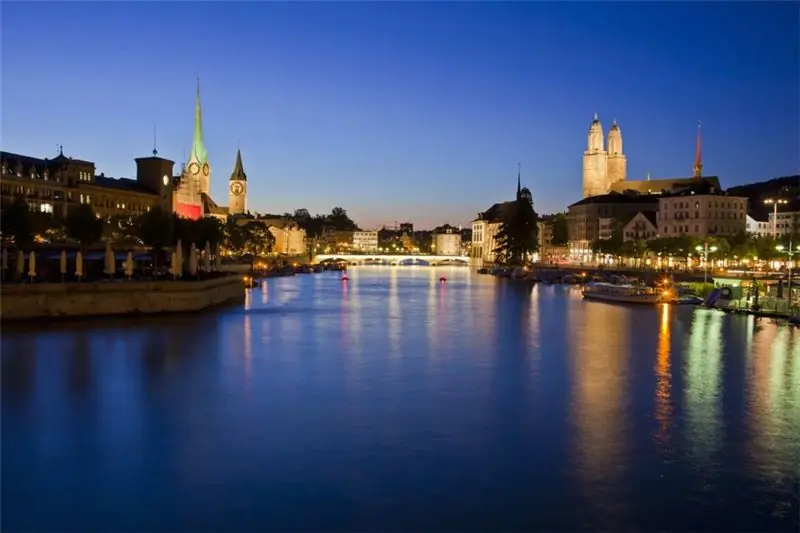 Zurich's nightlife is different from daytime, when the city can be characterized by such adjectives as "cultural" and "sedate". With the onset of darkness, Zurich becomes one big disco, when party-goers can have fun in the club or at open-air parties by the water.
Nightlife in Zurich
Tourists should definitely take a walk in the evening Zurich: namely: in the Niederdorf district, where musicians, dancers and acrobats perform in the evenings.
In the evening, it is worth visiting the Zurich Opera House, as it pampers everyone with new opera and ballet performances almost every month.
Nightlife Zurich
Visitors to the Diagonal Club can relax on the blue sofas. The interior of the establishment is quite official: it contains elements of modernism and hi-tech (the favorite color is metallic). The bar offers a wide selection of alcohol, in particular, delicious cocktails.
Every week Toni Molkerei club indulges party-goers with modern dance music in the style of electronic, hip hop, house, disco, retro. The huge dance floor is conducive to incendiary dances, especially since the playing music is accompanied by strobe lights and lasers.
The atmosphere of the Middle Ages at the Adagio Club is created through unique murals, wood and stone floors, and the staff here walks in vintage outfits. People come here for vocal house, classical rock, fiery tango and jazz. It is worth noting that every Friday before 23:00 women are first launched into the club (admission is free for them), entertaining them until midnight with a male striptease, after which the entrance to Adagio becomes available for men as well.
The X-Tra Palais club is equipped with: an open terrace (those who want to breathe in the fresh air go there); own restaurant; recording studio; bar (bartenders not only light cocktails, but also decorate them with animals and fruit hearts). On Saturday-Sunday, X-Tra Palais invites night owls to take part in themed parties, every Friday and Wednesday to rock 'n' roll and 20s music, and on Mondays to hang out at the Cool-Monday-Party.
The Kaufleuten Club has a unique design (Art Nouveau style) and invites everyone who loves R&B, house and techno to have fun. In Kauleuten, you can dance until dawn and sip exquisite wine.
The Mascotte club is decorated with a disco ball and attracts visitors who want to spend time in the atmosphere of the 80s (the club is aimed at 20-40 year olds).
The Supermarket club is waiting for party-goers who are not averse to having fun with the sounds of electro and techno.
Club Q pleases guests with the presence of 2 dance-areas and barbecue areas. A variety of events are held here every week, information about which is posted on the institution's website.
The Hard One club has several halls: in one of them young people frolic, sipping alcoholic beverages, and in the other (Cigar Lounge), the older audience, who smokes there and orders expensive alcohol, rests.
Those who visit Moods im Schiffbau will visit night shows (about 70 shows a year), jazz, blues and soul, electro and funk concerts (at least 230 concerts take place annually).
Casino Swiss Casinos Zurich is open on Fridays-Saturdays from 23:00 to 05:00, and on Sunday-Thursday from 23:00 to 04:00. There are 400 slot machines, restaurants, spa-salon, poker rooms (30) and tables for other games. Admission is free for women, and men will be asked to pay $ 10.
Would you like to relax in a quiet and calm atmosphere in the evening? Head for Wings Bar.