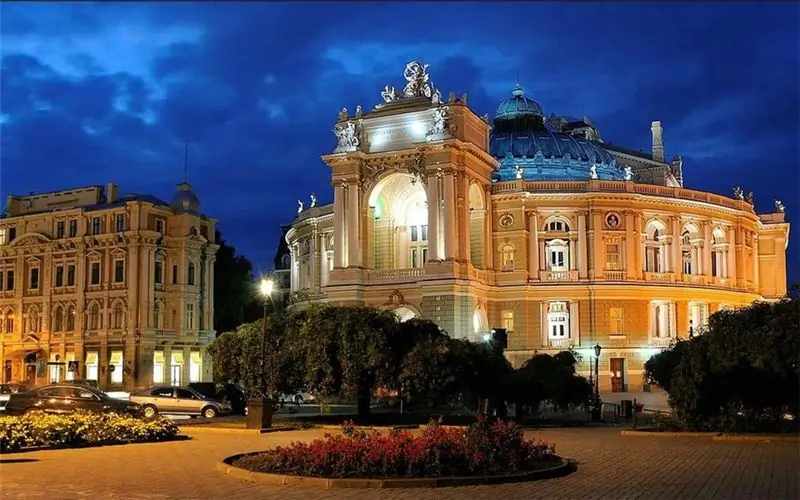 Odessa's nightlife is all-year-round dancing and fun in numerous venues that cater to every budget and preference.
Night excursions in Odessa
Those who joined the 3-hour car-walking tour "Night Odessa", explore French and Primorsky boulevards, Richelievskaya, Marazlievskaya, Pushkinskaya and Deribasovskaya streets, Ekaterininskaya and Dumskaya squares, admire the lights of the Seaport, see the illuminated Ferris wheel and attractions in Shev Park to the Potemkin Stairs, as well as visit the City Garden, where the illuminated fountain is "accompanied" by classical melodies.
On the sea excursion "Lights of the Night City", on which travelers will recover at sunset on board a yacht, admire the city from the water, see the Vorontsov Lighthouse, the beaches "Otrada" and "Lanzheron", the Sea Port and the Railway Station. Guests can arrange a photo session on the yacht. The excursion price includes drinks (juice and champagne).
At the end of May, museums can delight guests of Odessa with interesting evening programs. So, in the Bleshunov Museum, you will be able to attend the author's excursions through old photographs of Odessa streets and buildings. In the museum courtyard, the opening of "Night" begins at 18:00: everyone will be able to see landscape compositions, which were created using wet sand, take part in master classes, and listen to performances of musical groups.
Nightlife in Odessa
Club "Ithaca" has: a round-the-clock restaurant (guests are treated to Mediterranean, Greek, European dishes) and a sushi bar; a concert hall for 1000 people (4-12 concerts per month); 2 large bar areas of the VIP area; 2 dance floors: one plays pop, club music and dance, and the other - hits from the 80s and 90s (foreign and domestic music). Every night the audience is rocked by the residents of the club - DJ Volkov, DJ Nice, DJ Fly, and twice a week acrobats, pop-performers or show-ballet dancers are responsible for entertaining the guests.
Residents of the Ibiza club are MC Rybik, DJ Redboy, DJ Fenix, and various performers who indulge the Ibiza club with their presence are responsible for the good mood of the guests (Basta, Dan Balan, MBand, Quest Pistols, Vremya Expired, Vera Brezhneva).
Club Bar Wild Z is recommended for everyone who wants to enjoy live music every night, and club concerts on Saturday evenings. The musical format of the institution is blues and rock and roll. In addition to secluded corners with sofas, there is a dance floor, a bar, Wi-Fi, plasma screens (3), a stage, high-quality sound and lighting equipment.
The Praetoria club attracts fans of hits from the 80s and 90s. Its equipment is represented by a projector (used for business meetings, seminars, trainings), a stylish hall for 90 people, a bar, sofas, a hookah bar. Every Friday and Saturday, Praetoria hosts contests, sweepstakes and a saxophone party.
In the music club "Cardan" visitors will find a concert venue (the best musicians perform here), a sauna, a VIP room, a swimming pool, and a hookah card. In addition, the club organizes game days and tournaments (prizes are provided).
The strip club Flirt De Luxe invites those wishing to enjoy the enchanting erotic-dance performed by charming dancers on stage, near a table or in a private setting. Guests can choose anything from the bar menu (the cost of cocktails: Pina Colada - $ 11, 26, Secret - $ 15, Flirt - $ 22, 50, White Russian - $ 9, 40) or crazy-menu (guests can order classic erotic show, lesbian duets, tequila show, water show, BDSM private show, cream show), and also order classic ($ 10), fruity ($ 25), exotic ($ 17, $ 65) or hookah flirt (32, 60 $).