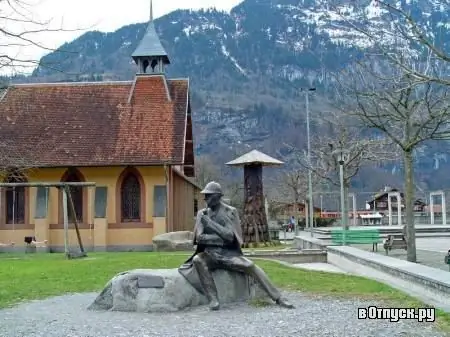 Description of the attraction
The history of this museum is as follows - the world-famous writer Arthur Conan-Doyle visited Meiringen with his wife, trying to cure her from a serious illness with local healing waters. However, this did not produce the expected effect. Intentionally or not, the writer later chose one of Meiringen's hotels for the death of the character of his works, the detective Sherlock Holmes. When this became known, fans of the literary hero made it her place of pilgrimage. The city became especially popular after the publication, at the numerous requests of outraged readers, of the story of Holmes's miraculous rescue.
The museum includes the museum itself, the house of Sherlock Holmes fans and a statue of the famous detective sitting outside the museum with a pipe in his teeth, dressed in ordinary Alpine hiking clothes. After all, this is how he looked when he went to the fatal meeting at the Reichenbach Falls. By the way, there is also a memorial plaque to the detective near the waterfall.
In this museum, the living room of Sherlock Holmes' apartment is most accurately recreated. It is believed that it is even better than the one that is organized and open to the public in London, on Baker Street at a non-existent address created specifically for the museum. Here you can use the audio guide, which works for the convenience of visitors in different languages, including Russian. If you wish, you can sit in an armchair by the fireplace, take memorable photos and buy souvenirs in the shop adjacent to the museum.
Photo