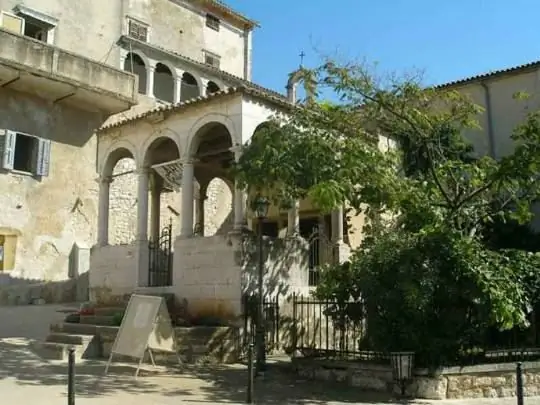 Description of the attraction
The Church of St. Anthony is a temple, the construction of which dates back to the second half of the 17th century. The church is located in Vrsar, not far from another attraction of the city - the Small Gate.
The building was made in a mixture of Renaissance and Baroque architectural styles. The low-profile façade with a rectangular door also includes a pair of square windows on opposite sides of the entrance. The bell tower rises above the facade, which a year after the opening of the church, that is, in 1657, was crowned with a small bell, decorated with images of St. Anthony and other saints.
In front of the entrance to the temple there is a terrace protected from the weather by a wooden roof supported by ten stone columns. All columns are connected by arches. The arches are considered quite typical elements of Istrian architecture in the XIV-XIX centuries. Believers who did not manage to get into the overcrowded church during the service could quietly settle under the arches, also sheltering from the scorching sun or rain. In addition, the terrace was repeatedly used as an overnight stay by those who did not manage to be in the city before the main gate closes. The terrace was also used for holding court sessions.
Today the interior of the church has been completely restored. Art exhibitions are held here in summer.