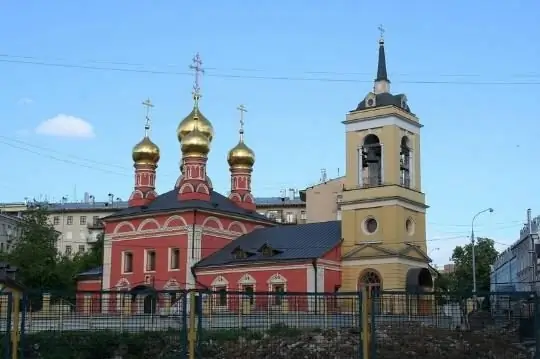 Description of the attraction
"Nicholas on Shchepakh" was the name of the temple, which stood from the middle of the 17th century next to the tsar's wood-burning (or wood-chips) yard, where they made log cabins for future sovereign buildings.
The first church, consecrated in the name of Nicholas of Mirliki, was cut down in 1649. Nothing has survived from that building, which burned down in one of the Moscow fires, and in the second half of the century the temple was rebuilt in stone. About a hundred years later, a side-altar was arranged near the church in honor of Simeon the God-Receiver and Anna the Prophetess, which, after another hundred years, in the second half of the 19th century, was moved to a building built especially for him.
The church of St. Nicholas on Shchepakh, which burned down during the Patriotic War of 1812, was restored with donations, and a new bell tower was built the following year. Soon there was also a chapel in honor of Saints Peter and Paul, and at the end of the same century - another one, in the northern part of the temple.
In the 30s of the last century, the church was closed, crosses and chapters were demolished near the building, all valuables were removed. During the Great Patriotic War, the former building of the church, rebuilt from the inside, housed workshops in which they fired shells for the front. After the war, the building housed an enterprise that produced cups and medals. It was within the walls of the temple until the very transfer of the building to the Russian Orthodox Church in 1993. The restoration works of the building were carried out until 2002. In the renovated belfry, nine new bells were installed, and by 2008, work on the reconstruction of the iconostasis was completed.
The name of the temple gave rise to the names of three Nikoloschepovskiy lanes. True, one of them, the Third, in the 50s of the twentieth century changed its name and became Shlomin's passage.
Photo