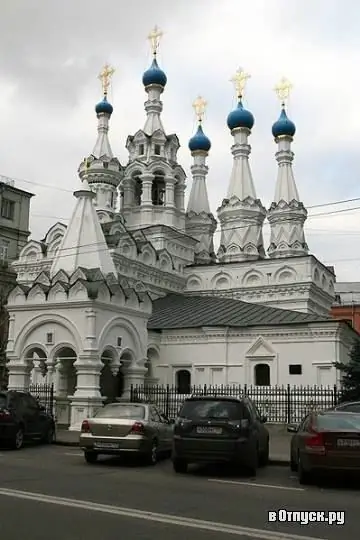 Description of the attraction
The Church of the Nativity of the Virgin in Putinki on Malaya Dmitrovka was built in 1649-52. at the place where two paths diverged - to Dmitrov and to Tver. There was also a Traveling Yard for ambassadors and messengers, to which "putinks" led - crooked streets and lanes.
There used to be a wooden church on this site, but it burned down in 1648. The stone church of the Nativity of the Virgin in Putinki was built with funds allocated by Tsar Alexei Mikhailovich. The church is one of the best examples of Moscow hipped roof architecture of the 17th century.
During the construction of the church, the first in Russia side-chapel of the icon of the Mother of God "Burning Bush" was built, protecting from fires.
This temple is the last monument of hipped roof architecture in Russia due to the prohibition of the construction of hipped roof churches by Patriarch Nikon. Later, a refectory with a chapel of Fyodor Tiron was added to the temple.
The Church of the Nativity of the Virgin is crowned with three slender tents, placed in a row and oriented from south to north. Above the chapel of the "Burning Bush" there is a small tent on a light drum with three tiers of kokoshniks.
It must be said that the tents of the 17th century, as a rule, are of a purely decorative nature - they are just superstructures over the roofs, they do not communicate with the inner space of the temple. The bell tower, which dominates the entire structure, unites this whimsical group of tents into a beautiful ensemble.
The walls of the temple are made of special molded bricks in the style of "Russian pattern", which was often found in Russian architecture of the 17th century. Fragments of 17th century wall paintings have been preserved inside the church.
In 1939 the temple was closed, a warehouse was arranged in it, and by 1950 the building was badly dilapidated. In 1959-60. a comprehensive restoration was carried out and the temple was returned to its original appearance of the 17th century. Since 1991, divine services have been resumed in the church.