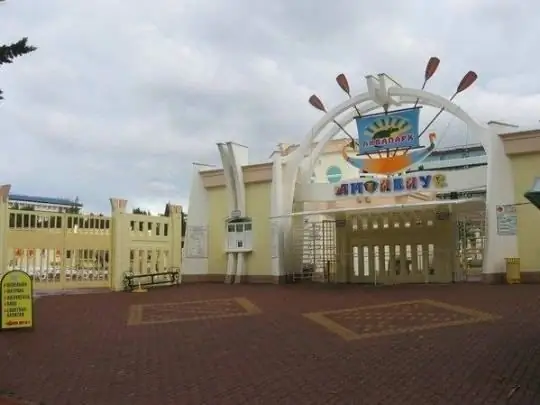 Description of the attraction
The Amfibius water park located in Adler is one of the main attractions of this resort town. The water park, which covers an area of more than 2 hectares, is striking in its majesty. The location of the complex makes it accessible to all vacationers in local sanatoriums, hotels and boarding houses.
The water park has a huge variety of entertainment options. Every vacationer can find here entertainment that he likes. In total, 15 attractions are installed on the territory of the complex, and all of them are interesting for both adults and children. Slides differ in length, height and steepness of bends.
The Amfibius Water Park has three slides called Kamikaze. The height of each of the slides is 15 m. Having taken a ride on these breathtaking slides, lovers of extreme sensations can head towards the "Laguna" and the quirky "Giant", where sharp turns are also waiting for them. An unforgettable experience and a kind of water slalom slide "Taboga" will give you an unforgettable experience.
Thrill-seekers will find the Blue Hall slide - a huge blue tube with sharp turns and bends, which only the most courageous can withstand, since they have to overcome a distance of about 100 m. There are also several swimming pools for adults and children in the complex. The main pool has a size of 4.5x24 m and a depth of 80 to 120 cm.
On the territory of the Amfibius water park, a special children's cafe with delicious ice cream, various sweets, juices and cocktails is open throughout the day. In the pizzeria, in addition to traditional dishes, you can enjoy hamburgers, hot dogs, fried potatoes and other snacks. In the evening, all guests of the water park will find the Pharaoh grill-bar located on a ship with snow-white sails, offering Italian cuisine and excellent drinks.
Aquapark "Amfibius" is a lot of pleasant sensations, excellent mood, sun and water coolness.
Photo