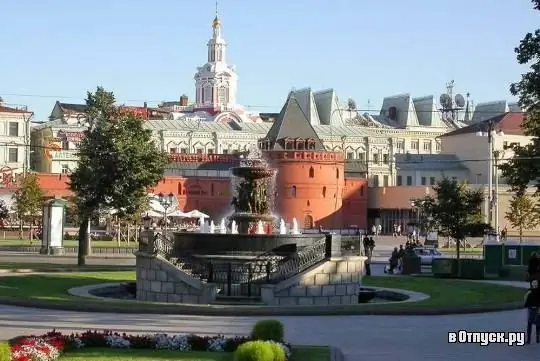 Description of the attraction
The Zaikonospassky Monastery (Spassky behind the icon row) is located in the center of Moscow, on Nikolskaya Street, in Kitai-Gorod. The monastery was founded in 1600 by Boris Godunov. The monastery got its name because of its location - behind the shops where icons were sold.
The stone cathedral in the name of the Icon of the Image of the Savior Not Made by Hands on the territory of the monastery was founded in 1660, during the reign of Tsar Alexei Mikhailovich. Funds for the construction were donated by the voivode - Prince F. F. Volkonsky.
After being destroyed by fires, the monastery was rebuilt many times. The buildings and churches of the monastery were rebuilt according to the project of the architect Zaprudny (in the Baroque style), as well as according to the projects of the architects Preobrazhensky, Ivanov and Michurin.
In the 1630s, a National School existed in the monastery. In it, for the first time in Russia, they began to teach Latin and Greek. Arseny Grek supervised the training. In 1667, a school was established at the monastery, and then it was transformed into a school that trained clerks for the Order of Secret Affairs. In 1687, the Slavic-Greek-Latin Academy moved to the monastery. It was headed by prominent Greek theologians - brothers hieromonk Sophronius and Ioannikiy Likhuda. Pupils of the Academy were people who became famous later. Among them was Mikhail Lomonosov.
In 1825, a new Assumption Cathedral was designed (architect - S. P. Obitaev).
In Soviet times (in 1929) the monastery was closed.
The new history of the Zaikonospassky monastery began in 1992. Divine services began in the cathedral church of the Savior Not Made by Hands. It was given the status of "Patriarch's Compound". In 2010, the Holy Synod decided to open the Zaikonospassky stavropegic monastery in Kitai-Gorod in Moscow. The monastery was separated from the Patriarch's courtyard. Abbot Peter was appointed the abbot of the monastery.
Currently, many of the monastery's premises are occupied by non-church organizations. Some of the premises are occupied by the Historical and Archival Institute of the Russian State University for the Humanities, the Godunov restaurant, the post office and some other tenants.
Photo