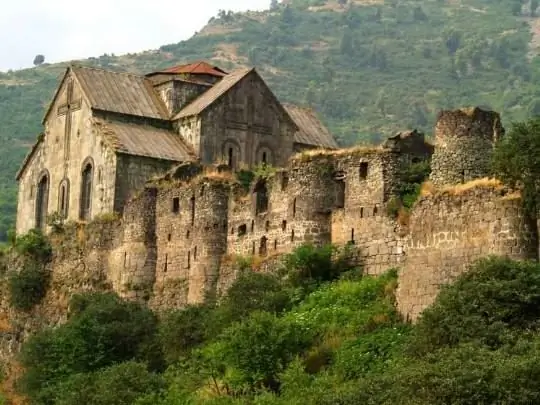 Description of the attraction
Akhtala Monastery is located not far from the city of the same name on a high ledge of the mountain.
Akhtala was founded in the X century. as one of the defensive structures. Until about the XIV Art. was called Pkhinza-khank, which translated means "copper mine". In the XI Art. the citadel of Akhtala was an important strategic point of the kingdom of the Kyurikids. The inscription on the khachkar says about the construction of the Church of the Most Holy Theotokos in 1188 by the daughter of the ruler of Tashir-Dzoraget Kyurike Mariam.
In the XIII Art. the owners of Akhtala became the Zakaryans. After some time, it became the largest Chalcedonian monastery, as well as the cultural center of Northern Armenia. In the XIV Art. the name "Phindza-khank" disappeared from historical sources. Around the 30s. XIV Art. the monastery became part of the Akhtala Metropolitanate of the Mtskheta Catholicosat. In the first half of the XV century. for the first time in written sources a village called Akhtala is mentioned, which is the property of a Georgian Catholicos.
At the beginning of the XVIII century. Akhtala monastery fell into complete desolation. In 1801, the Russian Emperor Alexander I issued a decree on the transformation of the monastery into the center of the Greek Orthodox Church in the Transcaucasus. Today it is the most important place of pilgrimage for the Greeks. Every year on September 21, they come to Akhtala to celebrate the feast of the Nativity of the Virgin.
The main temple is Surb Astvatsatsin, built in the XIII century. Each side of the temple is decorated with traditional Georgian designs. The walls of the Church of the Holy Mother of God are covered with magnificent, perfectly preserved murals, and only the face of the Mother of God is knocked out by the hordes of Tamerlane. In the conch, one can see the Mother of God with the Child sitting on a throne, a little lower - a belt with the Eucharist and two rows of figures of saints. The eastern, southern and northern walls of the transept depict scenes from the life of Christ and the Mother of God, saints and martyrs, the Last Judgment on the western wall, and the stories of the Prophet Elijah and John the Baptist are presented in the room in the southwestern part of the temple.
In addition to the main church, the monastery houses a small church of St. Basil and the ruins of a two-story residential building.
Photo