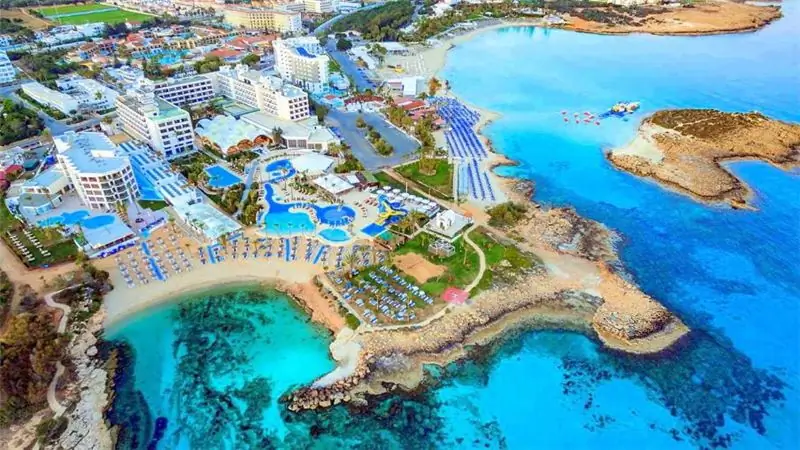 Ayia Napa is the most famous resort in Cyprus, attracting tourists due to its mild climate, favorable location and amazing atmosphere. The town is famous for its cleanest beaches, recognized as one of the best in the world, delicious national cuisine and a rich excursion program. On the territory of the resort, the tourist infrastructure is well developed, so you can easily find a place to stay in Ayia Napa.
Areas of Ayia Napa
There is no official division into districts in the resort, but locals conditionally distinguish two parts in Ayia Napa:
If you want to not only enjoy the beach procedures, but also see the local sights, then you should find a hotel in the center. It is here that the popular for visiting maritime museum, a water park, a Venetian monastery, as well as ancient tombs are located. In addition, the center hosts various festivals, national holidays and concerts every September.
For those who prefer a more relaxing stay, a boarding house, hotel or apartment located in the coastal zone would be the ideal accommodation option. Special attention should be paid to the choice of a hotel in summer and spring, as during this period the beaches of the resort are overcrowded and the number of rooms is limited.
The peculiarities of living on the coast have a number of advantages. Among them:
location of the beach and all amenities within walking distance;
the ability to combine beach holidays with sports activities;
the opportunity to watch picturesque sunsets every evening;
availability of hotels and apartments of different price categories.
Most of the hotels are of a five-star or four-star category, but if you wish, you can find a decent three-star hotel. To do this, you should go to the hotel website in advance, get acquainted with the conditions of accommodation and book the room you like.
central District
This part of Ayia Napa is called the club street, since a significant number of entertainment venues are concentrated here: bars, nightclubs, restaurants, karaoke. Those who want to feel the magical atmosphere of Cyprus nightlife love to settle in the center. As a rule, these are young people who come to the resort in search of thrill musical sensations. Every day the center of the resort turns into a lively world, where music reigns in the most unusual incarnations.
The best DJs from all over the world come to Ayia Napa to get new impressions and emotions. They demonstrate their skills at the venues set up on the club street. Tourists move from one site to another enjoying the fiery rhythms. In addition to musical performances, fire shows are often held in the center of the resort with the participation of famous art groups from Cyprus. In clubs and restaurants, you can taste delicious national cuisine and cocktails that will be prepared for you absolutely free. If you wish, you can take a master class from famous DJs and receive a certificate confirming the training.
In the city center, you can rent not only a hotel, but also comfortable apartments or a complex of villas. As a rule, this option is chosen by couples with children. The apartment has everything you need for living, including bathroom and kitchen utensils, air conditioning, household appliances, personal hygiene products. Almost all apartments in Ayia Napa have a separate exit to the courtyard, where there is a pool and a small garden. If you want to choose a good apartment, it is better to use specialized sites.
Hotels and apartments for accommodation: Gordona Villas, Adams Beach Hotel, Mon Repos hotel, Senator hotel, Apollonas Villa, Adams Beach hotel Deluxe Wing, Napa Plaza hotel, Marina Bay Villa, Kayla's Daily Rentals, Apartment Ground Floor, Cleopatra Hotel, Papaya Royal Villa, Margarita Napa, Villa Maia, Thalassines Beach Villas, Melpo Antia Suites, Villa Octavia, Napa Heights Villa, Asterias Beach Hotel.
Coastal area
When choosing a place to stay on the coast of Ayia Napa, tourists pay attention, first of all, to the location of the hotel relative to the coastline, cost, booking conditions and other important details. The level of the hotel depends on financial capabilities and proximity to the sea. In total, several parts are distinguished in the coastal region, where visitors prefer to settle. Each part bears the same name with the beach, which is located in the immediate vicinity.
Nissi Beach
This area is considered one of the most visited and loved ones, as it has everything for a comfortable stay. Nissi Beach is located just 4 kilometers from the center of the resort, which makes it especially attractive. You can get here by scooters, taxis, bicycles, and also by bus.
Among the main advantages of living in the Nissi Beach area are:
snow-white coast;
gentle entrance to the water;
developed infrastructure;
the absence of stones and sharp shells under the water, which interfere with entering the water;
the presence of a large number of food outlets nearby;
location next to a beautiful rocky island, which can be reached on foot at low tide;
the opportunity to leave the child with animators.
Nissi Beach hotels are scattered along the entire coastline. Most of them are three and four stars and have a standard set of services. They include round-the-clock service, free parking, delicious breakfasts, a swimming pool and a complex of wellness procedures in the SPA-salon. Those who prefer a luxurious vacation should stay in a five-star hotel or complex. There are more than ten of them in the region.
Also in Nissi Beach there are many apartments that are rented at very affordable prices. As a rule, the owners of the apartments offer vacationers everything they need, including bedding, kitchen utensils, and household appliances. This accommodation option is most often chosen by couples with children who prefer to eat on their own.
Hotels and apartments for accommodation: Ionion Beachfront, Nissi Maximus, Sea Front Costa Blu, Magdalena, Amethyst Napa, Valmare, Oceanview, villa Affinity, Blue Breeze Luxury, Nissi Sandy Bay, Abacus Suites, Papaya Royal Villa, Lantiana Napa, Tasia Maris Beach Adults Only, Ocean Dreams Suites.
Landa Beach
This area is considered one of the most modern and is located close to Nissa Beach. The main distinguishing feature of Landa Beach is that its beach has been repeatedly awarded the international blue flag status. Locals call this beach "golden", as the sand shimmers in the sun in all shades of gold. Tourists settle in the Landa Beach area if they want to relax away from the hustle and bustle of the city.
Almost all hotels are located on the coastline, and the famous Ayia Napa water park is located not far from them. This is one of the main advantages of the area due to the fact that most tourists choose to live in Landa Beach for this reason.
As for the accommodation options, there are many of them: hotels, apartments, hostels. It should be noted that there are practically no five-star hotels in the region, but this shortcoming is fully compensated by the availability of comfortable hotels. Each hotel has its own beach area, equipped with sun loungers, changing cabins and lifeguards. There are significantly fewer people on Landa Beach, which attracts older tourists and couples with children.
Hotels, apartments, hostels for accommodation: Ground Floor Flat, Myriama, Agrino, Villa Niki, Elysium, Ionion Beachfront, Sea Front Costa Blu, Amethyst Napa, Nissi Ourania, Sea Satin Royal, Eligonia, Sunny Coast, Royal Sugar, Nissi Maria Villa, Eleni Apartments, Narcissos Thekla, Cleona.
Makronissos
This area is known not only to locals, but also to tourists for its ideal conditions for recreation. The remoteness from other beach areas makes Makronissos very popular. Here you can enjoy picturesque landscapes, clear sea and white beach. Living in this area, you will have a great opportunity to learn the basics of diving or snorkeling, as there are several training centers in Makronissos specializing in underwater tourism. After completing the course, tourists receive a certificate and nice gifts.
Also, vacationers are invited to ride bananas, canoes, water skiing, scooters. For thrill-seekers, it is possible to organize a hot air balloon flight or a parachute jump. Natural objects located near Makronissos deserve special attention. They are caves equipped with special trails for tourists. Thousands of travelers from all over the world come to see this miracle of nature. There is a free shuttle bus to the caves for those who live in the Makronissos area.
If you have chosen this area, then you can stay in hotels. There are few apartments and hostels in Makronissos and they are quite expensive. On the contrary, hotels are distinguished by very affordable prices and a decent level of service.
Accommodation: Paradi Nissi Golden Sands, Napian Suites, Elena Court, Nissi Gintare, Simos Magic, Terpsithea, Amazing Napa, Flora Maria Annex, New Seaview 2 bedroom Xxl Pool in heart of Ayia Napa, Elegance Elite Luxury Home, Nissi Crystal Villas, Estia Vasilis Manoli, Bellini, Poseidon by Michalis.