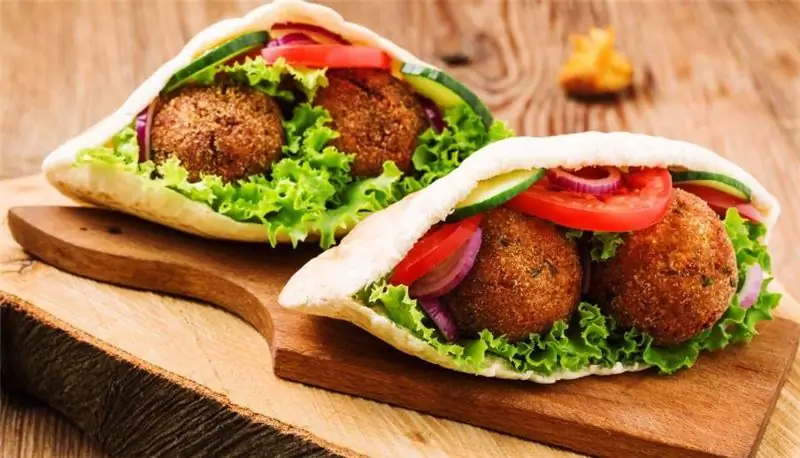 Snack bars and restaurants
Features of Egyptian cuisine
Drinks in Egypt
Top 10 Egyptian dishes
In search of new taste sensations, hearty original food, acquaintance with the culinary traditions of one of the most ancient countries in the world, you need to go to Egypt. The range of local dishes is extremely varied. The pharaonic cuisine, which forms the basis of Egyptian cooking, has been influenced by neighboring cultures for centuries.
The all-inclusive food found in many local hotels will not be enough to experience the "real taste of Egypt". If you want to taste authentic Egyptian dishes, you will need to reserve a table at the hotel's restaurant serving national cuisine or go outside the hotel and visit one of the local restaurants.
Snack bars and restaurants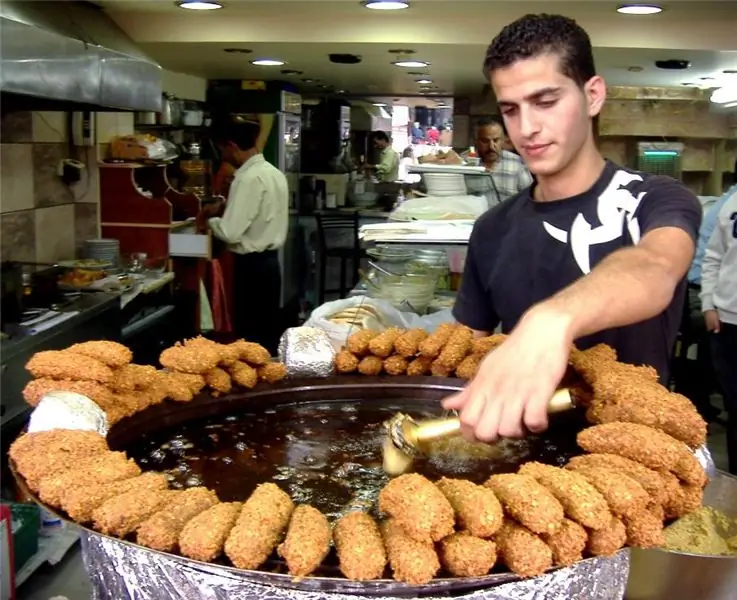 As in any country in the world, Egypt has expensive and pretentious restaurants and small eateries where locals eat. The quality of food served in an expensive establishment will not always be better than in a street cafe.
All Egyptian catering establishments can be divided into three groups:
stalls and eateries with cheap food. The average bill for meat-free meals here will range from $ 1 to $ 4. Meat dishes are more expensive - about $ 3-6 per serving. A tourist intending to buy a snack on the street should watch the locals. It is quite possible that a good establishment with delicious food is hiding in a small alley, a stone's throw from the tourist street. In the establishments where the Egyptians themselves have a snack, they serve very hearty and mouth-watering dishes. The same places designed for tourists will not be the best choice for a snack;
authentic cafes. In such establishments, the level of service is quite high, although it does not reach the European level. Dishes are more expensive here - from 4 to 15 dollars. They are prepared in compliance with sanitary standards, so the chance of poisoning is minimal;
establishments at large hotels. To get acquainted with Egyptian cuisine, it is better to choose an expensive restaurant located on the territory of a decent hotel. The cost of one serving in such an establishment will be over $ 15.
In many expensive tourist restaurants, the menu is duplicated in English. When ordering food in street cafes, you will have to mention the Egyptian names of the dishes.
Features of Egyptian cuisine
Egypt, despite the fact that it is washed by two seas, and one of the largest rivers in the world, the Nile, flows through its territory, it cannot be called a country where they know how and love to cook fish. This is due to ancient legends. The sea was considered the fiefdom of the evil god Seth. In addition, the Nile "died" as it flowed into the sea. That is why it was believed that neither sea water nor the inhabitants of the deep sea are suitable for consumption. River fish could be cooked, though not all of them. The priests were allowed to eat large Nile perch. Nowadays, in large restaurants you can find seafood dishes, for which both the Mediterranean and Red Seas are famous.
Until now, dishes based on small birds such as quails and pigeons are very popular. They are stuffed and then fried.
Local housewives actively use vegetables and legumes. Delicious salads and snacks are prepared from eggplants, hummus is made from chickpeas. Any dish is generously seasoned with hot and spicy spices, lemon juice, pomegranate seeds. Some dishes include feta cheese.
Oriental sweets containing cinnamon, dates, honey, sesame seeds and other tasty healthy products deserve special attention. Even in ancient Egypt, delicious balls sprinkled with almonds were prepared from grated dates and walnuts mixed with honey.
Egypt is a kingdom of exotic fruits. Here you should definitely try dates, mangoes, figs, small bananas and everything else that only falls on your eyes in the Egyptian bazaar.
Drinks in Egypt
Any meal will sparkle with new colors if some noble drink is served to it. What to try in Egyptian restaurants and then buy as a souvenir back home?
Wine was produced in Egypt during the time of the pharaohs, but later the vineyards dried up, and for a long time the Egyptians did not know how to make wine. In the 30s of the XX century, the Greek Nestor Dzhianaklis planted vines near Alexandria, in a soil similar in composition to the land of French Champagne. The vineyards have taken root and produce a good harvest, from which the local wine is produced. You should definitely try Obelisk red and white wine, Omar Khayyam dry white, pink and red wine. Connoisseurs will appreciate the tart and sharp red wine "Jarlin du Nil". A worthy competitor to this drink is the sweet Coptic Arabka. There is also champagne in Egypt. It's called "Aida". As a gift to relatives and friends, tourists usually buy Rubis d'Egypte rosé wine with apple aroma.
Beer lovers, once in Egypt, will be surprised by the low prices for local brands of this drink. The most popular Egyptian beer is Stella. It is made at the brewery, which was opened in El-Ubura in the last century by immigrants from Europe.
Whiskey "Auld Stag" is also produced in Egypt, but the quality is inferior to more famous European and American brands. This drink is unreasonably expensive.
Top 10 Egyptian dishes
Kebab and jacket
Kebab
Meat lovers in Egypt will not go hungry! Kebab and kofta are often served together, although they contain different types of meat. Kebabs are juicy cubes of veal fried over an open fire. Sweater - cutlets, sausages or balls made from pieces of lamb that are fried on the grill. The viscosity of the minced meat for the sweater is given by rice flour. These two dishes are served hot. Better to buy them at small street stalls, whose owners cook according to family recipes.
Molochia
At first glance, molochia looks like spinach, but it's a completely different dish. It is based on jute leaves and meat broth, and a unique spice mix contributes to the creation of a delicacy that is most often served with rice and bread. Molochia, like many other dishes, is made in different regions of Egypt in its own way, so we recommend trying it in popular resorts, in cafes in Cairo, and in port establishments in Alexandria. By the way, in the latter there is a chance to taste molochia cooked with seafood broth.
Recipes for molochia appeared in ancient times, but in the 10th century this dish somehow caused the caliph's displeasure, and he declared it displeasing to Allah. Molochia was not prepared for a long time. And in our time, some religious people do not eat it.
Kushari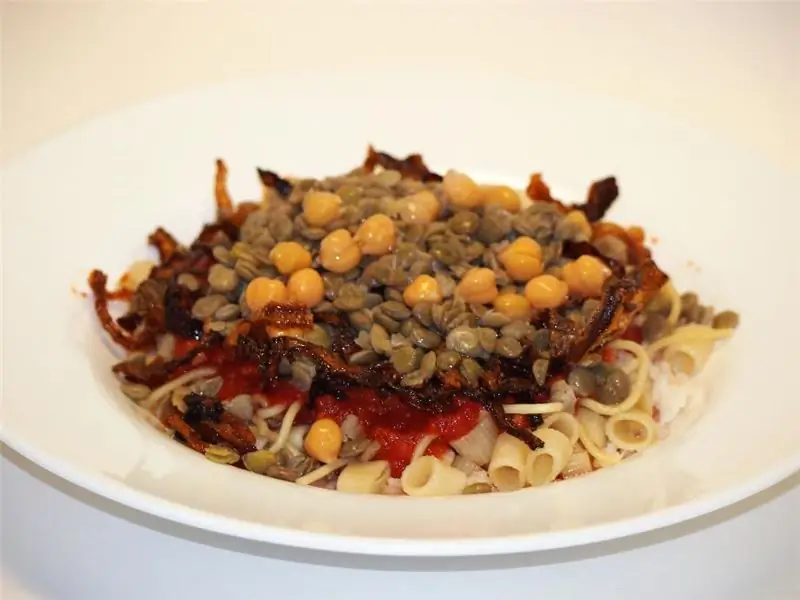 Kushari
This is one of the most popular Egyptian dishes and is found on the menu of almost all vegetarian and meat restaurants. The dish is a mixture of rice, spaghetti, black lentils and thick tomato sauce. All this is sprinkled on top with a thick layer of fried onions.
The Egyptians themselves sincerely believe that this dish was invented in their country. In fact, the locals invented its cooking method, and the ingredients appeared in Egypt thanks to the British, who were in power here for some time. The British brought spaghetti from Italy, rice was brought from Asian countries.
Tameya
Anyone familiar with Arabic cuisine has probably tasted Israeli falafel. Tameya is his Egyptian version. The difference between these two dishes lies in the ingredients. Tameya is made from legumes. Dough is made from them, from which a ball or flat cutlet is then formed and fried. Sprinkle with various spices on top of the finished tortillas. It is customary to eat Tameya with bread.
Hamam Makhshi
Hamam Makhshi
Baked pigeons are found on the menu of not only the most famous European restaurants. Pigeons and other small game were cooked in ancient Egypt. This dish is still considered a delicacy. The poultry carcass is filled with rice or bulgur mixed with various herbs.
The most delicious hammam makhshi is served in small family restaurants. But in a dish served in such an institution, an unprepared person can expect a surprise. Inside the pigeon, his head is often hidden, because it is considered an exquisite delicacy.
Ful Medames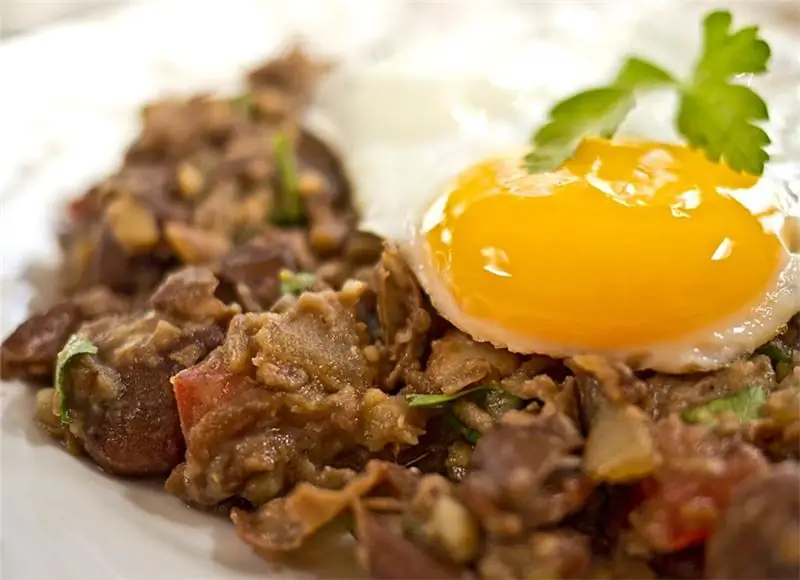 Ful Medames
A famous dish that appeared during the time of the pharaohs. The main ingredient in fal memes is beans, which are first soaked in water overnight, and then boiled for about 8 hours until fully cooked. Then add oil, garlic and lemon juice to the beans. This dish is served with pita or bread and is often used as part of sandwiches.
Shawarma
If you like kebab, then you should try the Egyptian version of another Arabic dish, which, however, is popular in the countries of the former Soviet Union. This is shawarma. The meat is cut into small pieces (the meat is very much chopped into a kebab), mixed with seasonings and wrapped in thin pita bread. Various sauces and additives are served with shawarma. The most popular are hummus, tahini, garlic sauce and seasonal vegetables.
Hawavshi
Hawavshi
Hawavshi may not seem like a very appetizing dish, but it's still worth trying. This is a mixture of minced lamb meat with onions, beans and spices, which is baked in bread. Therefore, hawavshi, which our tourists call Egyptian belyashi and pasties, are considered the ideal street food. By the way, hawavshi can also look like a large pie, which is cut into portions before serving.
Fatta
This dish in Egypt is prepared for significant secular or religious (Christian and Muslim) holidays. Rice and a large amount of hot sauce are spread over toasted bread. All this is poured over with broth. The dish is usually served with juicy beef or eggs. It is incredibly tasty, but very high in calories.
Kunafa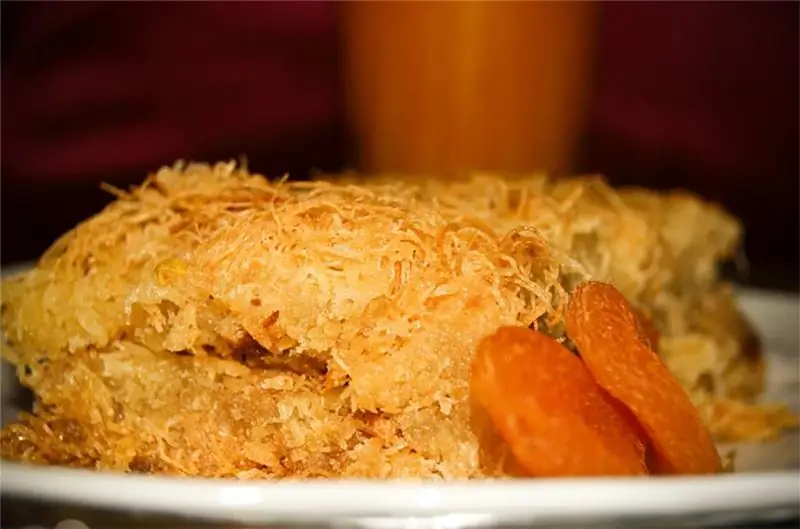 Kunafa
Those who cannot imagine a full meal without the obligatory dessert should definitely order kunafu in a cafe or restaurant. This is a sweet dish made from thin crunchy layers of dough, drenched in melted butter and sugar syrup. Kunafa resembles straws, peculiar nests of sweet noodles. It is served with a variety of delicious fillings: nutty, creamy, etc.
Photo