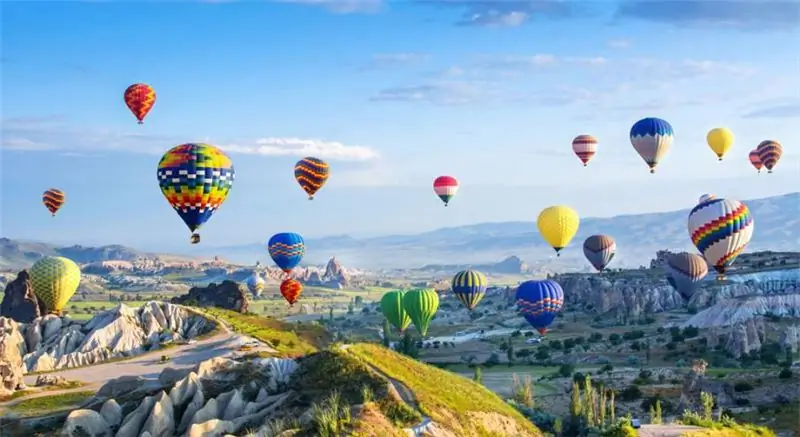 According to the results of summer bookings with most mass tour operators, Turkey invariably occupies the first place in the rating of vacation destinations for Russian tourists. What is the situation with preferences in neighboring Ukraine?
Tours to Turkey have occupied the first place in the list of proposals for family vacations among Ukrainians for more than one year. And all because for a relatively low cost you get a full package: airfare, transfer, accommodation, all-inclusive meals and health insurance. Warm and mild climate, gentle sea and hotels for every taste and budget - all this offers sunny Turkey.
Buying a tour to Turkey online with Farvater.travel
Buying a tour to Turkey on the Farvater.travel website is quick and convenient. The benefits are undeniable:
you do not need to compare prices in different travel agencies and waste your time;
you can easily search for the desired country and resort;
view the entire list of last-minute offers with a departure in the coming days;
you can pay for the selected voucher by card using the payment system;
you receive the entire package of documents (air tickets, voucher, insurance) by e-mail;
the opportunity to subscribe to the newsletter and always be aware of the best offers.
In Ukraine, there are several large Internet sites that automatically search for the best travel deals from all travel operators. The leader is the site Farvater.travel, where you can quickly and conveniently book your favorite tour without leaving your home.
Benefits of a holiday in Turkey
affordable prices for tours;
a large selection of hotels from budget 3 * to upscale 5 * premium class;
the all-inclusive concept loved by Ukrainians;
clean and equipped beaches;
the ability to choose a suitable type of vacation: family, romantic, active. Also popular are mice and fitness tours;
developed hotel infrastructure; availability of everything you need to relax with your child;
interesting and rich excursion programs;
the opportunity to fly away on a last minute ticket in the low season and save a lot.
Family vacation in Turkey
This country is deservedly popular among families with children. Indeed, the hotels have everything you need to relax even with the smallest: cribs, highchairs in the restaurant, children's menu, mini-clubs, children's pools, playgrounds. For an additional fee, you can use the services of a babysitter or rent a baby stroller. In most Turkish hotels, animators are involved with children, organizing contests, games, various lessons, etc. Generally, hotels in Turkey are focused on family vacations. But in 3 * hotels you will not find the above services. Therefore, for families with small children, we recommend choosing a hotel with a level of at least 4 *.
Tours to Turkey with a departure from Kiev
During the high season, dozens of charter flights to popular Turkish resorts take off daily from major cities of Ukraine (Kiev, Kharkov, Odessa, Dnipro, Zaporozhye, Lviv). The most visited corners of the Turkish Riviera:
Alanya,
Antalya,
Side,
Kemer,
Belek,
Marmaris,
Bodrum.
Each of them is unique in its own way. More budget accommodation options are presented in Alanya. Clean sandy beaches can be found in Side. In Kemer, the coast is surrounded by mountains and coniferous forests, and on the beaches there are mostly pebbles. Belek is considered a prestigious resort with 5 * high class hotels, as well as the best golf courses in the country. Fans of parties and parties choose Marmaris or Bodrum.
Holidays in Turkey in 2018
Almost all tour operators in Ukraine offer trips to Turkey. From Kiev, departures are available to the Mediterranean coast (arrival in Antalya) and the Aegean Sea (Dalaman, Bodrum). From the regions (Lviv, Odessa, Kharkov), flights are available both to Antalya and Dalaman. Charter flights begin in April and continue until the end of October. Later, sea tours to Turkey are available only with a flight from Kiev. Last minute deals can be found at the beginning (April-May) and at the end of the season (September-October). Do not count on promotional tours in the summer - during the vacation season. Flights in high season fill up very well and it is not profitable for anyone to sell the tour cheap. At the same time, prices for vacations in August are the highest. If you are planning a vacation during this period, we advise you to book your trip in advance.
Excursions
Among the most popular excursions, the first places are occupied by Pamukkale and Demre-Mira-Kekova.
Pamukkale. Not even worth talking about the popularity of this excursion. It was visited by everyone who at least once came to sunny Turkey. This natural landmark is unique for its appearance. The snow-white plateau cascades down, creating bowls that resemble bathtubs. From thermal springs located nearby, clear water constantly flows, filling the baths and creating a beautiful play of shades - blue and white;
Excursion Demre-Mira-Kekova includes visiting ancient cities, viewing ancient ruins and a boat trip on a yacht. Thanks to an interesting and eventful program, the day will fly by. This trip is a unique opportunity to see how people lived in the territory of modern Turkey many centuries ago.
Active holidays in Turkey
All those who cannot imagine their rest without entertainment and sports - welcome to Turkey. You can choose a hotel for every taste: with a volleyball court, gym, tennis court and even your own golf course. On the beach you can order banana rides, parasailing, water skiing and much more. The Fethiye resort offers paragliding flights in the Oludeniz Nature Reserve. In addition, on vacation in Turkey, you can go diving, safari, rafting and other sports. If in the evenings you do not like to stay at the hotel - feel free to rent a bike and go explore the surroundings.
Holidays in Turkey for everyone
family holiday. Almost every hotel on the coast of Turkey is focused on families with children. For a child, there is a continuous expanse of space - clean beaches with sand or pebbles, playgrounds, mini-clubs and entertainments of animators;
calm rest. There are hotels in Turkey that do not accept guests under the age of 16. In such a place, you can truly feel harmony and enjoy the silence and comfort;
romantic getaway. Turkey is a great honeymoon option. Newlyweds can relax on the beach, visit interesting excursions and take colorful photos;
vacation with friends. Parties, foam discos, yachting trips and the country's best clubs can all be found in Turkey.