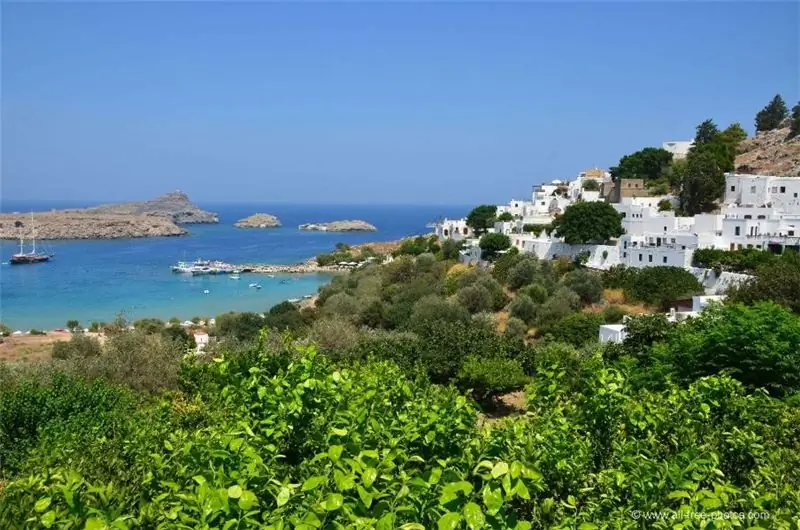 The small town of Lindos in the southeast of Rhodes is one of the most popular beach resorts in the Mediterranean. It is famous for its Acropolis and is known as the birthplace of the ancient sculptor Pythocrates, who gave the world the sculpture of Nika of Samothrace. The active beach season begins in Rhodes in May, but the weather in Lindos in April is quite conducive to long walks in the fresh air and educational excursions to ancient ruins, whose photos are found in the history books of the Ancient World.
April in Lindos
From the east, Rhodes is washed by the Libyan Sea, which belongs to the vast Mediterranean basin. The climate in the region is called Mediterranean, and the weather in Lindos in April is fully consistent with its standard parameters:
April precedes the beginning of the swimming season. In the first ten days of the month, mercury columns rise to noon only up to + 20 ° С, but in the afternoon the sun is hot enough, forcing the thermometers to show already + 25 ° С.
In the second half of April, the weather begins to more and more resemble summer, and the air temperature stably exceeds + 26 ° C during the day.
The winds remain fresh and cool, and therefore sunbathing in open spaces is still not very comfortable.
An ideal option for a beach holiday in April is a hotel with swimming pools, in which the water warms up faster and even toddlers can swim with pleasure.
Rainfall in April is extremely rare, but be prepared for the fact that sometimes a short rain does happen.
The weather in April allows for long walks and long excursions. But even in the middle of autumn, the sun in Lindos and the surrounding area is very active, and therefore in your luggage you must definitely have means of protection against it.
Sea. April. Lindos
The water temperature on the beaches of Lindos at the beginning of the month reaches only + 17 ° С, although by the last week the sea warms up in places and up to + 19 ° С. You can swim comfortably only in shallow water, and therefore when choosing a hotel, be sure to study the situation for the depth of the sea in the immediate vicinity. Strong winds and stormy weather in the region are the exception rather than the rule at this time of the year.