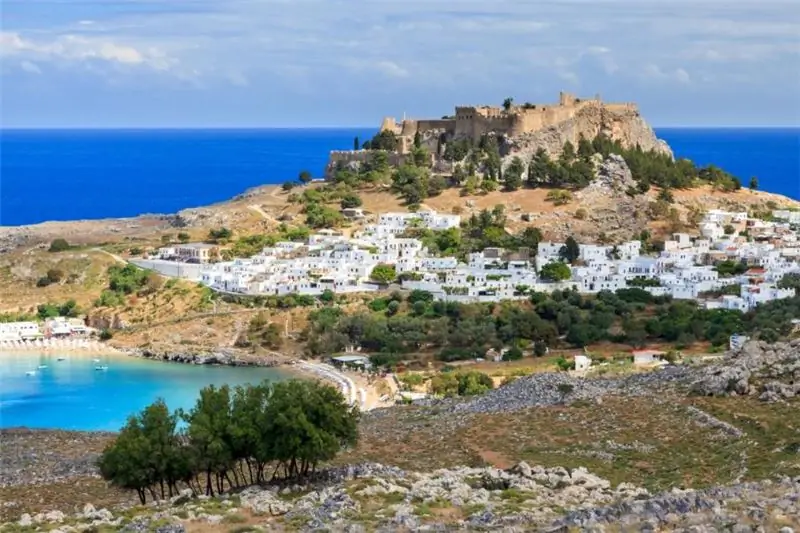 You can also enjoy the delights of summer leaving Greece and delight yourself with wonderful impressions of the sea and the beach in Rhodes in the middle of autumn. In these latitudes, it begins smoothly, and the weather in Lindos in October is only a little reminiscent of the fact that summer is ending. The Mediterranean climate guarantees tourists warm days, a comfortable sea temperature and other delights of the calendar season, which is called the "velvet season".
Forecasters promise
The average daily air temperature in October is significantly reduced in comparison with the summer period, but a beach vacation is still a pleasure and is even recommended at this time for tourists who do not tolerate the heat well:
During the day, mercury columns are stable at + 24 ° С, overcoming it in the afternoon and often reaching + 26 ° С.
The winds become noticeably fresher, and you can comfortably sunbathe only after 10 o'clock in the morning.
Clouds cover the sky more and more often, and short-term rains by the end of the month can drag on for several hours. However, precipitation usually occurs in the afternoon.
Going on boat trips or fishing, you should study the weather forecast carefully. Lindos can get quite chilly on the high seas in October.
As the sun sets, the air cools down rapidly, and at night the thermometer can drop to + 15 ° C. Don't forget a warm sweater or windbreaker for dinner.
But sunscreens should not be neglected, as in summer. Sun activity rates even in October in Rhodes are quite impressive.
With the onset of October, siesta time is significantly shortened, restaurants and shops do not close in the afternoon, allowing you to leisurely enjoy desserts and shopping.
Sea. October. Lindos
With the onset of October in Lindos, the swimming season continues, because the weather allows you to combine sunbathing with fun at the sea. Catamarans and water skiing are popular with active tourists, because the water temperature in the Mediterranean Sea is kept at around + 24 ° C in most of the resort area. If you choose a hotel with a shallow entrance to the sea on the beach, even small children can swim comfortably in October.