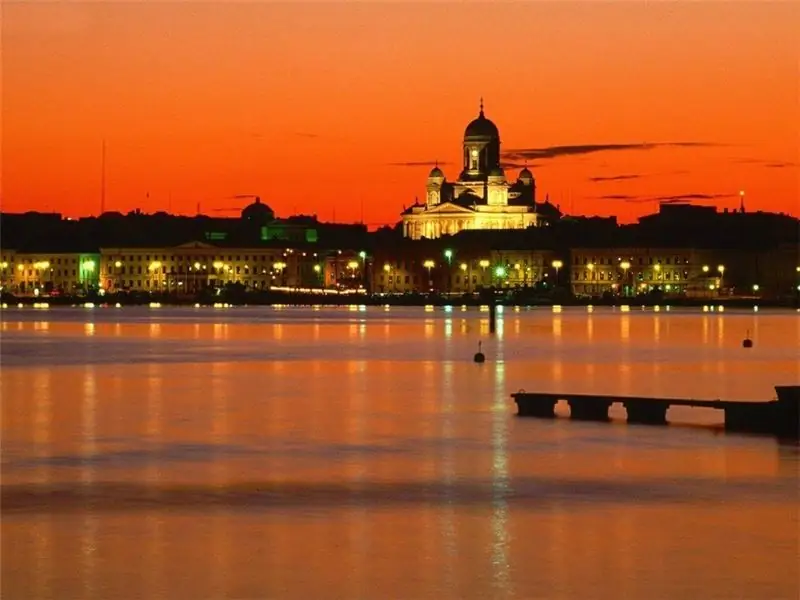 Helsinki's nightlife is concentrated mainly in areas such as Kamppi and Punavuori.
Nightlife in Helsinki
Guests of the Finnish capital are advised to join the excursion "Back streets of the Old City", during which they will admire the oldest surviving buildings, see the monument to Alexander II and learn about his "terrible" secrets, get acquainted with an evil and kind ghost in one of the districts of Helsinki, and photograph Scottish castle and hear the love story associated with it, as well as learn about the unusual competitions held by the Finns.
In the summer months, do not miss the opportunity to go on an evening boat trip around the islands of the Gulf of Finland, which will be accompanied by a banquet, music and entertainment.
In the evening program of recreation in Helsinki, you should also include visits to places such as the National Opera and the Finland Palace.
Helsinki nightlife
The Playground club pleases its guests with the presence of a hall with a spacious dance floor and high-quality music (rap, electro, R&B). The Playground, open from Wednesday to Sunday, is a venue for both well-known and aspiring Finnish DJs. The prices in the club are democratic, but those who have not celebrated their 18th birthday are not allowed there.
The Kaivohuone club, located next to the main alley of the Kaivopuisto park, pampers party-goers with parties in April-September, the theme of which depends on the day of the week: every Thursday Finnish performers and bands perform in the club; Wednesday is marked by a Pool party; Friday night is usually dedicated to the coming weekend; it's worth coming to the club on Saturday for the performances of B-Boy bands and go-go dancers. On Wednesday, Friday and Thursday, only persons over 20 are allowed into the club, and on Saturday the age limit is raised (24+). It is worth noting that the Kaivohuone club in 2012 acquired a summer outdoor terrace (it can accommodate up to 350 people). In winter, only corporate events and private parties are held in Kaivohuone.
The Tavastia club attracts connoisseurs of jazz, heavy metal, blues, rock and roll. You can park your car for free next to Tavastia, which is equipped with 3 bars (the bartenders prepare both famous and unusual specialty cocktails for guests). On weekdays, the age limit in Tavastia is 18+, and on weekends - 22+ (it is advisable to have a passport with you).
Thanks to its technical equipment, Club Helsinki often becomes a place where scientific conferences, press conferences, fashion shows, and dance parties are held. The clubhouse is divided into zones with its own design. Guests will be able to take advantage of the services of a trendy hi-tech restaurant and bar, as well as break away on a spacious dance field. As the place is very popular, there are often queues at the entrance (guests must be over 24 years old).
Going to the Apollo live Club? There is no formal dress code, but there are themed bars, a VIP zone, and a large dance floor.
The Grand Casino Helsinki, with an area of 2.5 thousand m2, is occupied by halls with 30 gaming tables (Sic Bo, Pai Gow, Red Dog, Poker Oasis Stud), 300 machines, restaurants and bars (Fills Kitchen & Bar serves international cuisine, a bar Fennia has a 1920s setting and Fennia Salonki pampers diners with live entertainment.) A 1-day admission ticket + wardrobe service costs 2 euros, and a personal loyalty card can be purchased for 10 euros (free wardrobe services).