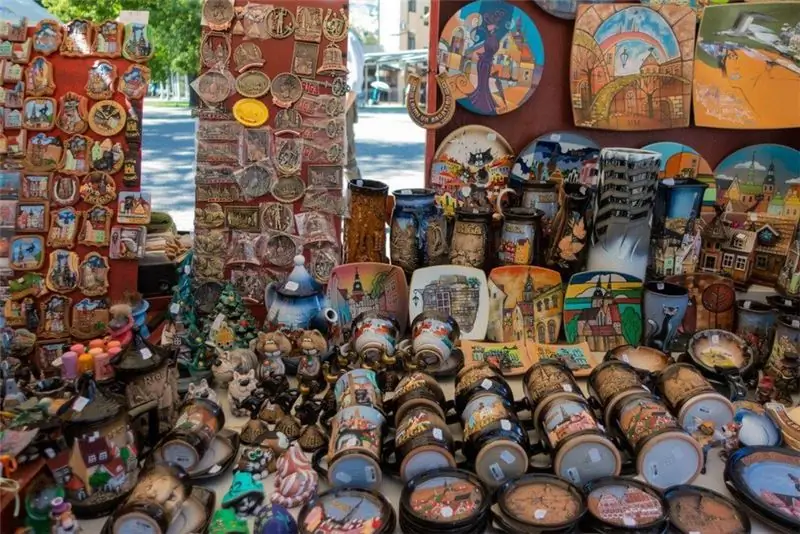 What to bring tasty from Riga?
Tears of a pine - as a keepsake from Riga
Fragrant products for ladies and gentlemen
Handicrafts
Each of the Baltic countries is interesting in its own way, each of them has its admirers and fans, its famous monuments of history and culture. Naturally, shopping in Lithuania is different from Latvia or Estonia, this material will be devoted to Latvian national souvenirs and goods. Moreover, the emphasis will be on what to bring from Riga, a beautiful city famous for architectural sights, bright business cards that can be seen in souvenirs.
In addition, we will tell you about what practical things you can buy in the Latvian capital, what food is considered the most delicious, what original alcoholic drinks are popular with foreign travelers and what sweets.
What to bring tasty from Riga?
Let's start shopping with an overview of the gastronomic gifts prepared by the Latvian capital. Ever since the times of the Soviet Union, Latvia has been known as a producer of a delicious strong alcoholic drink named after the capital - "Riga Balsam". Even today it is one of the most popular souvenirs, despite its relatively high cost. The balm has an amazing taste, as it contains many medicinal plants, berries and fruits, and for decades it has not changed its packaging design - a clay bottle with a memorable label.
Fidelity to traditions in the production of alcohol affects the fact that out of the entire range of products manufactured in Latvia and Riga, in particular, balsam takes the first line in all ratings. It is good both in pure form and as part of various alcoholic drinks, cocktails, and as an additive to tea or coffee. It is especially good to use this warming drink on frosty winter evenings. As a gift to friends, you can bring not only a bottle of "Riga Balsam", but also tiny liqueur glasses that will faithfully serve more than one generation of the family.
Continuing the theme, we can add that a new product has also appeared - a balm based on blackcurrant juice, it is softer and more delicate, and therefore managed to find its fans. An exclusive offer from one of the Latvian confectionery factories - sweets with "Riga Balsam", such a delicacy cannot be tasted in any country in the world except Latvia.
By the way, Laima chocolate is also one of the most popular delicious goods exported from the country by tourists. You can come across a comparison of this gastronomic business card of Latvia with Belgian chocolate in terms of quality and packaging design. Guests buy just chocolate, sweets, and chocolate covered marshmallows. The second place in popularity belongs to sweets with a cute name "Ladybird", the secret is that Riga confectioners have learned to produce sweets loved by the people, adding various fillings based on poppy, cranberry, raisins, cinnamon.
Of the more "serious" products, foreign travelers pay attention to bread baked in Riga using old technologies. The use of natural products (wholemeal rye flour, malt, yeast) helps to create bread masterpieces - aromatic, with a crispy crust and unmatched taste. Certain types of bread retain their freshness for more than a month, which makes them a very attractive product in the eyes of guests. Other varieties surprise with fillings - the people of Riga have learned to bake bread with carrots and prunes, raisins and nuts.
Tears of a pine - as a keepsake from Riga
The hardened resin of conifers, which has survived for centuries, is one of the most famous symbols of Latvia and its capital. Someone will say that buying amber today is trite, and will be mistaken, because all household members, knowing about a family member's trip to the Baltic Sea, will still be waiting for amber souvenirs: jewelry - bracelets, pendants, earrings and pendants; pictures laid out from pieces of different sizes; magnets.
Any guest who is not going to make amber purchases in Riga cannot resist buying at least something tiny after visiting the amber room, which has become one of the main attractions of the capital of Latvia.
Fragrant products for ladies and gentlemen
The Latvian brand - Dzintars - known since the time the country was a part of the USSR, today continues to actively develop production and delight everyone with its aromatic products. Naturally, one cannot do without the help of colleagues from the West, therefore, there is eau de parfum and eau de toilette, colognes and perfumes, the smells of which are familiar from childhood, and new products on sale.
The company's specialists position the goods as products of the highest quality, developed taking into account the latest technologies, and very affordable in cost.
Handicrafts
Products of local artisans at all times were in demand among foreign guests, in the rating of such products the leaders are: ceramics - figurines, dishes, candlesticks; wicker crafts and furniture; wooden souvenirs; graceful leather ornaments and panels. It is clear that Riga is the main city of the country that receives guests from abroad, therefore, in any hypermarket and small souvenir shop, there is a huge assortment of souvenirs. For their manufacture, the inhabitants of Riga use all available natural materials, as well as products of the chemical industry, for example, the well-known plastic.
The knitwear and linen products sold in the historic heart of Riga deserve special admiration. High-quality garments made of pure wool will warm you on cold winter evenings, bright linen sundresses are indispensable in hot summer. Woolen goods are represented by sweaters, sleeveless jackets, ponchos and dresses, as well as small items, including hats, mittens, scarves. In addition to linen outfits, you can buy tablecloths and napkins, bags with bright prints, inscriptions and national symbols.
So, the magnificent Riga meets every traveler with dignity, offering excursions according to the main business cards and no less detailed shopping.