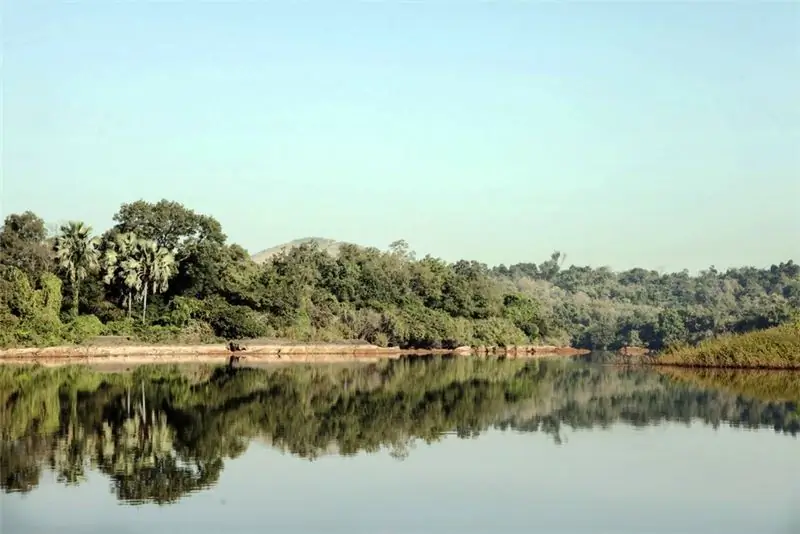 The Gambia is a very small African state, once one of the most influential on the entire continent. But today it is just a small area located along the banks of the river of the same name. The maximum distance between the two borders of the state is only 28 kilometers. And only in the area of the mouth of the Gambia, it expands to 45 kilometers. That is why the rivers of the Gambia, as such, are absent. And the Gambia is a state of one river.
Gambia river
The Gambia is one of the largest rivers on the West African continent. The river bed passes through the territory of three countries - Guinea, Senegal and Gambia. The total length of the current is 1130 kilometers.
The source of the river is on the Futa Jallon plateau (Guinea). The confluence is the waters of the Atlantic. The mouth of the Gambia is a wide estuary 20-30 kilometers long. The upper course of the river has many rapids. But on average, it goes to the lowlands and continues its path, winding through the forests. Floods in the Gambia occur during the rainy season from July to October.
The river is navigable 467 kilometers up from the mouth to the city of Banjul. Ocean tides rise 150 kilometers up from the confluence of the river with the Atlantic.
The Gambia plays a huge role in the life of the country. It is one of the most important transport routes, "feeds" the local fishing communities, and its waters are used for irrigation. In total, the Gambia, together with its tributaries, occupies 970 square kilometers, and at the time of the spill - 1965 square kilometers. At its mouth, located near the Cape of St. Mary, the Gambia expands to 16 kilometers. The depth of the river in this place reaches 8.1 km.
The banks of the first hundred and a half kilometers of the navigable section (after Banjul) of the river are covered with beautiful mangrove forests. Then landscapes give way to high and steep cliffs covered with forests. After that comes the turn of low shores with dense grasses. The river splits into many branches. Hippos and crocodiles are found in the waters of the Gambia, and baboons live in the mangroves.
James Island is located near the confluence of the river. It is also called the island of St. Andrew. A fort is located here, which was actively used until 1779. Today it is included in the list of UNESCO protected sites.