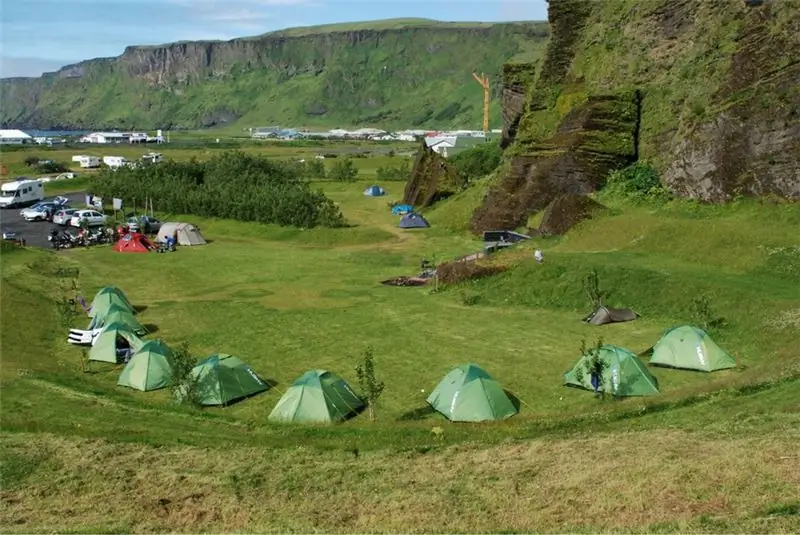 It is clear that not so many tourists dream of Iceland as of Turkey, Spain or Thailand. For many, the country remains a mysterious land of harsh, restrained landscapes, ancient legends and castles. What to choose for accommodation, hotels or campsites in Iceland, each traveler decides for himself. Accommodation in a hotel complex allows you to fully enjoy the comfort and convenience of your stay. But staying in campsites is an opportunity to touch the wild nature, see unearthly landscapes, experience the feeling of complete freedom and isolation from civilization.
Camping in Iceland - Best Options
Space landscapes open up to tourists who have reached the city of Borgarnes. An even more beautiful area meets the inhabitants of the camping, located 7 kilometers from this settlement. Lækjarkot offers accommodation in wooden houses located on a flat area. There is a common terrace for rest and relaxation, which offers stunning views - rugged cliffs and snow-capped mountain peaks.
The houses are landscaped, furnished in living quarters and in the kitchen, equipped with a refrigerator, stove, and bathrooms. There is Wi-Fi on the territory, but it is unlikely that tourists who have reached almost the ends of the earth will surf the Internet when there is such beauty around. Among the entertainment: hiking and horseback riding in the vicinity; local golf club; admiring landscapes. All this practically leaves no time for civilized fun.
Another stunning accommodation option is offered in the vicinity of a town with a funny, difficult to pronounce name - Dyupivogur. The name of the complex Framtid Camping Lodging Barreles can be translated as "a night in barrels", and this becomes completely clear already at the entrance to the place of the intended rest.
Indeed, some of the houses look like large wooden barrels, however, equipped with doors and windows. It is very cozy inside such houses, they are sheathed with wood, have the necessary minimum of furniture for sleeping and resting. I am glad that even such bar-styled living places are heated with electric radiators, this is important given the local climatic conditions.
The campsite has free parking for those travelers who do not part with their car, even on vacation. It is possible to stay in your own cars and trailers, and bed linen, pillows and blankets can be rented. You can cook in the shared kitchen equipped with modern appliances, and buy groceries from the mini-market. Shower and laundry services are available at an additional cost.
Accommodation in unusual houses is offered to tourists in another Icelandic camp - Fossatun. It is located in West Iceland, near the settlement of the same name. On the territory of this complex there are ordinary wooden guest houses and capsule houses that resemble a barrel half dug into the ground. In a small area, beds and bedside tables, tables and chairs are compactly placed, allowing guests to feel quite comfortable.
The upsides of staying at this campsite are the outdoor hot tubs. Guests have the opportunity to relax, enjoy water treatments and enjoy the cosmic Icelandic landscape at the same time. Cultural entertainment - trips to local waterfalls, visiting Borgarnes and its attractions.
Iceland will cease to be mysterious for those travelers who have the courage to go on a hike for outlandish landscapes, stunning landscapes and an amazing atmosphere.