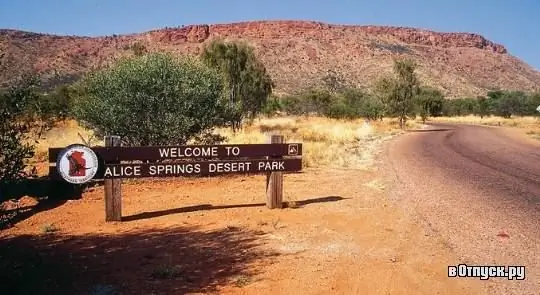 Description of the attraction
Desert Park is an environmental education center spread over 1,300 hectares in Alice Springs. He is a member of the World Association of Zoos and Aquariums and a member of the International Society for the Conservation of Botanical Gardens.
On the territory of the "Desert Park" you can see the typical inhabitants of the Central Australian desert, representatives of both fauna and flora. It hosts a number of research programs to help conserve wildlife and plant populations, as well as educational programs to introduce visitors to the unique nature of Australia's "heart". Most of the work of the park is carried out with the direct participation of the indigenous inhabitants of these places - the Aboriginal people of the Arrernte tribe, the real owners of this land.
A 1.6-kilometer trail has been laid through the park, connecting three main sections that reproduce natural natural conditions - Desert Rivers, Sandy Country and Forests. Walking along the Desert Rivers, visitors consistently find themselves in a dry river bed, a once flooded area and in swamps. Here you can see river eucalyptus, thickets of reeds and aquatic plants. Among the inhabitants of this section are finches, cockatoos, frogs and a variety of fish. Aboriginal people will talk about how, for thousands of years, they have used such places for harvesting and making medicines. The Sandy Country reproduces the desert with its salt and gypsum industries. Kangaroos and emus live in the Forest zone. In addition, the park has the House of Nocturnal Animals, where you can see a variety of reptiles, invertebrates, birds and nocturnal mammals, and the Nature Theater with birds of prey. An obligatory part of the excursion program is a story about how the Arrernte aborigines lived in these harsh conditions.
Photo