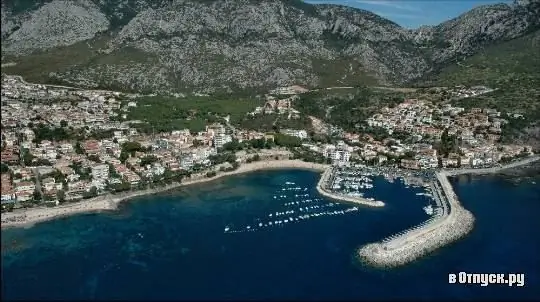 Description of the attraction
Cala Gonone is a small seaside town in Sardinia, part of the municipality of Dorgaglia in the province of Nuoro. According to the 2007 census, only a little over a thousand people live in it.
The area around Cala Gonone was inhabited during the so-called Nuragic period - from the middle of the 2nd millennium BC. Traces of those settlements can be seen today at Nuraghe Mannu on the outskirts of Cala Gonone, just off the road to Dorgaglia. The modern city was founded as a colony of fishermen who arrived from the island of Ponza in the early 20th century.
Cala Gonone lies on the shores of the Gulf of Orosei on the east coast of Sardinia in the Supramonte subregion, 9 km from Dorgaglia and 108 km from Olbia. Traveling by car from Olbia will take about 1.5 hours, from Porto Torres - 2 hours, and from Cagliari - almost 3 hours.
Due to its beautiful natural surroundings and excellent water quality (the territory of the city is part of the Bay of Orosei and Gennargentu National Park) Cala Gonone is a very popular holiday destination among tourists. The best beaches are Spiadja Centrale (central beach), S'Abba Durke, Cala Luna, Kartoe, Ozalla, Sos Dorroles, S'Abba Meika, Tsiu Martine and Cala Fuili. In addition, in the immediate vicinity of the city, there is a well-equipped cave called Grotta del Blue Marino, which can be reached by boat or boat as part of an excursion group. By the way, you can book a tour for every taste right at the local pier - here you can also rent a boat to explore the Gulf of Orosei on your own. The rent will cost about 80 euros per day. Or head to the Gennargentu National Park to explore the mountain ranges and high peaks.
In the evening, on the picturesque embankment, numerous restaurants open their doors, where you can taste an incredible variety of seafood dishes.
Photo