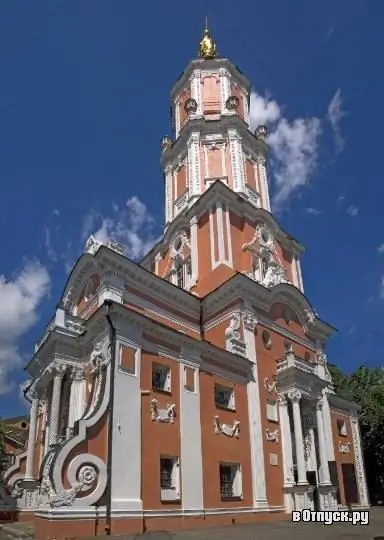 Description of the attraction
The Menshikov Tower, or the Church of the Archangel Gabriel, was built in 1704-1707 by order of Alexander Danilovich Menshikov.
In 1620, the church of Gabriel the Great stood on this place, which is on the Pogan pond. The pond was called rotten because of the proximity of the slaughterhouses, from where the waste of work flowed into the pond. There is a legend that Peter the Great said in anger that "the thief Danilych" - the owner of the pond - could have cleaned it out. Menshikov did not hesitate - the pond was cleaned out and later became known as Clean.
Not far from this pond, the Church of the Archangel Gabriel was built. This church was built in the form of a tower with a massive cruciform base, on which a quadruple and three through-arched octagon were installed. The upper eight - wooden, openwork - was crowned with the figure of the Archangel Gabriel. On this figure eight were also installed a clock with chimes of English work, striking with a strike.
The church was three meters higher than the Ivan the Great Bell Tower in the Kremlin.
In 1723, from a lightning strike, the upper wooden octagon caught fire and collapsed together with the clockwork and its fifty bells. People died. During the restoration of the temple in 1778-1779, the remaining two eights out of three became closed with double pilasters - the through arches were closed. Now the temple was crowned with a small cupola.
The design of the temple of the Archangel Gabriel was greatly influenced by the architecture of secular palace architecture - the cornices of the base of the tower and the quadrangle have a semicircular pediment end. Also noteworthy are the massive volutes of the main facade. The walls of the tower were decorated with white stone sculptural decoration. And the lush sculptural decor with garlands of fruits and flowers in the interior of the temple has been preserved only partially.
The church was restored on the initiative of the Moscow freemason G. Z. Izmailov. After the restoration, Masonic meetings were held there. In 1863 it was returned to the Orthodox Church again. In the 30s of the 20th century, the temple was closed. In 1947, the church was transferred to the courtyard of the Antioch Patriarchate.