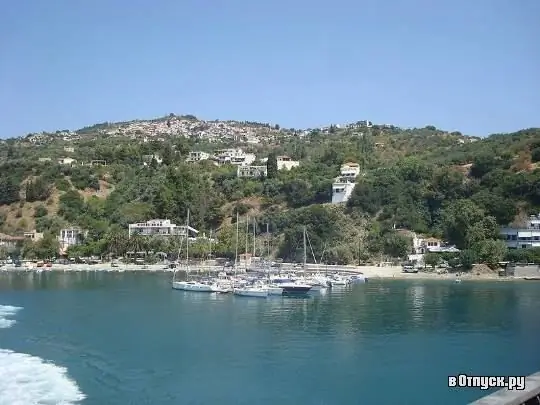 Description of the attraction
The picturesque Greek island of Skapelos in the Aegean Sea is one of the most popular tourist destinations in Greece.
The second largest settlement of Skopelos Glossa is located about 11 km northwest of the island's capital. A small picturesque town is located in the form of an amphitheater on a mountainside at an altitude of 200-250 m above sea level. Glossa is a traditional Greek town with narrow cobbled streets, snow-white houses with red tiled roofs, wooden balconies and lots of flowers. The city is surrounded by pine forests, as well as many almond trees and plane trees.
Glossa is a small oasis of authentic Greek paradise, practically untouched by mass tourism. Most of the narrow cobbled streets that climb steeply to the top of the hill are completely unsuitable for road transport, and the locals strictly observe siesta. Glossa is an ideal place for those who like a quiet and measured holiday. Here you will find a good selection of comfortable apartments, as well as cozy taverns and cafes with excellent Greek cuisine. There are several supermarkets and mini markets in the village.
Glossa's port is called Loutraki and is located about 20-30 minutes walk from the city. Loutraki is considered the second largest port on the island. There are good hotels and apartments, great beaches, and excellent taverns and cafes. The promenade offers a magnificent view of the island of Skiathos. Loutraki is often referred to as "Glossa" in travel guides.
Not far from the harbor are the main attractions of Glossa - the ruins of Roman baths (4th century BC), the remains of the ancient citadel of Selinus and the sanctuary of Athena (presumably 5th century BC). In the vicinity of Glossa, it is also worth visiting the church of Agias Ioannis Kastri, where some scenes of the famous feature film "Mama Mia" were filmed, and the monastery of the Archangels.
Photo