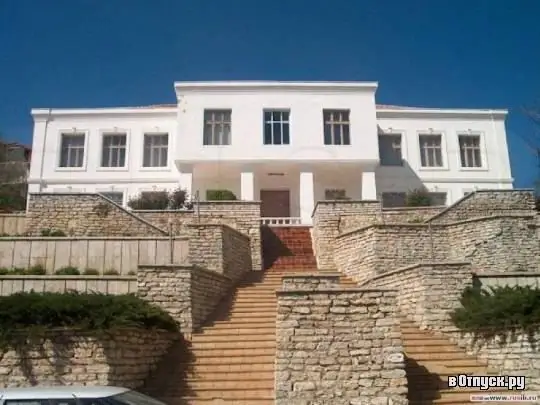 Description of the attraction
In the town of Balchik, located on the Bulgarian Black Sea coast (its northeastern part), forty kilometers from Varna, there are many interesting cultural and tourist sites, one of which is the city art gallery. It was founded in the thirties of the 20th century. The gallery is located on the street Father Paisiy, house 4. This imposing building, in which the gymnasium used to work, was restored in 1987 and given over to an art gallery.
Since 1913, as a result of the Second Balkan War, Balchik was occupied by the Romanians, and in 1940, when Southern Dobruja was returned to Bulgaria, the gallery fund was exported to Romania. In the sixties, local residents began to collect a new collection for the art gallery, some canvases were kept in their homes, some of the exhibits - sculptures, drawings, paintings, were donated to Balchik by the Sofia Art Gallery and the State Museum. As a result of these activities, a new gallery was opened in 1965. The expansion of the funds also required an increase in the area, so the art gallery ended up in the building of the former gymnasium, where it is now, occupying an area of about eight hundred square meters.
The exhibits are displayed on two floors of the building. The first floor is adapted for temporary exhibitions; for these purposes, there are two halls in the gallery. Another hall on the ground floor is reserved for paintings by foreign artists. A permanent exhibition is organized on the second floor, where you can see the most important works of famous Bulgarian masters. In the lobby on the second floor, in the very center, there is a sculpture of the god Dionysus.
The gallery's fund is based on canvases by Bulgarian artists (Vladimir Dimitrov-Meister, Boris Karadzhov, Bencho Obreshkov and others), and there are canvases by Romanian painters who belong to the era of occupation (Alexandru Satmari, Nicolae Darascu and others). There are many marine painters in the collection. The total fund of the Balchik gallery today has more than one and a half thousand works.
Every year the gallery organizes a variety of cultural events, contests (children's drawings, street cartoons and many others).
Photo