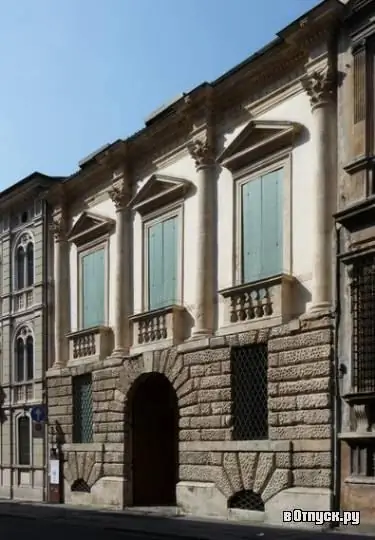 Description of the attraction
Palazzo Schio is an aristocratic 16th century palace in Vicenza, whose façade was designed by Andrea Palladio in 1560. The great architect began designing the facade at the request of Bernardo Schio, who decided to build a family residence in the Ponte Pusterla area. But since in those same years Palladio was working on a series of projects in Venice that required his personal presence in the capital of the Venetian Republic, his participation in the construction work of Palazzo Schio became so insignificant that the foreman of masons hired by him was forced to suspend the construction until further clear instructions were received. After the death of Bernardo Schio, his widow showed no interest in completing work on the Palazzo, and it was completed only at the initiative of Bernardo's brother, Fabrizio, in 1574-75.
The facade of the building facing the street is relatively narrow. Palladio decided to divide his "drunken nobile" into three arches of equal width using four semi-columns with Corinthian capitals. The space between the columns is occupied by three windows with an overhanging balcony, each crowned with a strongly protruding triangular pediment. The top floor was once occupied by three other windows that were supposed to illuminate the storage rooms and which were walled up in 1825.
The façade of Palazzo Schio is also enlivened by the play of light and shadow, created by the use of multiple layers of depth in the arrangement of the columns, moldings and balconies of the windows, and the pediment.
Photo