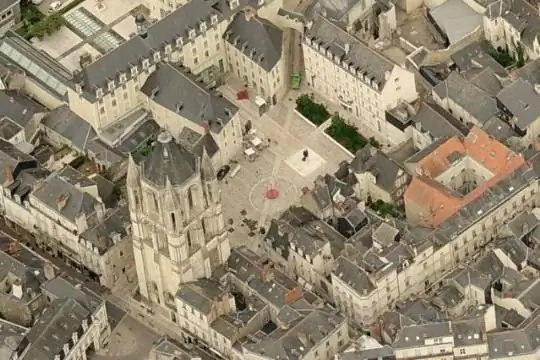 Description of the attraction
The Abbey of Saint-Aubin (Saint Albinus) with a medieval bell tower is located near the main attraction of Angers - the Cathedral of Saint Mauritius and next to the Museum of Fine Arts.
For the construction of the monastery, the Benedictine monks chose a place over the grave of Saint Albinus, Bishop of Angers, who was born at the end of the 5th century and led the local flock in 529. The day of his memory is celebrated on March 1. Even before the construction of the monastery began in the 6th century, a basilica was built here. In the 17th century, the monastery passed to the Moorists - there was called a scholarly "unit" of the Benedictine Order, named after St. Maurus, who trained teachers of theology for the order's educational institutions and published religious books. The Moorists were rebuilding the abbey at the end of the 17th century and the first third of the 18th century. Evidence of this period in the history of the monastery is the grand staircase, the sacristy, decorated with wood panels, the chapter hall. From the earlier, Romanesque, period, unique frescoes, discovered in the first half of the 19th century, have survived.
At the beginning of the 19th century, a significant part of the abbey was demolished during the construction of the town square of Michel-Debreu. The remaining premises were adapted for the needs of the prefecture. The bell tower, built in the 12th century, has also survived. With its height of 54 meters in the Middle Ages, it served as a watch tower and was fortified as a real fortress - it had loopholes and even its own well. Today, its building rises above the rest of the city's buildings.
In the 19th century, the tower lost its bells and roof; in the 20th century, it housed a museum and a meteorological observatory. Today, art exhibitions are held here. At the same time, the tower has been a National Historic Landmark since 1862.
Photo