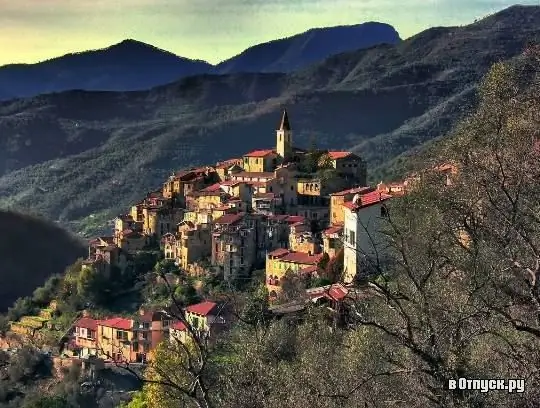 Description of the attraction
The Crozia Valley is located near the resort town of Bordighera. You can get into it along the so-called Romana Vecchia - a road that goes through vineyards, olive groves and rose bushes and then climbs up the Perinaldo hill.
The first settlement on the way will be the town of San Biagio Della Cima with a population of only about a thousand people. Its main attraction is the parish church of Saints Sebastian and Fabiano, built in 1777, which houses an old wooden statue of Saint Sebastian.
A little further is the village of Soldano, which attracts attention, first of all, with its castle. It is also worth exploring the Church of John the Baptist with a polyptych by Andrea della Cella and the nearby chapel of the late 16th century.
The town of Perinaldo is located at an altitude of 572 meters above sea level. It was founded by the inhabitants of the now defunct settlements of Vincidelo and Inkonedelo, and in the 11th century it became a fiefdom of the Counts of Rinaldo of Ventimiglia - hence its name. Today, in the vicinity of Perinaldo, olive trees, grapes and flowers - roses, mimosas, etc. are grown, and wine and olive oil are produced.
Slightly lower lies another interesting town - Aprikale, with a population of about 500 people. This is a picturesque medieval village in the valley of the Merdanzo River, the first mention of which dates back to 1016. The ancient defensive walls have been preserved here, and Apricale itself is one of the most fascinating places in Western Liguria.
Photo