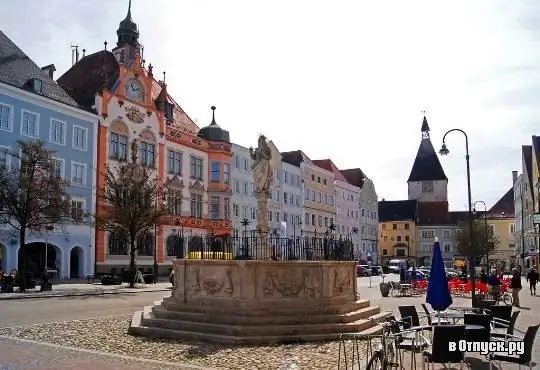 Description of the attraction
Braunau am Inn is a city in northwestern Austria. It is located about 90 kilometers west of Linz and about 60 kilometers north of Salzburg, on the border with the German region of Bavaria. The city is part of the Braunau am Inn district.
The city was first mentioned around 810, and the city status of Braunau am Inn was granted in 1260, making it one of the oldest cities in Austria. The city was located on trade routes, was related to the salt trade and shipping on the Inn River. Throughout its history, the city has passed from Austria to Bavaria four times. Until 1779, it was a Bavarian city, but passed to Austria under the terms of the Teschen treaty. As one of the largest settlements, the city played an important role in the uprising against Austrian occupation during the War of Spanish Succession.
Under the terms of the treaty, Braunau became Bavarian again in 1809. And already 7 years later, in 1816, during the reorganization of Europe after the Napoleonic wars, Bavaria ceded the city to Austria. After that, Braunau remains an Austrian city to this day.
Braunau is home to a remarkable 15th-century church with a 99-meter spire, making it the third tallest church in Austria. In addition, the city is known all over the world for the fact that Adolf Hitler was born here on April 20, 1889. He and his family left Braunau and moved to Passau in 1892. In 1989, at the initiative of Mayor Gerhard Skib, a memorial stone was erected in memory of the victims of World War II in front of the building where Hitler was born. The stone itself was brought from the Mauthausen concentration camp.
In 2011, the city council revoked the title of honorary citizen, which Hitler had been awarded in 1933.
It is interesting to visit the Museum of Local Lore of Art, Folk Crafts and Traditions of the Inn River District, located in the former ducal palace, as well as the adjacent foundry for the production of bells, which has been preserved since the 14th century.
Photo