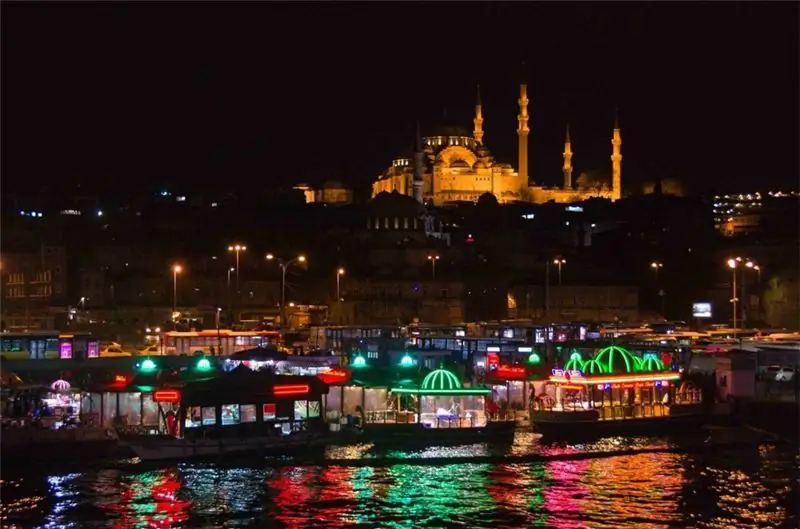 Istanbul's nightlife is mainly concentrated in such districts of the city as: Bebek (which is the location of expensive establishments), Beyoglu (the area is home to trendy nightlife), Ulus (the most famous place is Ulus 29: guests are pampered with performances of the best disc jockeys, foreign and Turkish stars), Taksim (many places are aimed at party-goers on a budget) and Nisantasi (in local pubs and clubs, dancing and fun lasts until the morning).
Night Tours in Istanbul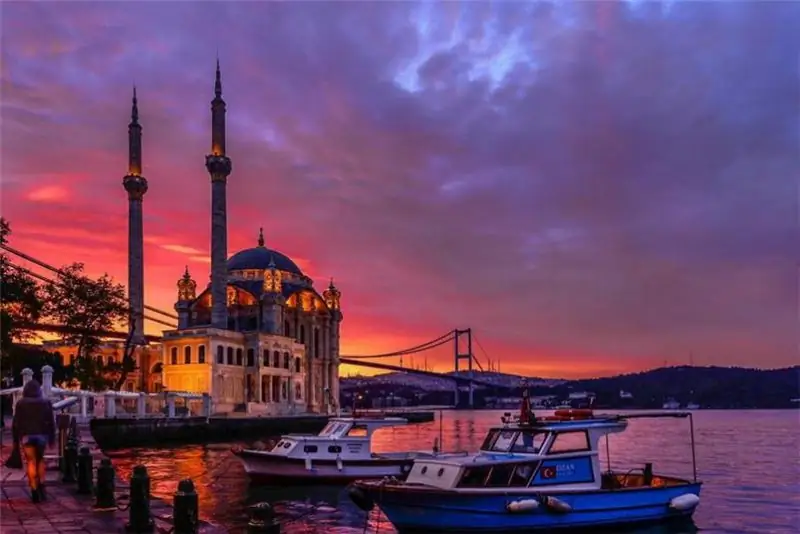 A night tour of Istanbul involves visiting Sultanahmet Square, the Embankment in the Asian part of the city and Istiklal Street, visiting the Galata Bridge, Maiden Tower, Blue Mosque, Topkapi Palace, as well as climbing Editepe Hill (evergreen shrubs and trees grow on its slopes), from which will be able to admire the residential areas of Istanbul and the Bosphorus.
Those who went on an excursion "Eastern Night on the Bosphorus" at 20:30 from Dolmabahce Palace (Kabatash pier) will be given a welcome cocktail and will be offered to admire illuminated bridges, Chiragan Palace, Ortakey Mosque, Beylerbey Palace, Anatolian Fortress from the side of a yacht or ship. In addition, during the cruise, sightseers will have dinner (grilled kebabs, 10 types of cold snacks, sweets, Turkish coffee, alcoholic drinks). The entertainment program includes belly dancing, music from a DJ, performances by costumed characters and a folklore ensemble.
Istanbul nightlife
From the roof of the Reina club, visitors will be able to admire the Beylerbey Palace and the Bosphorus. Reina is equipped with: 2 bars; a large dance floor; restaurants serving Chinese, Turkish, Greek, Italian and seafood dishes. In the evening, the institution is quite quiet, which is conducive to relaxation, and at night the party-goers are waiting for a dance program (international and Turkish hits).
In the afternoon, those who come to Suada will be able to spend time in the beach complex (there is a swimming pool, 3 bars, a sunbathing terrace), and in the evening - have fun in a nightclub equipped with a concert hall, dance floor and 6 restaurants.
In the Coco Climentine club, where a relaxed atmosphere reigns, and a professional photographer will offer to use his services, guests dance to foreign and Turkish music (even small fragments of Russian songs slip in the DJ mixes). Coco Clementine is equipped with high ceilings, several balconies, tables, which should be reserved in advance (reservation requires payment of at least one bottle of alcohol: Ballantine's whiskey - $ 73, Chivas scotch - $ 106, Absolut vodka - $ 73). Parties at the club are held on Fridays and Saturdays from 23:00 to 04:00.
Babylon Club is a venue for live performances, as well as a dance floor, where guests anneal to pop, R&B, jazz, electro. It is worth noting that those who come to the concert are prohibited from filming what is happening on stage with a photo or video camera.
In the Crystal club, night owls have fun in discos to the hits of European and Turkish DJs (the main directions are pop and electro). And in a local restaurant they will be able to have a bite to eat with fusion dishes.
Visitors to the Limoncello club will pamper themselves with merry dances (mostly hits of past years) and cocktails from the bar, which are based on fresh fruits. It is worth noting that on Valentine's Day, Limoncello hosts a party for those who have not yet found their soul mate.
The Nardis Jazz Club invites everyone to attend live concerts featuring classical jazz, fusion, mainstream, modern and ethnic music. Opening hours of the club (entrance costs from $ 5): on weekdays from 21:30 to 00:30, and on weekends from 23:30 to 01:30. Those who wish will be offered to satisfy their hunger with salads, meat, pasta and light snacks.