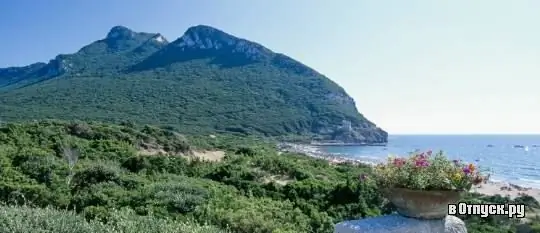 Description of the attraction
The Circeo National Park is located on the Capo Circeo promontory on the Tyrrhenian Sea in the Italian region of Lazio. The park was created in 1934 by order of Benito Mussolini himself to protect the Pontine Marshes. Interestingly, a few years earlier - in 1930 - it was Mussolini who initiated the drainage of these swamps and land reclamation. In 1939, Italian paleontologists discovered a perfectly preserved Neanderthal skull in one of Circeo's grottoes. The skull covered with stones lay on the surface of the earth in a small side depression of the cave. Tools of labor were also found nearby.
The total area of the Circeo National Park is 8.5 sq. Km. It includes the coastal strip near the cities of Anzio and Terracina, about 22 km long, the forest near San Felice Circeo, which is the largest forested valley in Italy, and the island of Zannone, which is part of the Pontic archipelago and has retained its original vegetation cover.
The very Pontic bogs, for the sake of which the park was created, consist of four coastal salt lakes - Paola, Caprolache, Monachi and Fogliano. They are home to a huge number of bird species - Egyptian herons, cranes, geese, larks, curlews and lapwings, as well as rare swamp turtles live here. The maximum depth of the lakes is about two meters, and they are connected to the sea by a system of canals.
Also, the territory of the park includes Cape Capo Circeo, which gave the name to the entire park. Its maximum height is 541 meters above sea level. From a naturalistic point of view, the cape can be divided into two zones: the northern slopes have a more humid climate and are covered with dense thickets of stone oak, white ash and birch, and on the southern slopes, where the climate is milder, there is typical Mediterranean vegetation - red-fruited juniper, euphorbia, krythmum, rosemary, myrtle. Here, on the promontory, there are several interesting grottoes - Grotte delle Capre, grotto delle Impiso, Grotte del Fossellone and Grotte Breuil.
Photo