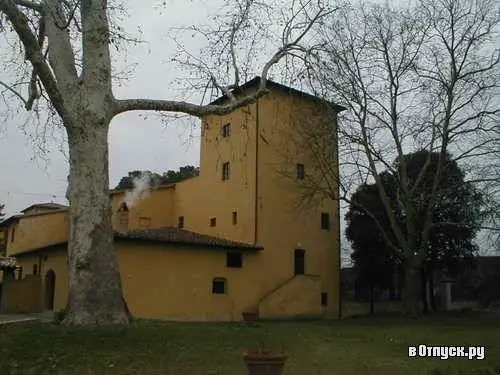 Description of the attraction
Villa Montalvo is an aristocratic residence in the Tuscan town of Campi Bisenzio, now owned by the municipality. The estate is spread over an area of three thousand square meters. and was originally known as Villa alla Marina by the name of the nearby river. The modern name comes from the noble Spanish family Ramirez de Montalvo, who owned the villa for three centuries.
The first mention of Villa Montalvo dates back to 1305, when it was a fortified building. It was probably built during the bloody feuds between the Guelphs and the Ghibellines, and after the defeat of the Ghibellines it was abandoned and fell into disrepair. At the beginning of the 15th century, the villa was acquired by the Del Sodo family, on whose initiative restoration work began, which was completed only in 1427. The villa has been expanded with a south wing and a small chapel. Del Sodo did not own the building for long - already in 1460 it was bought by the wealthy Florentine Spinelli family, and in 1534 it became the property of Ottaviano de Medici. Under Ottaviano, both buildings of the villa were connected, and a spacious garden was laid out around.
In 1570, Bernardetto de Medici, son of Ottaviano, moved to Naples and sold the villa to Don Antonio Ramirez, a wealthy Spaniard who came to Florence after Eleanor di Toledo, wife of Cosimo I Medici. Don Antonio immediately began large-scale renovation work: the south-western facade of the villa was completely redone, and a series of windows with metal bars were erected on the ground floor. The front door was also redesigned, and the Montalvo family coat of arms was placed on the vaults. A fortress wall was erected along the entire perimeter of the villa. The reconstruction ended with the construction of a new stone well in the center of the courtyard.
The next restoration took place in 1760, when the premises of the villa were decorated with stucco and paintings, and magnolias and lemons were planted in the garden. Garden paths were lined with terracotta figurines and vases of flowers. At the same time, the chapel of Sant Andrea Avellino was restored, which became a family.
Only in 1984, Villa Montalvo was bought by the municipality of Campi Bisenzio, along with a garden and lemon garden. Today the villa houses the city library, the historical archive and several government offices. In addition, various social events are often held here. In the garden, you can still admire three hundred year old magnolias and a luxurious plane tree, which is about 200 years old. And just outside the villa is the urban park of Villa Montalvo with an area of about 19 hectares - a favorite vacation spot for residents of Campi Bisenzio and guests of the city.
Photo