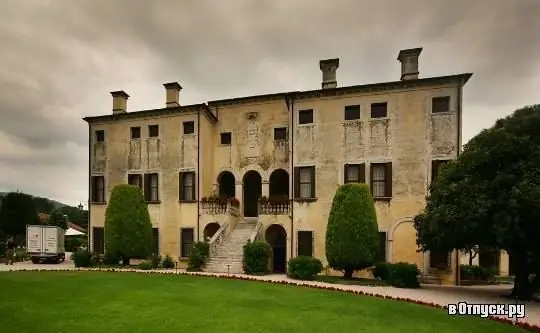 Description of the attraction
Villa Godi is an aristocratic residence in the town of Lugo di Vicenza in the Italian region of Veneto. This is one of the first creations of the great architect Andrea Palladio, about which he writes in his treatise "Four Books on Architecture". The construction of the villa, intended for the brothers Girolamo, Pietro and Marcantonio Godi, began in 1537 and was completed five years later. Later, the rear façade of the villa and the look of the gardens were slightly modified. Since 1994, Villa Godi has been included in the UNESCO World Heritage List. Today, the building itself and the spacious garden surrounding it, founded in the 19th century, are open to tourists all year round. Inside, on the basement floor, there is a small Archaeological Museum with a collection of fossil plants and animals.
Villa Godi amazes, first of all, by the almost complete absence of external decorations, so characteristic of the work of Palladio, and by the refined and symmetrical proportions of the facade. On the plan of the building, you can see a number of rooms symmetrically located on the sides of the main hall, and a slightly deepened loggia. The plan itself was published by Palladio 28 years after the completion of the villa, and is probably a kind of reworking of the original project - for example, it contains a complex of agricultural buildings that are not part of the modern building.
Villa Godi is a massive building made up of three separate parts. The main hall - the place for receiving guests - stands out sharply among the living quarters and has no design in common with them. The staircase is framed by balustrades, and its width corresponds to the width of the middle arch in the vaulted loggia. The interior of the villa is decorated with frescoes by Gualtiero Padovano, Giovanni Battista Zelotti and Battista del Moro.
Photo