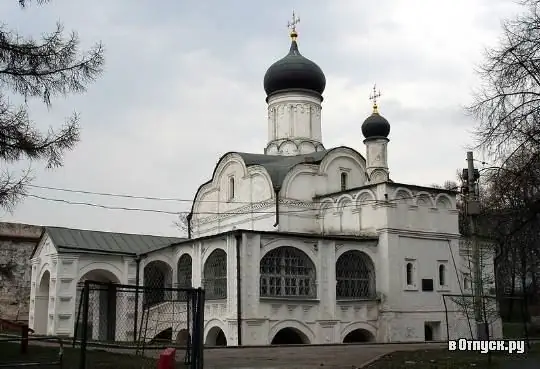 Description of the attraction
The Church of the Conception of St. Anna "What's in the Corner" was built in Zaryadye near the corner tower of the Kitaygorodskaya wall in the second half of the 16th century on the site of the wooden church of the same name. It is a one-domed pillarless temple with cross-vaulted vaults. The facades are completed with three-bladed arches placed on a white stone basement. Brick belt - a runner separates the arched end from the wall, dissected into three parts by shoulder blades. The drum windows and bulbous cupola are of later origin and were installed after a fire in 1547. Initially, the deaf drum was crowned with a helmet-shaped dome.
The southern aisle was added at the beginning of the 17th century, and the northern one a little later. In the same century, a two-tier porch was added - a gulbische, from this the temple benefited from the richness of the composition and the variety of forms.
In the refinement of all forms and details of the building, one can feel the hand of an experienced master, apparently familiar with the work of Italian architects.
Ivan the Terrible presented the church with a miraculous icon of the Mother of God. The royal family of the Romanovs loved this temple, donated large sums for the maintenance and reconstruction of the temple, they often came here for services. In the Church of St. Basil the Blessed, a 30-pound bell is still kept, dismantled from the Church of the Conception of St. Anna "in the Corner" during the Time of Troubles.
In the 50s of the twentieth century, the temple was subjected to restoration, during which the temple was restored to the appearance of the 16th century, and the later bell tower was demolished. In 1994, the temple was returned to the Church, but services have not yet been held there.