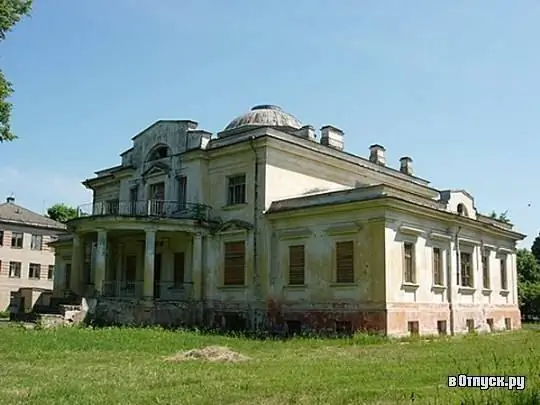 Description of the attraction
The estate of the Tolstoy counts in the village of Grudinovka was built at the turn of the 17th-19th centuries. In the center of a magnificent English park with an area of 10 hectares, there is a manor house with a high dome with a spire. The lobby was accessed by the main staircase. On the first floor there were ceremonial and ballrooms, on the second there were living rooms and study rooms. On the second floor there is an exit to a two-storey semicircular veranda.
Count Dmitry Alexandrovich Tolstoy received the estate near Bykhov as a gift from Empress Catherine II. He was very fond of Grudinovka and lovingly arranged his family nest, building not so much a chic as a cozy, truly Russian manor house. Later, during the Napoleonic War, Dmitry Alexandrovich became the governor of Mogilev. He bequeathed to bury himself in his beloved Grudinovka, which his grateful descendants did.
The last owner of the estate was Alexandra Grigorievna Tolstaya, a philanthropist and an enlightened woman who built the Ryzhkov hospital with her own money, to which she invited the best doctors. In 1905, the Countess became a member of the Bykhov branch of the Red Cross. The Countess died in a foreign land and was buried in Paris in 1925.
Unfortunately, in our time, the house and the park are in a state of disrepair. Despite the fact that the park was given the status of a natural monument of republican significance back in 1963, the state has not yet found funds for the restoration of the garden and park ensemble of the Grudinovka estate. However, even in such a deplorable state, the estate is a unique monument of palace and park art.
Reviews
| All reviews 0 Irina Semerikova 2014-17-09 12:48:13 PM
looking for people willing to donate their free time and energy to restore the estate and park in PEOPLE!!!!! let's overcome our laziness and in our free time we will do what we can to revive a wonderful park and estate in the village of Grudinovka (I will help with travel, tools) I want to share ideas
Photo