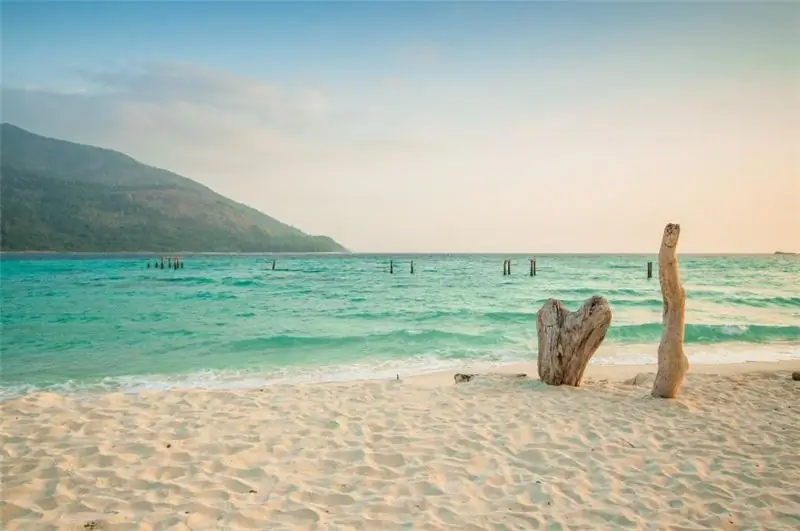 If you are not a fan of skiing, then your path is to the beach. A passive rest on the seashore improves your health no worse than a cross-country skiing.
Sea water restores the salt balance in the body.
Fine sand gently affects the active points of the feet.
The sea air is mercilessly cracking down on viruses.
The bright sun replenishes vitamin D reserves.
The freshest vegetables, fruits and seafood are served daily.
Beautiful seascapes and idleness restore the nervous system.
And the New Year's beach holiday is also fresh impressions and pleasant surprises included in the holiday menu. The Saletur.ru store of last minute tours has selected for you the 6 best destinations for your winter holidays.
Fabulous Kingdom of Thailand
A wide choice of places for recreation: secluded islands, night parties, pleasant shopping, excursion programs.
Exotic trips: crocodile and orchid farms, Buddhist temples, elephant trekking, original Thai massage, scuba diving to coral reefs.
Colorful carnivals, enchanting fireworks, bright national shows, sky lanterns of Toy Loy.
Air temperature 28-30 ° C, water 25 ° C.
A visa up to 30 days is issued upon arrival.
A weekly tour to Thailand costs from 36640 rubles per person.
Indian sea pearl goa
Multi-colored sandy beaches.
Choice between calm respectable South Goa and bustling democratic North Goa.
Indian national flavor.
Discreet New Years celebrations.
The widest excursion program: Hindu temples, the ancient capital, tea and spice plantations, Dudhsagar waterfall, Aguada fort.
Yoga and Ayurveda courses.
Air temperature 28-32 ° C, water 23-25 ° C.
A visa up to 15 days is issued upon arrival.
A week's vacation on the beaches of Goa costs from 30,700 rubles per person.
Hospitable Vietnam
All possibilities for a relaxing and active holiday (surfing, diving, sandboarding).
Excursions to ancient temples, coconut plantations, pearl farms, villages.
The unique landscape of Halong Bay.
Profitable branded shopping.
SPA according to the canons of national medicine.
Temperature 28 ° C, water 22-23 ° C.
A visa is not required for Russians.
Tour in Vietnam on New Year's week can be from 37,000 rubles per person.
Health Resort Israel
Beach vacation is possible only in the resort of Eilat on the Red Sea coast.
Diving along the coral reefs.
Air temperature 20-22 ° C, water 22 ° C.
Medical sanatoriums on the Dead Sea.
Visiting religious shrines, cultural and historical sites - all over the country.
Widespread use of the Russian language.
For Russians, a visa up to 90 days is not required.
A week in an Israeli resort will cost from 43,000 rubles per person.
The island of eternal holiday Cuba
Dry winter weather.
Air temperature 25-27 ° C, water 24 ° C.
Excursions to plantations, rainforests, colonial towns.
There are strong winds that windsurfers use.
Cuban rum and Havana cigars are very cheap.
Colorful locals, national songs and dances right on the streets.
US bank cards are not accepted, exchange of dollars at an unfavorable rate.
Russians do not need a visa for up to 30 days.
You can enjoy the Caribbean climate in Cuba from 58570 rubles per person.
Oriental Tales of the UAE
For tourists, grandiose New Year celebrations are arranged.
Advantageous shopping, many markets with national goods and souvenirs.
Arabic flavor.
The highest service in hotels.
Unique artificial islands.
Outside the hotel, you must adhere to the rules of conduct established in a Muslim country.
Air temperature 25-28 ° C, water 22 ° C.
Russians do not need a visa for up to 30 days.
You can fly to the Emirates for New Year's week from 32,637 rubles per person.
Thousands of other great deals for early booking, new year, and of course, last minute tours for the coming dates, look for on the website SaleTur.ru
Photo