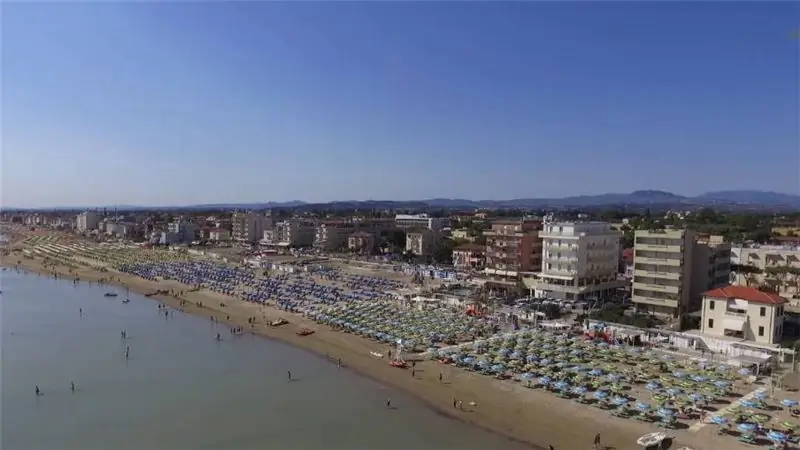 Temperature regime
Features of the sea in Rimini
Holidays in Rimini
Beaches in Rimini
Rimini is a charming resort on the Italian Adriatic coast. The town has been known for a long time, has a rich history and no less extensive cultural heritage, a developed entertainment infrastructure, but the main thing that attracts here is a seaside vacation in Rimini. After all, it is the sea that sets the tone for all local life - gorgeous beaches, leisure and entertainment, sports - the lion's share of entertainment offers in one way or another is connected with the sea area.
Rimini is located on the riviera, where sand embankments stretch for tens of kilometers, and the coast is divided between resort villages, smoothly passing from one to another.
Temperature regime
The water temperature is kept at around 10-15 ° most of the year, reaching a maximum by the beginning of summer. In mid-May, it already warms up to a comfortable 20 °, thus opening the swimming season.
In June, you can confidently fix 22-25 ° with a plus sign. The water temperature reaches its apogee in July-August, when the sea in Rimini pleases 27-28 °. At this time, the number of holidaymakers reaches a peak, and all the beaches are overcrowded.
Since September, a gradual decrease in temperature begins - from 20 ° and below, increasing. At this time, you can still swim, but the main wave of tourists is subsiding. Swimming in Rimini is possible until October, but the water at this time is frankly cool and it is much more pleasant to bask on the shore, enjoying the last warmth.
Features of the sea in Rimini
The Adriatic Sea in Rimini is characterized by calmness, the absence of strong currents and large waves. The visibility of the water reaches 20 meters, although the average values are in the region of 10 meters. At depth, the water temperature is lower, so it will not be superfluous to have some insulation for diving.
Because of the sand, the sea often becomes cloudy during rough seas. To swim in clear water, you will have to come early in the morning. After lunch, when armies of tourists come to the beaches, the water is no longer so clear.
Like many southern seas, the Adriatic boasts a varied underwater world and rich flora. Of course, you will not find such a variety as in the Red Sea, but in the depths of the sea there are many motley and rather interesting living creatures.
It is home to seabass, mackerel, perch, trout, oysters, lobsters, mussels, jellyfish, hermit crabs, mullet, grayling and a huge number of crabs and shells.
The area is full of exciting diving sites, and colorful coral reefs are successfully replacing wrecks, platforms and even an artificial island - Insulo de la Rozoj. The Monte San Bartolo Nature Reserve is a key diving site.
Holidays in Rimini
Clean, clear water, wide, impeccably groomed beaches, clean bottom, shallow sea - all this has made the resort a favorite vacation spot with children. The sea near the coast is quite shallow and in order to gain depth you will have to go a considerable distance, making it safe for both children and those who swim poorly to swim here.
For guests there are optimal conditions for leisure activities for every taste, from water attractions to extreme fun.
Active recreation:
Snorkeling.
Diving.
Windsurfing, kite surfing, surfing.
Wake boarding.
Parasailing.
Kayaking and canoeing.
Boat trips on boats and yachts.
Water skiing.
Jet skis.
Sea fishing.
Bananas, pills and other attractions.
Beaches in Rimini
Rimini has a luxurious 15 km long beach, divided into three-digit sections. Free plots are located at the very beginning near the port and at the end. These are the beaches of Marina Centro, Marbella, Torre Pedrera, Rivabella. Staying there is completely free.
Other sites are conditionally paid - staying on them is officially free, but you have to pay 5-15 € for sun loungers and umbrellas. local staff do not always allow to sit on the sand. Each site is assigned to the hotel, whose guests receive a free beach pass or discounts.
Paid beaches are much better equipped and cleaner, which is quite expected. They are regularly cleaned of debris, algae and everything that the sea brings to Rimini during high tides. Some even have sand sifted to keep it perfectly clean and soft.
All beaches are equipped with sun loungers, umbrellas, sports and playgrounds, rental centers, water attractions, sports and diving centers, as well as bars, restaurants and other entertainment points operate nearby.