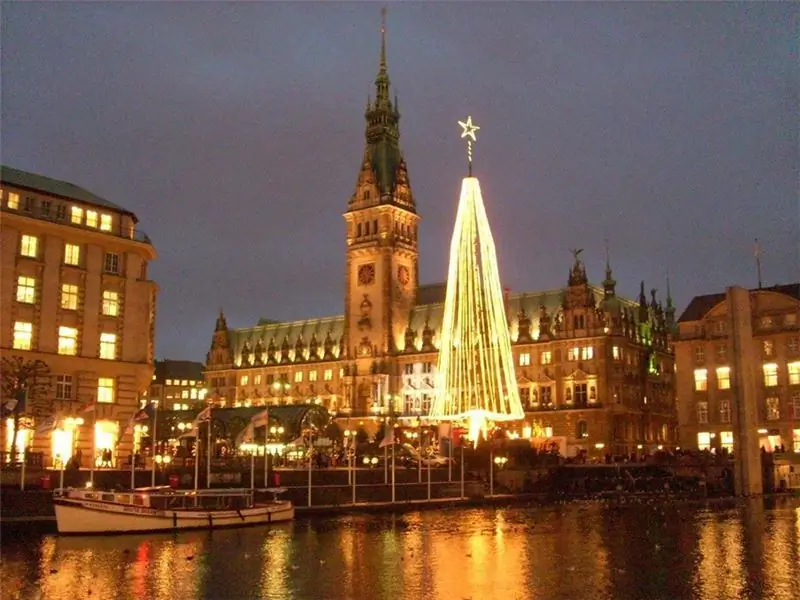 Hamburg, one of the largest port cities in Europe, is rightfully called the "gateway to the world". He was one of the first to join the Hanseatic League, and received the status of a "free imperial city". Centuries have passed, but the spirit of the freemen does not weaken. And that is why Christmas in Hamburg is a real Hanseatic Christmas.
These days the city turns into a huge kaleidoscope, the pictures in which change every moment, making it impossible to see and remember them. On Mönckebergstrasse, festive processions of Santa Claus, gnomes, elves take place, at the pier on Lake Alster, five magic ships await children for theatrical performances and games, numerous fairs are noisy and sparkling with lights, offering their untold treasures.
Trade fairs
The main fair on the town hall square is held under the motto "Art instead of trade" and is organized by the Roncalli circus. Circus performers turn everything that happens on the square into a fun performance. A sleigh with Santa Claus sweeps in the sky, Tyrolean orchestras are playing, funny clowns are pouring hot mulled wine. All the wonders of masters from all over the country seem to be collected in the stalls: wonderful souvenirs, including the figures of the Nutcracker and Madame Blizzard - the main symbols of Christmas in Germany. And treats that are impossible to resist.
There are several more fairs in the city center. Among them, the most interesting:
on Gerhart-Hauptmann-platz, with a 20-meter spruce tree surrounded by half-timbered houses
Peasant-style Hanseatic market
Christmas market and skating rink on the Jungfernstieg
Museums
Many Hamburg museums are preparing special exhibitions for Christmas. Among them:
Altona Museum
Museum of Ethnography
Museum of Arts and Crafts
Architecture
Real half-timbered houses of the 17th century can be seen in the Krameramtshtuben lane, not far from the Church of St. Michael. Or on Deichstrasse next to St. Nicholas Church.
And you should definitely visit the Granary City or the City of Warehouses in the port of Hamburg. The warehouse ensemble is amazing - separated by water canals and connected by bridges, long brick buildings seem to stand right in the water. In the Granary City, there are several interesting museums and another wonder of the world - "Miniature Wonderland". This is a model of an operating railway, with all bridges, tunnels, stations, junctions, semaphores, cities, houses, cars, buses, airfields and airplanes on them. All this is moving, trains are running, planes are flying, cars are moving, factories are working. Day turns to night. Everything is tiny, but carefully crafted in every detail. It is impossible to take your eyes off.
This miracle was invented by two brothers, Frederick and Gerrit Brown. You remember the Brothers Grimm, and it seems that the soul of Germany, the country of storytellers and inventors, poets and scientists, craftsmen and dreamers, opens up to you.